The new caretakers of the Great Blasket have arrived and are acclimatising to life in one of the remotest parts of Ireland - having already endured a few days of sunny weather and a week and a half of torrential rain. 
Canadian Brock Montgomery and Dutch woman Claire de Haas are avid travellers and were selected from thousands of applicants to look after the island's holiday cottages over the 2022 summer season. 
"It was the overall adventure of it and just being able to come and experience a new culture," Brock told Moncrieff. 
"We had never been to Ireland itself before, it was completely new. New culture, new country but we knew very well what the job would entail," Claire added. 
"Alice and Billy spoke to us on the phone and explained everything about it and that it's not like a tropical island paradise feeling." 
Located just off the west Kerry coast, the Great Blasket is highly exposed to the elements and the weather can be very temperamental.
"We got a good taste of the Blasket weather early on," Brock explained. 
"Our first couple of days we had some nice sunny weather and then the real Irish weather hit and we had about a week and a half of just stormy rainy weather. 
"So we got to settle in and just clean the cottages and get everything ready for everyone."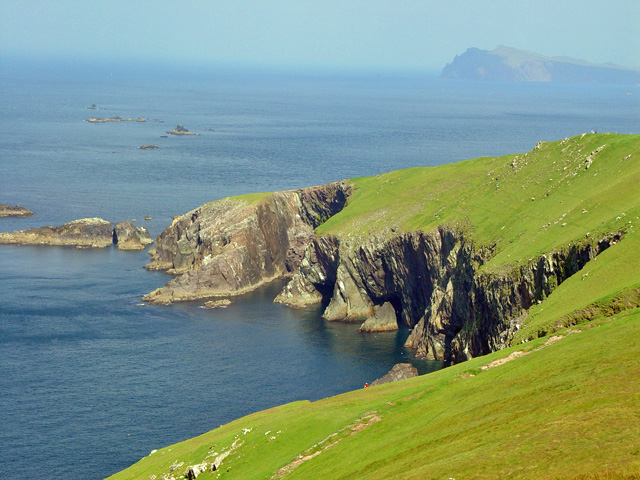 The couple have developed a routine and have taken in a canine companion as well: 
"We wake up, we go for a walk, we got a little foster puppy with us from a local shelter in town. So we take him for a walk," Brock continued. 
"We just get up, kind of make ourselves a coffee, relax in the morning, that's kind of like our quiet time for ourselves and then we have to turn over the cottages. 
"So we have guest checkout at 10 and we have to turn those over and make sure those are all ready to go and then new guests will arrive and we check them in at one. 
"And just making sure the guests are comfortable and making sure that their fires are going and if they need anything like that, topping up their coal, giving them tips for little hikes around the island and the stuff that we enjoy so far. 
"Just making them comfortable and making their holidays as best we can." 
An Blascaod Mór
The island was inhabited full-time by native Irish speakers until it was evacuated by the Irish Government in 1954 because of the depopulation and precariousness of life there. 
Memories of a time when the Great Blasket echoed with the conversations of farmers and the laughter of children linger on in the many books islanders wrote about their lives. The most famous of which was an autobiography by Peig Sayers - a woman whose work is either derided as a misery memoir or a canon of European literature. 
1/3 Scéalaí clúiteach á cheiliúradh againn le haghaidh #IWD2020. Peig Sayers (1873-1958) known for her memoir detailing life on the Blasket Island, contributed over 350 traditional narratives to the Irish Folklore Commission, which form a core part of our collections today... pic.twitter.com/eWAoTnQXs4

— National Folklore Collection UCD (@bealoideasucd) March 6, 2020
Either way the new caretakers have heard of her: 
"One of the cottages [still] here, Peig lived in it," Brock said. 
"And we have a lot of books to run over and that's one of them we're gonna be reading in our time here."
Main image: Co Kerry, Blasket Islands, Ireland. Picture by: The Irish Image Collection/Design Pics via ZUMA Wire.