Throughout an inter-county career with Kilkenny that brought every imaginable success, Eoin Larkin spoke to OTB AM about his ongoing challenge to maintain good mental health. 
Allowing for the sheer abundance of medals Eoin Larkin collected during his inter-county career, there isn't too much scope for the Kilkenny man to wonder what could have been on the sporting side of things.
Eight times an All-Ireland winner, the 2008 Hurler of the Year inconspicuously went about his business in a fashion that rarely attracted any unnecessary attention.
Although he denies any allegation that he was one of Brian Cody's favourites (a label more befitting Tommy Walsh, according to Larkin), it is nevertheless quite easy to understand why the two James Stephens men formed such a lasting relationship.
Speaking on Thursday's OTB AM to mark the release of his autobiography Camouflage, however, Eoin Larkin explored the decisive role Brian Cody played in quite possibly saving his life.
One in a number of crucial interventions during a time when Larkin's mental health was spiralling out of control, Cody, who is so regularly praised for his ruthlessness in management, made the right call at the right time.
"I got up on the Saturday morning after a club game and the phone rang," recalled Larkin. "I looked at it for 20 or 30 seconds and it was Brian Cody's name on it.
"Eventually, I answered it and he asked me a simple question: "How are you feeling this morning?" I just burst into tears. That simple question changed everything."
If you go to Brian Cody and you have a problem, he's very approachable and he'll talk to you, give you some advice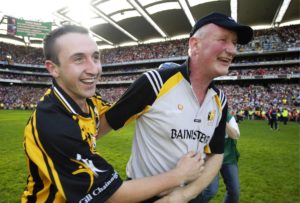 All too aware that he was struggling, Eoin Larkin can appreciate now that he had little or no idea why it was happening.
"My wife Anne was onto me that I was depressed," he explained, "but I was in denial.
"I couldn't admit that I was depressed. This happens to other people, it doesn't happen to me.
"But if you're crying on the phone to Brian Cody, there has to be something causing it."
An ongoing battle with his own state of mind, it was only when Larkin heeded his manager's advice that a degree of clarity came upon a situation that so many find themselves in.
Making an appointment to speak with the Kilkenny doctor Tadhg Crowley, in finally acknowledge that there was an issue to address, Eoin Larkin could move forward.
"I went into Tadhg and here I am today," remarked Larkin soberly. "[I'd been feeling that way] for up to six, seven or eight years. I'd had really bad days too where I thought about suicide and it was constantly on my mind."
"When I went in I couldn't even speak and Anne had to do all the talking. But he was talking to me as if I'd come in with a sore throat. It was just so normal, like he'd heard it 100 times that day."
The normalisation of this treatment did serve to highlight the severity of everyday difficulties Eoin Larkin was dealing with, however.
"I'd often get into the car, pull up at my front door and wonder how I got there," he recalled. "I was day-dreaming, thinking about suicide, money troubles and how if I was gone then everything would be sorted.
"All those thoughts were going through my head and still I didn't think I could be depressed."
With incredible openness and honesty, Larkin can only speculate now about how close he may or may not have come to ending his life.
At one time an almost daily thought, bringing it out into the open with Tadhg Crowley forced him to consider exactly what he had been contemplating.
"When someone is asking you [if you've planned your suicide]," he explained, "it is a little weird.
"You really want to answer it, but if I say yes or no, what's the next question? But he made it so normal that I felt everything lifted off my shoulders. Even though I wasn't better, I was on the road to recovery.
"Since I went to Tadhg, I have coping skills now that if I'm feeling bad I can make the connections.
"That's very important, but you only get that far when you accept you have a problem."
From his realisation that there was an issue that needed addressing to his current frame of mind, Eoin Larkin doesn't shy away from the reality that his efforts at maintaining good mental health are ongoing.
Equipped with the information and tools to move forward, however, it is a challenge that he now feels capable of carrying out.