There have been 3,893 further confirmed cases of COVID-19 in Ireland.
As of 8.00am on Wednesday, 611 patients are hospitalised with the virus - 132 of these are in ICU.
There has been a total of 5,652 deaths related to COVID-19, which includes 43 newly notified deaths in the past week since last Wednesday.
The five-day moving average of cases stands at 4,667.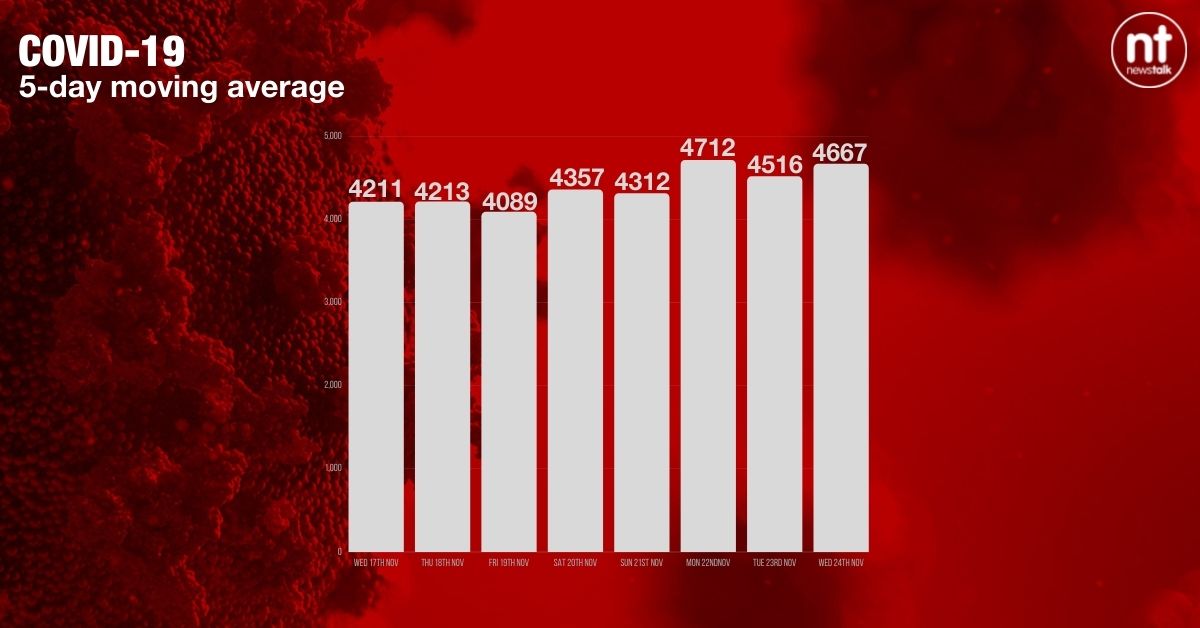 The Chief Medical Officer Dr Tony Holohan says self-isolation is the first step.
"Approximately one in seven adults in the last week have had flu-like, cold-like or COVID-like symptoms.
"The most important action you can take if you experience any symptoms of COVID-19 is to self-isolate immediately.
"This means staying indoors and avoiding contact with other people, including, in so far as possible, those you live with.
"Arrange to take a PCR test, not an antigen test, and continue to self-isolate while you wait for your test and the results.
"I understand this is difficult, but in order to avoid passing COVID-19 or other respiratory illnesses on to your friends, family or work colleagues, rapidly self-isolating as soon as symptoms begin is the most important thing you can do.
"It's also important to remember you still need to isolate for as long as you're symptomatic, and until 48 hours after your symptoms have settled, even if your PCR did not detect COVID-19."
It comes as the Government is under pressure over access to both PCR and antigen testing.
The head of the Health Service Executive (HSE), Paul Reid,  said earlier they are dealing with unprecedented demand.
"If you look at the past six to seven weeks, over a million PCR tests have been completed.
"And these are phenomenal numbers in proportion to population".
The Deputy Chief Medical Officer Dr Ronan Glynn said no testing service could deal with the current level of people looking for a PCR test.
"From our data, it appears that somewhere between 10% and 20% of adults and children in this country have had flu or cold or COVID like symptoms in the past week - that's around 700,000 people.
"There's no testing system in the world that's going to be able to manage that demand. At a point in time, the system is going to have to prioritise.
"Of course we're trying to up the testing and get people tested as quickly as possible... but ultimately the test is not the public health intervention."
In the Dáil, the Taoiseach Micheál Martin was pressed on when subsidised antigen tests will be available.
He did not give a date - and accused the opposition of treating antigen like a silver bullet.
"There's no one silver bullet, Deputy, and that's the point I'm making.
"And we are, as I have said, in terms of antigen testing, there has been a significant expansion of the use of antigen testing", he said.
Main image: Dr Tony Holohan, Chief Medical Officer, at the Department of Health in August 2021 as he delivers a COVID-19 press briefing. Picture by: Sam Boal / RollingNews.ie