The Department of Health has confirmed that 431 new cases of COVID-19 have been reported in Ireland today.
The figures show that as of midnight on Friday, there were 58 people being treated in hospital for the virus.
Of these patients, 22 are in ICU, compared to 23 yesterday.
The Department warned that daily case numbers may change due to future data validation.
The 14-day incidence rate per 100,000 of the population now stands at 111.
The five-day moving average is now 336, while the seven-day average is 338.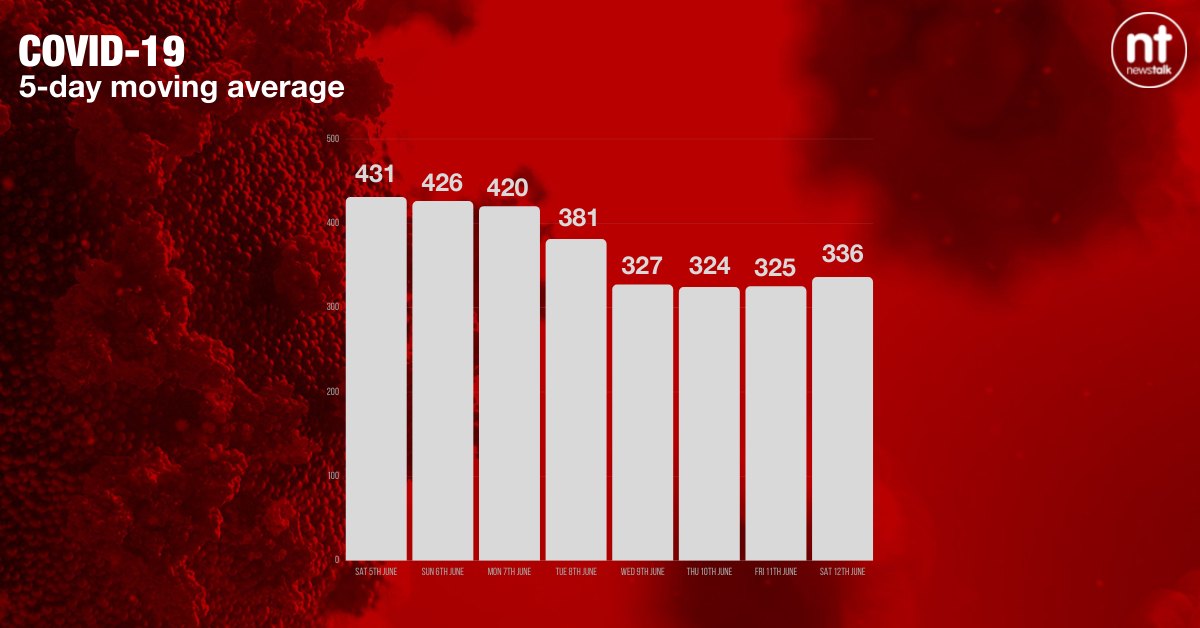 It comes as leaders of the G7 countries will sign a declaration today designed to ensure pandemics like COVID-19 never happen again.
At today's summit in Cornwall, they are expected to commit to speeding up the time it takes to develop vaccines to under 100 days.
Both G7 leaders and the leaders of guest nations - Australia, South Korea and South Africa, as well as UN general secretary Antonio Guterres - will be addressed by the UK government's chief scientific adviser Patrick Vallance and Melinda Gates.
Speaking to Máire Treasa Ní Cheallaigh on Newstalk Breakfast Weekends, Colm O'Gorman, Executive Director of Amnesty Ireland, said more people have been vaccinated against COVID-19 in the county of Cornwall, where the G7 summit is taking place, than in 22 African countries.
Global vaccine inequality is a huge issue, he said, and by the end of last month, 42% of people in G7 countries had received at least one dose of the COVID-19 inoculation, compared to less than 1% in the African countries.
"The level of inequity here is absolutely extraordinary: 28% of all the COVID vaccines delivered by the end of May were in G7 countries, and that represents just 10% of the world's population," Mr O'Gorman said.
"It's quite staggering, the UK has administered twice as many jabs as the entire African continent, despite the fact that its population is 20 times smaller, so the inequity is stark and extreme and getting worse.
He said if we don't vaccinate the world's population, new strains of the virus will continue to emerge, as happened with the Delta variant that originated in India.
Main image: File photo of COVID-19 tests in a lab. Credit: Matthew Dae Smith/Lansing State Journal/USA Today Network/Sipa USA