A record 26,122 people have been diagnosed with COVID-19 in a single day, the Department of Health has confirmed. 
917 hospital patients have contracted the virus, of whom 83 are being treated in ICU. 
The five day average has moved to 22,165 - only the second day since the pandemic began that it has been recorded above 20,000.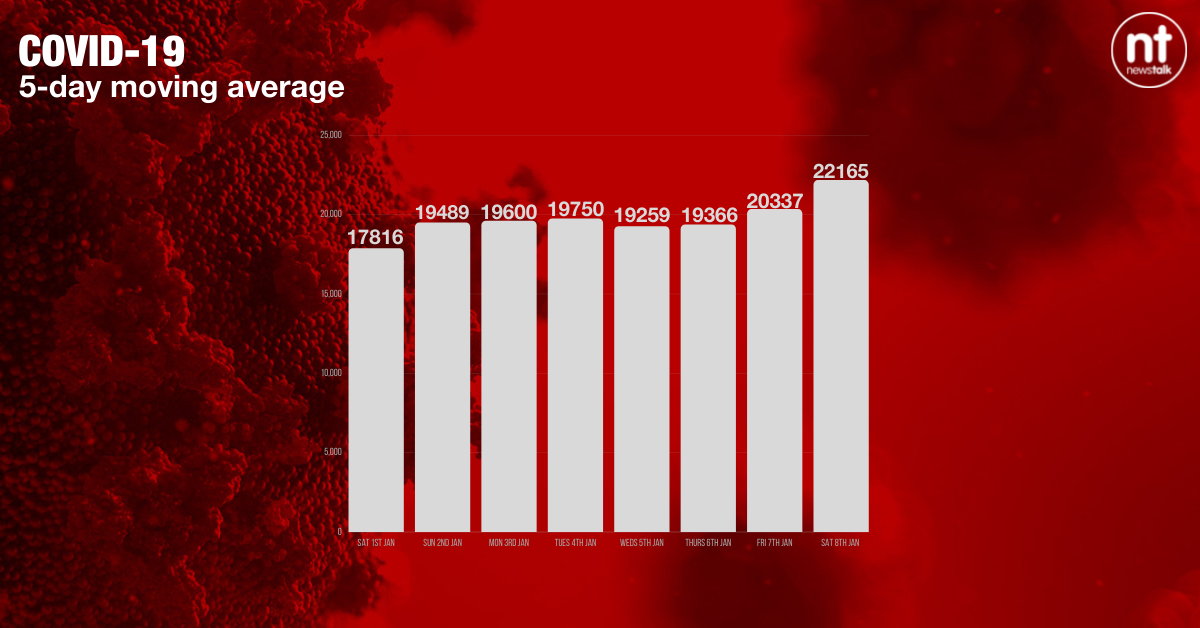 Antigen testing
The news comes as many pharmacies and retail outlets experience shortages of antigen tests. Kathy Maher, who works at Haven Pharmacy Duleek, told Newstalk that demand is currently "unprecedented": 
"We were fortunate enough to receive a supply of antigen tests yesterday," Ms Maher said. 
"Supply has been difficult to secure. Demand from the public has been very, very high. 
"It's been unprecedented and we are working with the manufacturers and wholesalers on a constant basis to see if we can get supplies as quickly as we can." 
Staff shortages
Meanwhile, both schools and hospitals are suffering hugely from staff shortages. Teachers Union of Ireland President Martin Marjoram told Newstalk that: 
"A lot of schools are reporting record student absences. 
"25%, 30% is typical. I'm looking at some numbers here in front of me - 50% and even more than 50% in the extreme cases. 
"In truth, that's been one of the things that's made it possible to keep going because of the enormous staff absences at the same time; 15% in some cases, 20%, 36% staff I'm looking at in one school here in front of me."  
Furthermore, close to 600 mental health nurses are off sick because of COVID-19 and the Psychiatric Nurses Association has warned the current situation is unsustainable: 
"The reality is that there is a huge reliance, an unsustainable reliance, on overtime and staff good will to maintain rosters and staffing. 
"There are closures and curtailment of services," General Secretary Peter Hughes told Newstalk. 
"And then the knock-on of redeployment of staff from various other parts of the service, is staff are exposed to unsafe work environments." 
Mr Hughes said one way for the Government to tackle the situation would be to prioritise nurses for PCR tests. 
"I think from a staffing point of view, what could help is to prioritise our nursing staff [with] testing and also to provide antigen tests would be helpful as well. 
"We hope that the situation does not get worse. I think there will be flows of people coming back from duty and then, maybe, unfortunately other people having to be absent again because of COVID related issues." 
Main Image: A medical worker wearing PPE swabs a patient in January 2021. Picture by: AlessandroBiascioli / Alamy Stock Photo