There are 3,805 new confirmed cases of COVID-19 in Ireland today, the Department of Health has confirmed.
While 582 people are being treated in hospitals for coronavirus, of whom 106 are in ICU.
The five-day moving average of cases now stands at 4,117 - up slightly from 4,072 yesterday.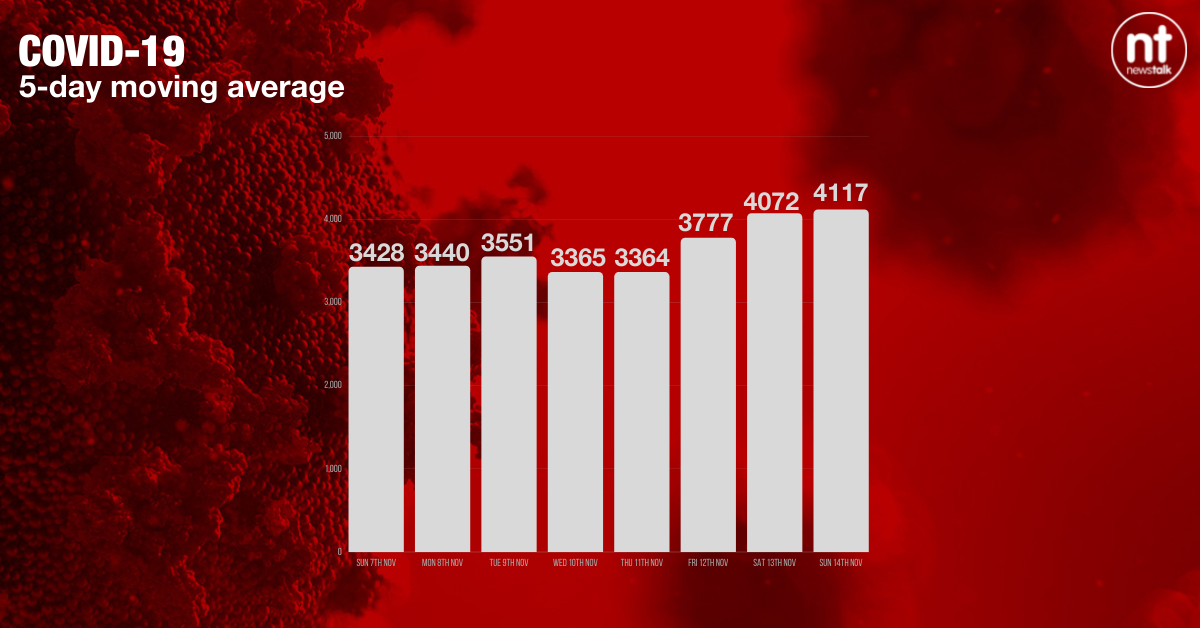 The news comes as Taoiseach Micheál Martin refused to rule out a further lockdown as cases of COVID-19 remain high. Speaking from Enniskillen, Mr Martin said: 
"We're in a different position to last year, so the language of lockdowns and so on has to be looked at differently because we're very highly vaccinated as a country - over 90 odd percent. That is important so we're in a different space to what we were last year. 
"That said, we are extremely concerned with the high rise in numbers and indeed the impact that's having on hospitalisations, admissions to ICU and illness." 
Antigen testing
Mr Martin added that the cabinet would look into how antigen testing could be made cheaper. 
"The Minister will be bringing proposals in that regard. We don't envisage testing [being] made free in the general sense but we do want to encourage people to utilise antigen testing more frequently, more regularly and so therefore we'll be looking at making that more affordable for people." 
The National Public Health Emergency Team has urged individuals who engage in activities where they could easily pick up the virus, such as going to the cinema or nightclubs, to consider taking twice weekly antigen tests.
Dr Paddy Mallon, an infectious disease physician at St Vincent's hospital and a Professor of Microbial Diseases at UCD, told Newstalk testing is particularly important as the Christmas party season gets underway: 
"We're coming up to the Christmas season, there's usually a lot more socialising, multi-household activities coming into that sort of season. 
"And if you're taking part in these activities in a safe environment, our recommendation is that you should be testing at least twice a week if you're doing these activities regularly. The tests should be three days apart and the more people that do that, the greater impact that the testing will have on reducing the risk of [COVID]."
Main image: A medical worker wearing personal protective equipment conducts a swab test on a patient in January 2021. Picture by: AlessandroBiascioli / Alamy Stock Photo