There are 5,156 new confirmed cases of COVID in Ireland today, the Department of Health has said. 
503 patients in Irish hospitals have tested positive for the virus, of whom 110 are in ICU. 
The five day moving average now stands at 4,831 - down slightly from 4,894 yesterday.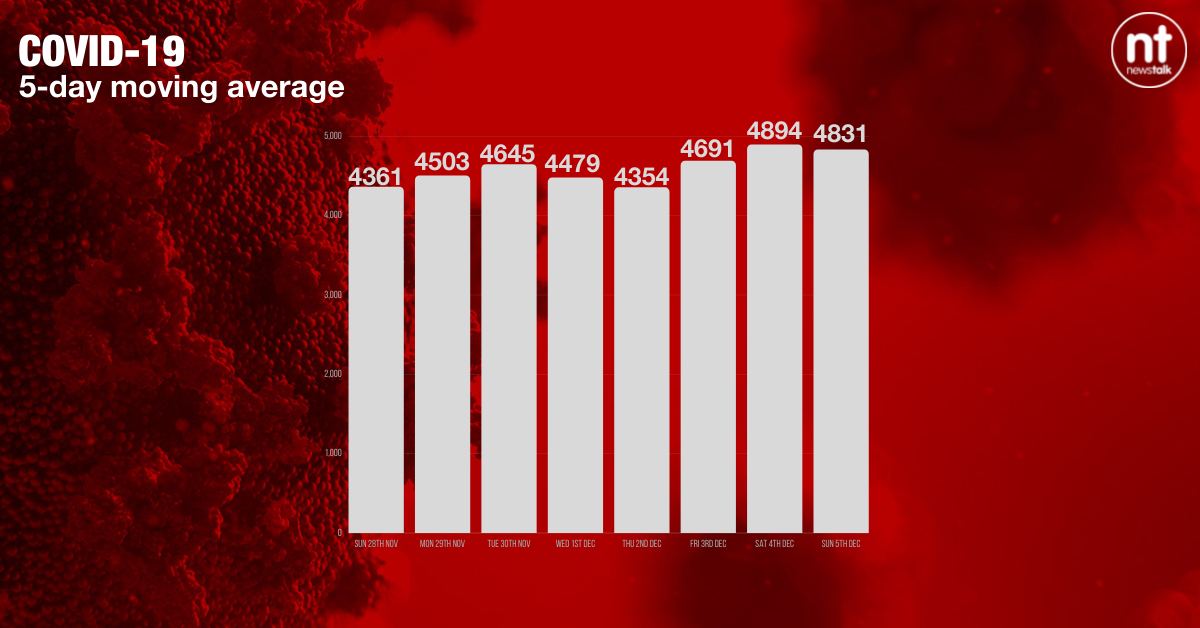 Anthony Staines, Professor of Health Systems at DCU, said the Government and NPHET's policies were to blame for the current high infection rate: 
"We've seen that antigen testing has been brought in over the objections of NPHET, who described it as snake oil and who seem concerned that it might be abused in some way," Professor Staines told Newstalk. 
"And this general approach is getting us to where we are now."
Taoiseach Micheál Martin has said the Government is seeking to expand their use but has previously cautioned against using antigens as a "silver bullet" in the fight against COVID-19. 
Professor Staines also said that the Government should reintroduce contact tracing in schools:
"At the moment that [contact tracing] is being done by headteachers, which is a little unfair because it's more obviously a role for public health, but public health is neither allowed nor resourced to carry out contact tracing on the scale that's required."
Minister for Health Stephen Donnelly said last month that the Government was considering re-introducing contact tracing in primary schools but that, "The data is showing very, very clearly that… the vast majority of that infection is happening in households."
The unvaccinated
Meanwhile, a poll for The Sunday Independent found that 56% of Irish people supported further restrictions on the freedom of unvaccinated people to travel and attend their place of work. 
The poll also found that 80% of people planned on reducing social contact over the festive season. However, among the subsample of those who say they are unvaccinated, that number drops to 36%. 
European Commission President Ursula von der Leyen has raised the possibility of the vaccine becoming mandatory - a policy set to be introduced in Austria next year. 
However, Liam Herrick, Director of the Irish Council for Civil Liberties, says that mandatory vaccines are not necessary: 
"We had an extraordinarily high take up of the vaccine - before there was any discriminatory policies around vaccination certificates. 
"So it's very difficult to argue that that was a cause of the high vaccination rate - it followed on from it.
"But there's also a bigger question about - what is the effectiveness about our vaccine cert system? So I think before we have any extension of our vaccine cert system there needs to be a detailed analysis of how it is performing in the field at the moment." 
Main image: A man is tested for COVID-19 in Dublin. Picture by: Leon Farrell / Photocall Ireland.