England World Cup-winning goalkeeper Gordon Banks passed away at the age of 81 on Tuesday.
His former club Stoke City shared the sad news that he passed away peacefully in his sleep overnight.
Banks was in goal for England's famous 1966 triumph over West Germany at Wembley. Many will remember his finest moment and the stunning stop that came four years later, when he denied Pele against Brazil at the 1970 World Cup in Mexico.
His cameo for St Patrick's Athletic though is more than just a foot note on a wonderful career. It's remarkable tale of bad luck, chance and fortune.
Three World Cup winners have graced League of Ireland pitches, Banks played one game for the Saints, Geoff Hurst lined out with Cork Celtic and Bobby Charlton pulled the strings for Waterford in midfield for a short spell in 1976.
Banks' arrival was a surprise to many football fans, at the time most thought he was already retired. He lined out in the game as a favour to former team mate Barry Bridges, who was the manager of the Dublin club from 1976-78.
An injury to number one Mick O'Brien left Bridges desperately stuck for cover for a game in the winter of 1977, he took a trip to his native England hoping to find a suitable replacement.
His visit though proved to be fruitless and as he trundled back to Dublin, dejected that his search hadn't yielded a keeper, he had a chance encounter with his old mate at Heathrow Airport.
12,500 people packed Richmond Park to watch Gordon Banks make his only appearance for St Pats. He started the 1-0 win over Shamrock Rovers in October 1977. The gate from the game was £2,200. Banks saved from Eamon Dunphy to deny Hoops player/manager John Giles the draw. pic.twitter.com/sSaxhv6Dho

— Darren Cleary (@RadioCleary) February 12, 2019
On learning Bridges' plight the Stoke City legend kindly offered his services to his friend, but Bridges was initially reluctant to take him up on the offer.
He told the St Pat's website the story in 2014, the article is the definitive first hand account of the incredible story, it is well worth giving your time to read it. Banks was blinded in one eye after a car accident in 1972.
He lost control of his car while driving home from Stoke City's training ground. He ended up in a ditch after smashing into an oncoming van. A shard of glass cost him his sight in his right eye.
Banks was also effectively retired, finishing his days in the Florida sunshine while playing part-time for the Fort Lauderdale Strikers.
Bridges recalling the good luck of bumping into his old friend said: "Banksy said, jokingly, 'what's wrong with me?' I said: 'Banksy, you've only got one eye,' and he said: 'I can see the same balls with one eye that I could with two eyes, I'll come over and play for you.' I said: 'You're kidding me.' He said: 'No.' He was going back to America a few weeks later but he said: 'I'll come over for a game if the money's all right'. "I said: 'leave it with me.'
After landing in Dublin, Bridges brought news of the offer to the St Pats board whom he says "nearly died when I told them who it was".
Banks was paid £500, which was just under a quarter of the total gate. Bridges noted 'it was bloody good money in those days'.
Gordon Banks lined out for Pats against Rovers in October 1977
Banks spent the night in Bridges' spare bedroom and during a stroll through Inchicore the evening before the game the Saints manager thought better than bringing his ringer to the ground.
He feared that the World Cup winner would get a glimpse of Richmond Park and pull the plug on the plan, when they walked by the ground no mention was made that this would be the sporting arena Banks would be gracing the following day.
Upon arrival Banks' one eye was sharp enough to spot that Richmond Park was the ground they walked past the night before, Bridges recalled: "We walked into the ground and you had to walk though a bloody great iron gate to get into the stand and the dressing rooms and we walked through and he looked at me and said: 'You bastard, what have you done?'
@FA England World Cup winner Gordon Banks in action for @stpatsfc in Richmond Park.#BeASaint pic.twitter.com/Ok4DdhAnnY

— St. Pat's Academy (@StPatsAcademy) November 12, 2014
"From that moment on, though, he was a different class, he treated the whole thing as if he was playing for England.
"He walked in and shook everybody's hands, he made everybody happy. He told them, 'the 18-yard box is mine even if I have only got one eye'.
12,500 people packed Richmond Park to watch Banks make his only appearance for the Saints. It was a successful day as he kept a clean sheet in the 1-0 win over Shamrock Rovers in October 1977.
Banks justified his fee by making a stunning stop from Eamon Dunphy to deny Hoops player/manager John Giles the draw. A match report from Kieran Rooney at the time described the save as 'one of the best he ever produced'.
The England legend is survived by his wife Ursula and the couple's three children Julia, Robert and Wendy.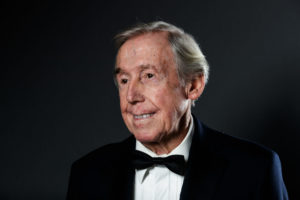 Gordon Banks 1937-2019