Ronan O'Gara has acknowledged the deficiencies currently plaguing Johnny Sexton's game, but believes Ireland's #10 will be relentless in his attempts to address the issues at hand.
"I think now he has seen that when things aren't going well around him," O'Gara stated on Tuesday's OTB AM, "he has to maintain his high standards."
"He's let himself down in that regard I'd say in the fact that his own individual performances haven't been where he'd like them to be.
"Knowing how honest he is, he'll be the first to acknowledge that, [and] I think he will reply most definitely.
"The short-term response will be huge out of him."
Sometimes you'd misinterpret Johnny because he has a sour head on him, and I had that head on me too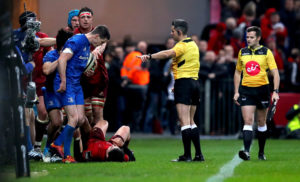 Returning to playing duty with Leinster for the coming months before Ireland reconvene ahead of the Rugby World Cup, O'Gara delved into the external perception of Sexton, and how the out-half may now attempt to combat his poor run of form.
"When it means so much to a guy, you can have different ways of showing it," O'Gara noted of Sexton particularly.
"Sometimes you'd misinterpret Johnny because he has a sour head on him, and I had that head on me too.
"It just means so much to him to win."
Divulging the details of a conversation he had had with Johnny Sexton in light of an incident involving the Leinster #10 and his Munster counterpart and Irish teammate Joey Carbery, O'Gara explained Sexton's understanding of a collision that had given cause for a number of analysts to criticise Sexton's leadership qualities.
"I asked him about pushing and shoving Joey Carbery down in Thomond Park," O'Gara revealed.
"I said to him, 'Johnny, that doesn't look good.' He said he'd caught him unaware.
"In that regard, I think he sometimes under-appreciates how much of a leader he is to other people because he gets so caught up in the moment of being a driven professional and he needs to get better at that I think.
Crucially, Ronan O'Gara believes it is of immense importance for Sexton to "narrow his focus on getting his performances right" in time for Ireland's World Cup bid.
Everyone's in the Team Of Us.
Vodafone. The Official Sponsor of the Irish Rugby Team.