West Ham midfielder's decision had been long awaited
Declan Rice has confirmed that he is declaring for England over Ireland.
The West Ham midfielder had won three senior caps for the Boys in Green.
But no competitive caps meant a switch to England remained an open possibility.
An announcement had been expected ahead of the next set of international fixtures in March.
And it finally arrived today after weeks of speculation.
The London-born 20-year-old released a statement and explained his decision.
"This afternoon, I telephoned both Mick McCarthy and Gareth Southgate to inform them of my decision to submit a written request to FIFA for the transfer of my international registration from the Republic of Ireland to England," he wrote.
Statement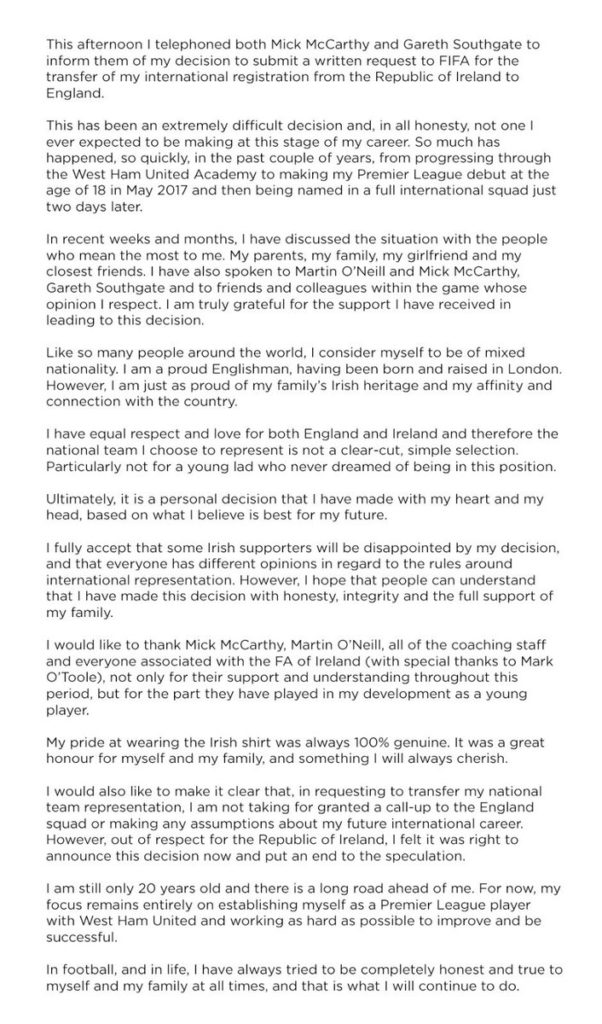 He then expanded on the difficulty of making the decision.
"I fully accept that some Irish supporters will be disappointed by my decision," he said.
"However, I hope that people can understand that I have made this decision with honest, integrity and the full support of my family.
"I felt it was right to announce this decision now and put an end to the speculation."
He also added that he considers himself of "mixed nationality". And he also said that he has "equal respect and love for both England and Ireland".
"My pride at wearing the Irish shirt was always 100% genuine," Rice also added.
In an FAI statement, Ireland senior manager Mick McCarthy shared his reaction.
"Declan rang me today and said he has decided to give it a go with England. Good luck to him," he said.
In a follow-up statement, McCarthy said he was fully focused on the Euro 2020 campaign.
"This is Declan's decision. We have availed of the ruling ourselves so we can't complain about it. We will concentrate on the games in March," he said.
You can watch our live studio reaction to the news on YouTube: