The Department of Health has confirmed that 340 new cases of COVID-19 have been reported in Ireland today.
There are currently 47 people being treated in hospital for the virus.
There are 15 patients in intensive care, an increase of two compared to yesterday.
The HSE continue to be affected by the recent cyberattack and the daily case figure "may change due to future data review, validation and update."
The five-day moving average in Ireland is now 363, in contrast to 339 this day last week.
Meanwhile, the 14-day incidence rate per 100,000 of the population now stands at 96, while the seven-day moving average is 342.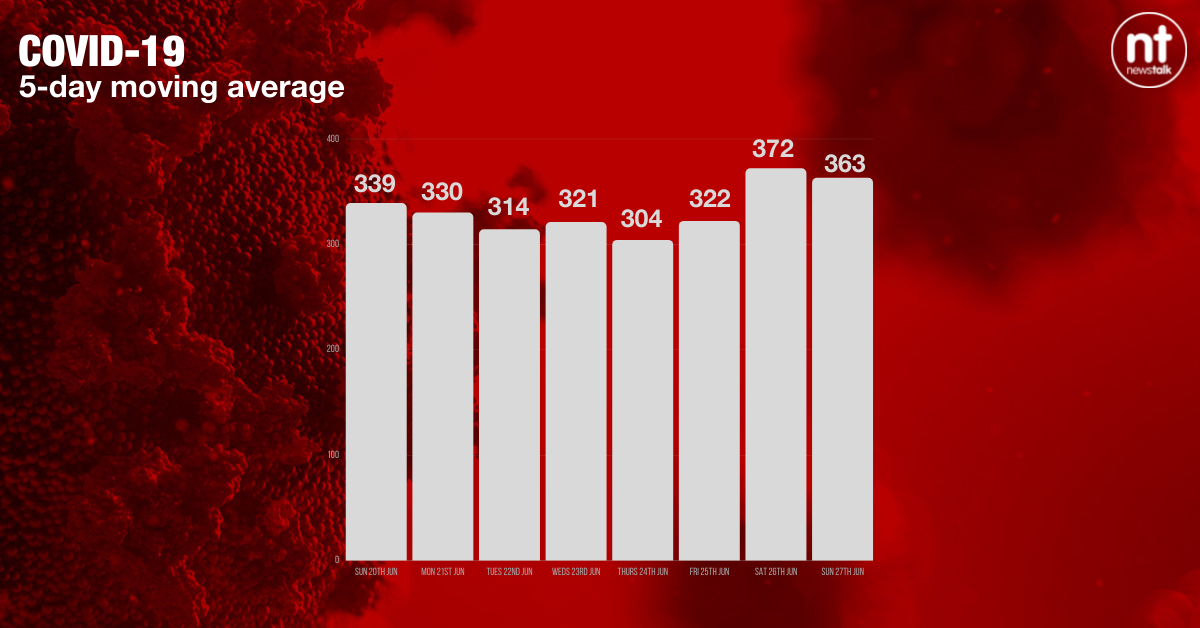 Paul Reid, the CEO of the HSE, said that despite the threat posed by the Delta variant, there's "lots to be confident about".
As of last night, 310,000 vaccines had been administered in Ireland this week.
Over 1.5 million adults are now fully vaccinated, which accounts for 41% of the adult population, and almost four million doses in total have been administered to date.
"More and more people are being protected every day," Mr Reid added.
It comes as a leading immunologist is urging NIAC to recommend using either the Pfizer or Moderna vaccine as a second dose to people who received a first jab of AstraZeneca.
Kingston Mills, Professor of Experimental Immunology at Trinity College Dublin, believes it would be one way to provide additional protection against the Delta variant of the disease.
Restrictions
Cabinet is due to meet early next week to decide if the next stage of reopening plans can go ahead as scheduled for July 5th.
The Government is reportedly considering a two-week delay to the return of indoor hospitality in pubs and restaurants.
Ministers believe it would allow more people to be fully vaccinated before the Delta variant becomes the dominant strain.
Along with the return of indoor dining next month, the restrictions are also set to be eased on household visits, weddings, organised gatherings and indoor fitness training.
Stakeholders from the hospitality industry have called for a decision to be made on reopening plans as soon as possible.
Main image: Samples for COVID-19 tests in a lab. Credit: Xinhua/PA