The use of contactless payments surged by nearly 18% in first quarter of the year, new figures show.
The Banking and Payments Federation of Ireland (BPFI) said there were three million contactless payments made per day.
The volume of contactless payments rose to 268.7 million.
The new data also shows 86.3% of people say they used internet banking in 2022 - the fourth highest proportion in the EU.
Online and mobile banking payment volumes grew by 6.2% year-on-year to 36.4 million, which is the second highest quarterly volume since the data series began in 2016.
BPFI Head of Payments Gillian Byrne said this shows a continued shift by consumers towards contactless payments.
"At the same time, we also saw the value of these payments increasing by 22% to almost €4.6 billion or €51 million per day," she said.
"The average payment value reached €17.05, up from €16.40 a year earlier.
"Interestingly we can also see that the growth in contactless payments continued to outpace total card payment growth, which rose by 10.6% year on year to 463.4 million according to the Central Bank of Ireland".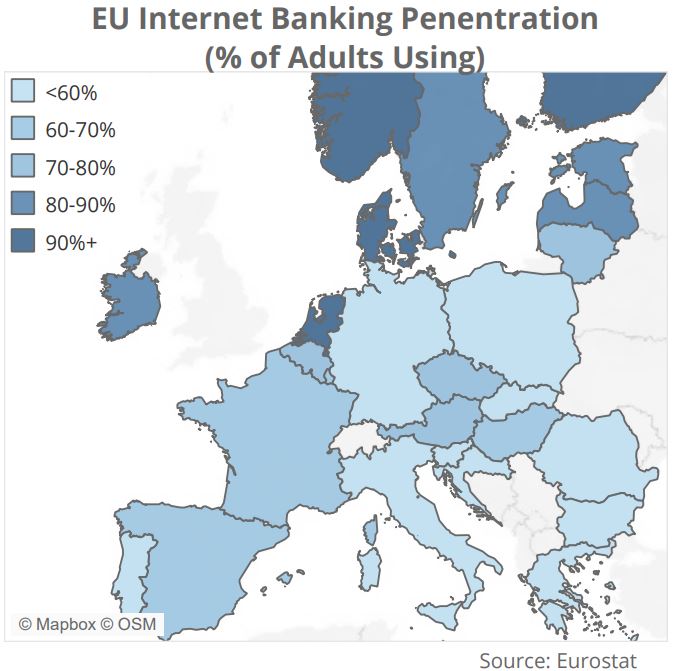 Ms Byrne said there is a continued preference for digital banking.
"We are also aware from Eurostat data that Ireland had the fourth highest internet banking penetration in the EU in 2022 after Finland, Denmark and the Netherlands," she said.
"And with the data also showing that 86.3% of people aged 16 or over saying they used internet banking, this again highlights consumers' continued preference for digital banking," she added.
Cash debate
It comes amid an ongoing debate around a legal requirement for businesses to accept cash payments.
In Ireland, businesses must accept cash unless it is clear they only accept other ways to pay.
The CCPC says this can be as simple as a sign in the shop saying 'card transactions only'.
"As long as you decide to continue in the presence of such a sign, this is considered agreement", it says.
If a business doesn't clearly state that it only accepts certain methods of payment, it must accept cash.
The European Central Bank (ECB) is also opening a dialogue around a potential digital Euro currency - which it says would complement cash, not replace it.
Main image: A person makes a contactless payment with their smartphone in January 2020. Picture by: Karl-Josef Hildenbrand/dpa