A major rehoming effort is underway after nearly 4,000 beagles were rescued from mass breeding facility in the US.
The dogs were being bred for drug testing at a facility in Virginia that has now been shut down for animal cruelty.
The US Government shut down the facility in June after it discovered that the dogs were not getting veterinary treatment or being properly fed.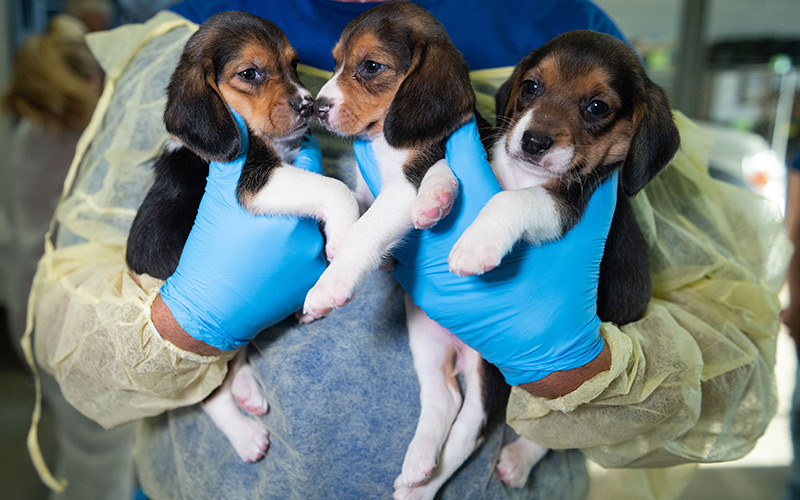 Beagles rescued from the Envigo RMS facility in Indiana. Image: Humane Society of the US.Animal welfare inspectors found that the dogs were being killed instead of getting veterinary treatment for easily cured conditions.
Meanwhile, nursing mothers were being denied food and the food they were getting contained maggots, mould and faeces.
Over a two-month period, at least 25 puppies died from exposure. Others suffered injuries from being attacked by other dogs in overcrowded conditions.
The facility was owned by Envigo RMS, a company that provides research services to the pharmaceutical and biotechnology industries, among others.
Interested in adopting or fostering one of the #4000Beagles? 💙🐶

Check out our growing list of partners that are accepting the beagles into their adoption programs: https://t.co/bO7XqeUMv8 pic.twitter.com/x9F9ZJCFu4

— The Humane Society of the United States (@HumaneSociety) August 4, 2022
The Humane Society of the US (HSUS) is now leading what is believed to be one of the biggest dog rescue efforts in US history.
Speaking as the first dogs were rescued after the facility was shut down, HSUS CEO Kitty Block said: "This is a truly historic moment in animal protection."
"Our Animal Rescue Team is ready for this challenge because this is who we are - what we've trained for - we take on what otherwise seems impossible," she said.
"We are grateful to our dedicated independent rescue and shelter partners, a network of organizations in communities throughout the country. These remarkable dogs now have wonderful homes and lives ahead of them, just as they deserve."
HSUS is working with around 50 different animal welfare organisations across the US to rehome the dogs.
The charity is urgently seeking donations to assist it in what is a 'massive undertaking'.
It is also continuing its campaign to end animal testing in the US – where millions of animals are forced to endure painful experiments every year.