Gift vouchers are usually seen as a Christmas favourite, with tighter legislation being passed in 2019.
The Home Show host Sinead Ryan has said people may not be aware that the legislation only covers certain types of vouchers.
She told Lunchtime Live there are several different categories.
"The legislation on vouchers came in in December 2019, so everybody thinks we're set and we're sorted, we're being looked after, the consumer is protected: no," she said.
"Store voucher, centre voucher, coupon, credit note, loyalty card voucher, One4All, deal website voucher - all different and only two of those things come in under the legislation - the rest are not included".
A store voucher and a shopping centre voucher are the only two types covered under the Consumer Protection (Gift Vouchers) Act.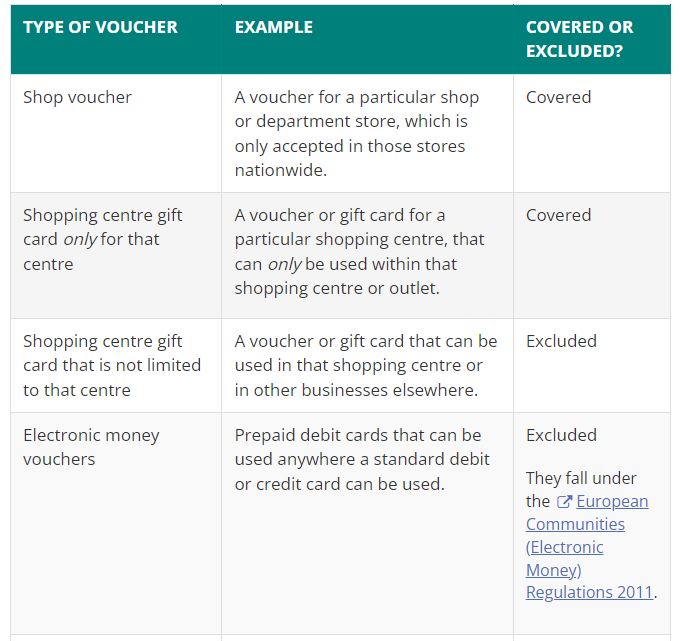 "A store voucher - literally you can only use it in one shop, and here's the voucher - and a centre voucher," Sinead explained.
"That's a voucher for a shopping centre that you can use in any shop in that shopping centre.
"They are the only ones that come in under the voucher legislation".
One4All
She said cards such as One4All are not in fact vouchers under the law.
"That's not considered a voucher in terms of the legislation," she said.
"Even though there's hundreds of shops that you can potentially or allegedly use it in, but in fact it's an electronic money card.
"It comes under the same rules as, for instance, if you go into a garage and you pick up a pre-paid credit card for something: that's what it is.
"That's not a voucher, it operates the same but it's not the same".
Inactive balance fee
Sinead said many such vouchers have an inactive balance fee, which usually sees the card lose money after a point.
"Essentially what happens is if you don't use the voucher for a period of time - usually 12 months - the operator of it deducts the fee every single month off it," she said.
"This was not - and actually disgracefully so, in my opinion - dealt with the legislation that went through in 2019 on gift vouchers.
"It was completely ignored.
"Usually the inactive balance fee doesn't apply for the first few months.
"Normally, the ones I've seen, if you spend it within a year of it being purchased - not you getting it".
Sinead said pre-loaded money cards could be the best way to go.
"They are good because they are literally cash," she said.
"So if you can use those anywhere that you would use cash, then that's kind of the best type to get.
"Bear in mind since the budget, under the new rules, your employer can gift you a voucher up to €1,000 tax-free but he can't give you €1,000 in cash," she added.
Main image: Shopping online for gift cards and vouchers. Picture by: Stephen Frost / Alamy Stock Photo