Younger people aged between 18 and 34 will be able to register to receive a Johnson & Johnson coronavirus vaccine in pharmacies from Monday.
The Minister for Health Stephen Donnelly confirmed the "significant acceleration" of Ireland's vaccine programme that younger cohorts can begin to access the one-shot Janssen vaccine in pharmacies in just a few days' time.
It comes after the National immunisation Advisory Committee (NIAC) reduced the age limit on the two adenovirus-based jabs.
The HSE said 60,000 doses of the Janssen jab have been allocated to around 700 pharmacies, of which 7,000 doses have been used for people aged 50 or over so far.
A further 70,000 doses are available to pharmacies "at short notice if needed".
People aged 18 to 34 people hoping to "opt in" to recieve the vaccine are advised to contact a participating pharmacy to book an appointment in advance.
Vaccination centres will subsequently begin vaccinating younger age groups from mid-July in line with the current age-based rollout plan.
The AstraZeneca and Janssen vaccines, as well as the mRNA inoculations, will be administered at centres.
Online registration for people aged 30 to 34 year olds through vaccination centres will open on July 9.
However, the HSE confirmed that people in the 35 to 39 age group will not be able to avail of their COVID-19 vaccine in pharmacies.
This is because they are on "the brink" of receiving an mRNA vaccine, such as Pfizer or Moderna, which according to NIAC is the preferable jab for that cohort.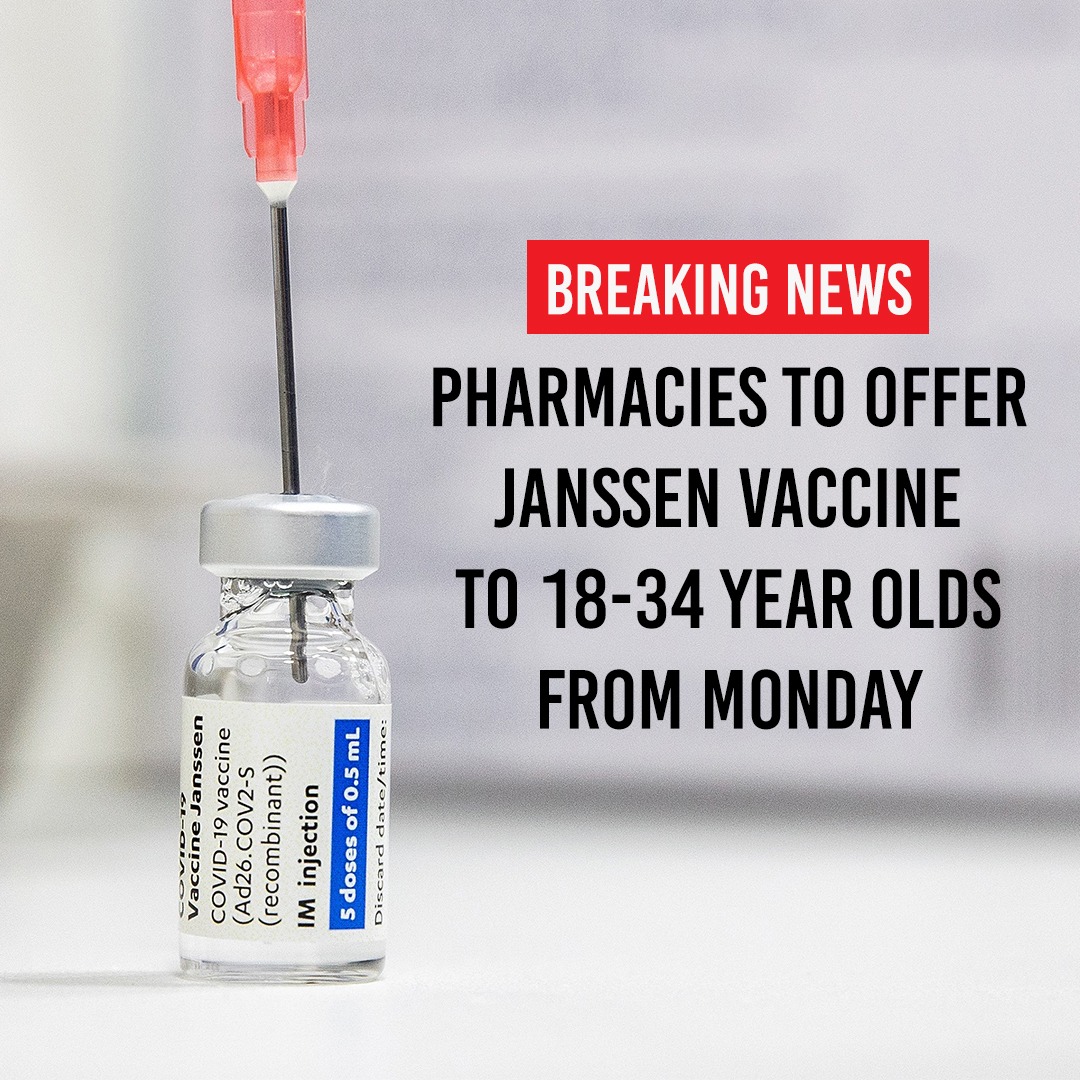 It comes as the Chief Medical Officer warned that Ireland is on the cusp of a fourth wave of COVID-19, driven by the Delta variant.
The variant now accounts for more than half of cases in the country, up from less than 30% in the space of a week.
Professor Christine Loscher, Professor of Immunology at DCU, said the warning from NPHET was "a real wake-up call" to the severity of the virus that the country is facing.
Ireland won't be an outlier in facing the threat posed by the more transmissible strain, she said, but rather it will be a Europe-wide struggle to contain the spread of the variant.
"Things have changed so quickly in the last week, the messages we were getting ten days was we're all doing great and Delta is only a small percentage," she told Newstalk Breakfast.
"Things have changed very rapidly and I think what we'll see in the next week or two is not just changes here but right across Europe and all those countries that are more open may reassess their situation as well."
Vaccines
This scenario will arrive despite the benefits being felt by the vaccine rollout, which has successfully reduced case hospitalisations and serious illness caused by the disease.
"We had relied on first doses when we were talking about Alpha, and the strategy was about getting first doses into people because it would give them a very high level of protection," Prof Loscher said.
"Delta needs those second doses and the problem is we've only in the last two months had our hands on high numbers of the vaccines in order to do that.
"We do have some of our younger cohorts vaccinated, in the under 30s, around 15% of them have had two doses and that's predominantly those in a vulnerable category.
"The issue is we still have a lot of unvaccinated people and because Delta is more transmissible, unfortunately the case numbers will go up.
"But we're certainly not, in my view, in the same situation we were at Christmas because we have more vaccines on board."
Significant acceleration of our vaccine programme:

* 18-34-year-olds can begin to access Janssen vaccine in pharmacies from Monday. pic.twitter.com/Yhu5k7c4Xc

— Stephen Donnelly (@DonnellyStephen) July 2, 2021
Prof Loscher added that inoculating younger people with the Johnson & Johnson vaccine is "absolutely vital" to the rollout plan.
"We have a lot of J&J, the pharmacies reckon they have around 40,000 doses, there's another 100,000 doses hanging around and there's another 80,000 due in in July," she said.
"By my rough calculations, that will vaccinate around 30 to 35% of the under 30s and that's massive considering what we're going into with Delta.
"I think pharmacies have played a huge role in our flu vaccine programme for the last few years, we've been heavily reliant on them, they've been calling out to be more involved in this vaccination programme.
"I think given that we've started to communicate what Delta will mean for everybody, particularly unvaccinated people, I would hope that young people will go into their pharmacies and get that J&J shot as soon as they can."
Main image: A pharmacist preparing a COVID-19 vaccine, and the Minister for Health Stephen Donnelly. Credit: PA