Ireland's COVID-19 death toll has reached 5,000, with two further fatalities reported on Thursday.
Some 448 new cases have also been confirmed.
Donegal has the highest 14-day incidence rate in the country, at 250 cases per 100,000 people.
The 14-day incidence rate nationally is now 101/100,000.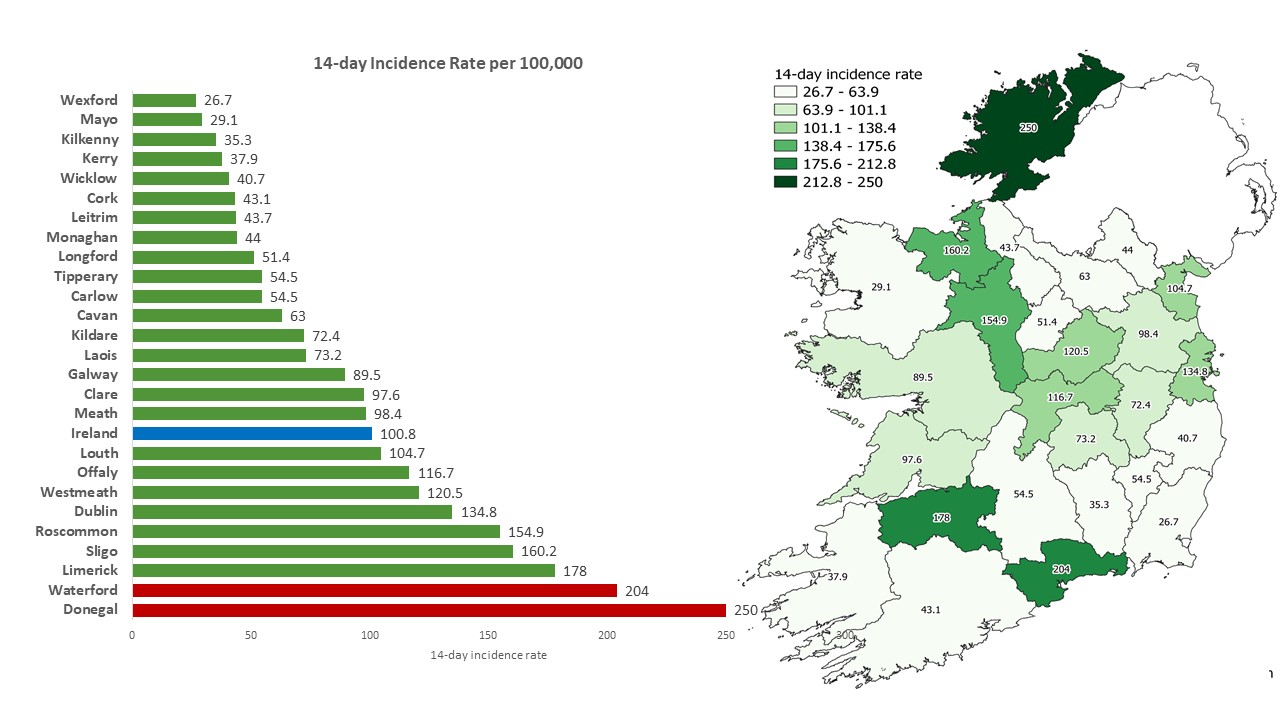 But Deputy Chief Medical Officer, Dr Ronan Glynn, has expressed particular concern about the situation in Dublin.
"We have some concerns in particular about Dublin, while its incidence is not the highest in the country... incidence has taken off there versus the rest of the country over the past number of days.
"And obviously, given the population size in Dublin, if that continues it will drive the national picture.
"We are aware, over the past number of weeks, that Delta was present at a greater proportion in the Dublin area."
The five-day moving average stands at 379.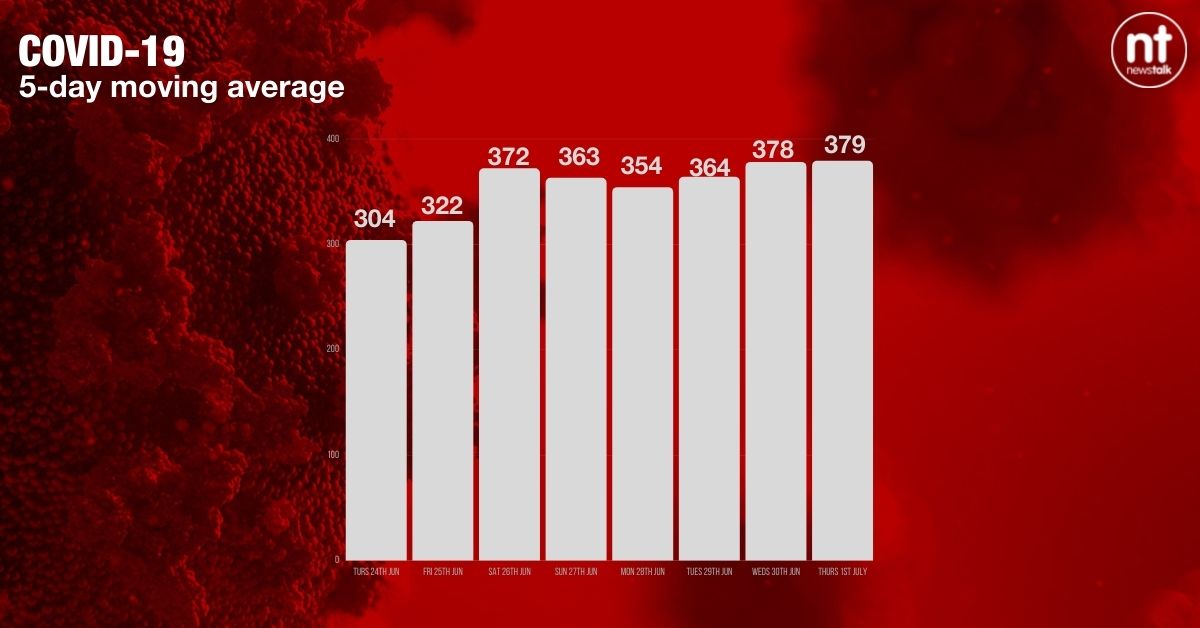 The country's reproduction number has risen above one, according to Professor Philip Nolan from NPHET.
"The situation analysis is incidence is increasing, and that's a real concern.
"We're at close to 390 cases per day now, and above 100 cases per 100,000 population over 14 days.
"Growth rate at 2% per day, and the estimate of reproduction number is that it is now above one - estimated between 1 and 1.2 - and that incidence we're seeing across all age groups.
"This is cause for concern".
At today's NPHET briefing, Professor Philip Nolan @President_MU presented slides from the Irish Epidemiological Modelling Advisory Group. pic.twitter.com/6HVbdtnz4T

— Department of Health (@roinnslainte) July 1, 2021
It comes as people who were due to be vaccinated later this summer may now be offered vaccines in July, according to the head of the HSE Paul Reid.
He says a plan to accelerate the vaccine rollout has been submitted to Government.
He earlier told The Hard Shoulder: "What we've just briefed the Minister on... it does set out and does facilitate us bringing forward the completion of the vaccination programme by a period of a few weeks.
"Firstly it utilises Janssen and AstraZeneca supplies that we wouldn't have been in a position to do, and to start potentially vaccinating a lot of those people in July that would have waited longer".
Mr Reid says 45% of the population is now fully inoculated.
While vaccine registration for those age 30 to 34 should be open "towards the end of next week".
That is according to the Health Minister Stephen Donnelly, who says AstraZeneca second doses for those aged 60 to 69 will be completed in the coming weeks.
While he says 351,000 vaccines were administered here in the last week.
The HSE has also confirmed 18 to 49-year-olds will have a choice of vaccine.
The official advice is those age groups should be offered an mRNA option - but can go for a dose of AstraZeneca or Johnson & Johnson if they want an earlier vaccination.
Reporting by Kacey O'Riordan and Jack Quann
Main image: Dr Ronan Glynn, Deputy Chief Medical Officer, in the Department of Health at a NPHET press briefing. Picture by: Sam Boal / RollingNews.ie