NPHET's Professor Phillip Nolan says he's not concerned about the speed of the Government's new reopening plan.
He said the approach being taken is very cautious, focusing on "the safest things first".
However, he cautioned that officials are learning as they go - and that there could be a "bump in the road" if they find something is less safe than they thought.
The Government this week announced its reopening plan for May and early June.
The first batch of restrictions will ease on Monday, May 10th.
It will include the return of inter-county travel, the start of a phased reopening of retail, and the reopening of hairdressers and barbers.
The move comes despite a gradual increase in the number of COVID-19 cases in recent days.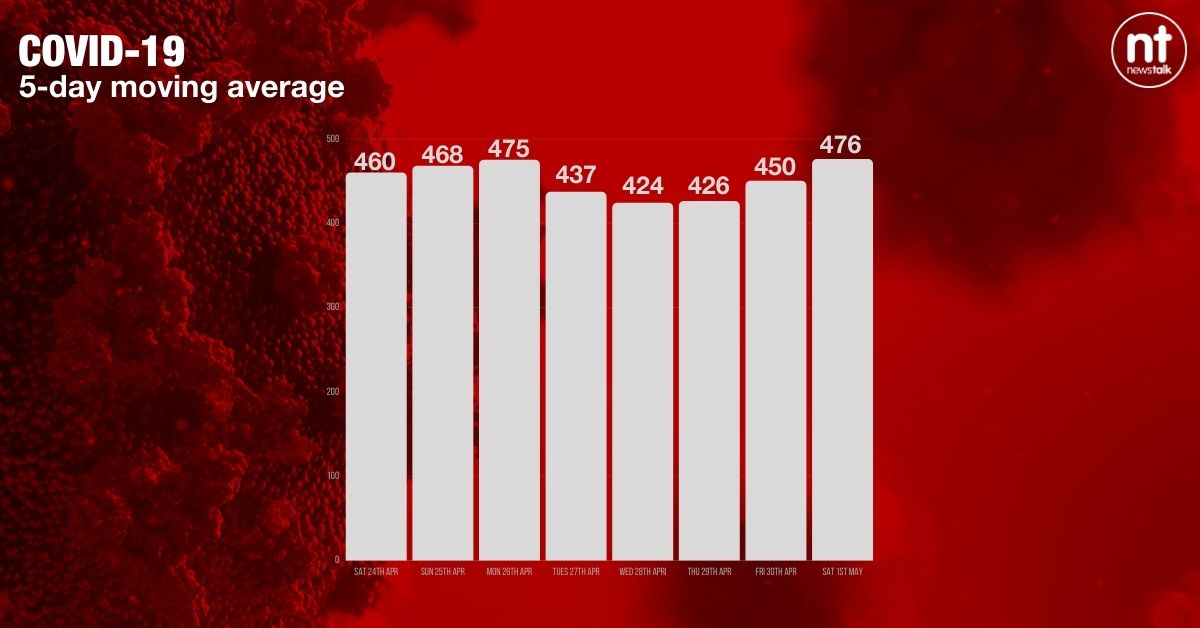 Professor Nolan - Chair of the NPHET Irish Epidemiological Modelling Advisory Group - told On The Record his modelling shows there's still a range of possible outcomes when it comes to coronavirus transmission over the coming weeks.
That's particularly due to the presence of a more transmissible variant of the virus, which makes the current situation very different than last summer.
However, he believes restrictions do now need to be eased.
He said: "The [first reason] is the length of time we've had to endure quite frankly really restrictive public health measures.
"People crave social contact… we need to buy essentials like clothes, shoes and books. We do need to move on at this point, and we're at a point in the pandemic where certain low risk things… are relatively safe.
"Particularly as the vaccination programme ramps up… a slow, incremental and careful reopening of society is appropriate at this time.
"The measures are carefully calibrated - we're looking at things that are important to people, that are low risk."
He stressed that it's not safe to move any faster than the current reopening plan, and that the approach is more cautious than last summer.
The Maynooth University president also urged people to avoid "drifting indoors" when socialising.
However, he said officials "are realistic" - saying they know people will sometimes need to briefly go inside when socialising in someone's garden.
He suggested: "People need to go to the bathroom if they're visiting someone's house. That can be done safely or unsafely."
Wedding restrictions
There has been criticism around the continued restrictions on the numbers allowed to attend wedding receptions.
While 50 people can attend a ceremony from May 10th, only six people will be allowed to gather indoors for the celebration afterwards (or 15 for outdoor events).
That limit is set to increase to 25 people in June.
Prof Nolan argued that the ceremony is the most important part of a wedding or funeral.
He explained: "At the moment, it's far too high risk for people to be socialising together indoors, or for there to be large organised gatherings even outdoors.
"Obviously for major events like getting married or to mourn someone's passing… we do need to support people.
"The concern… is the events on the periphery of that. It's the social get-together, which we absolutely realise how important is to people. But our difficulty is that we've seen too many cases and sadly deaths associated not with the formal central ceremony… but with the social get-togethers afterwards.
"It's just not safe to do that right now".
Churches are still being asked to hold off on communions and confirmations - services Professor Nolan suggested can usually be deferred for a few months.
Main image: Professor Philip Nolan, Chair of the NPHET Irish Epidemiological Modelling Advisory Group. Photograph: Leah Farrell / RollingNews.ie