Ukrainians in Kyiv are caring for hundreds of animals in a zoo during wartime, despite limited resources and life-threatening attacks.
Since Russia's invasion of the small country, some Ukrainians have joined the army or territorial defence, others have fled to Poland and beyond, and some have stayed in their cities and learned to live with the threat.
But what about animals in captivity?
Ukraine has seven state zoos, as well as 15 private ones, and there was no way to evacuate hundreds of animals to other countries.
Newstalk presenter Sean Moncrieff has been bringing us scenes of ordinary life still ongoing in Ukraine and last week he went to the capital's zoo just 20 minutes from the city centre.
It's 110 years old and home to all kinds of creatures including elephants, giraffes, snakes, and tigers.
Sean met with Director Kyryl Partin, who explained how some of their new inhabitants came into their care from the worst effected provinces of Ukraine along the south and southeast.
"At the entrance of the zoo, we received boxes with wild animals, like alligators, different wild animals", he explained.
"Then we received the monkeys, turtles, different birds because they were frontline and the zoo was crashed and destroyed.
"Even now we cannot count how many animals in such a small private zoo, we cannot count the amount of animals as they survived."
Power cuts
When destruction led to power cuts, zoos suddenly had no way of keeping some animals warm in the cold Ukraine winter, until allies helped.
The zoo doesn't have any working lights for up to twelve hours per day.
"Our European colleagues were helping us. Because of them we were able to buy big generators to provide electricity", he said.
"We have a big boiler house, our own boiler house, and when there is blackout and there is no electricity, we turn on generator and they heat us.
"When there was no light, some animals refused to eat because they need light to eat, then we bought a special light and can feed them", he said.
Risking their lives
Even when there is a grave threat of attack, the animals are never left completely alone.
"Even now we have people who are on duty all day and in case of something, they can care about heating", Mr Partin said.
"Half of staff go into the bomb shelter, half of staff stay with animals on top and listen to what is happening to decide what to do in case of emergency.
"The first day when Russia [invaded], 50 employees came to the zoo with their animals, with their family and more than months we were living all together here, around 50 days.
"More than 50 employees were living here all together in bomb shelters.
"We make fire [outdoors] and we cooked the food [on it]."
They divided themselves into two teams - one to find food for the animals and one to find resources for the people.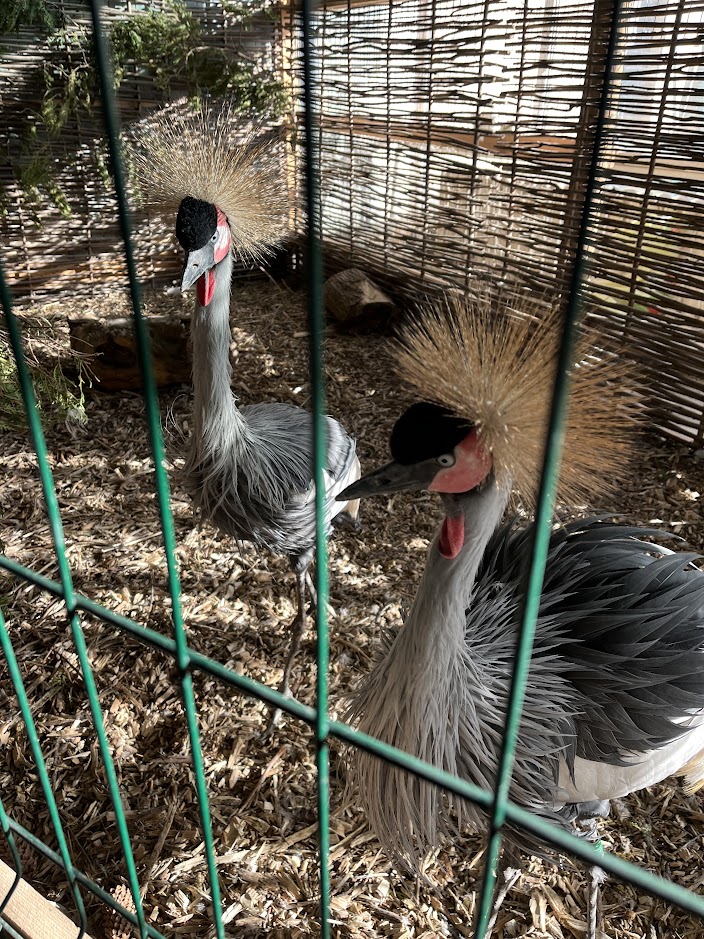 Listen back to the full conversation here.