Seven months into the vaccination rollout, Ireland is fast approaching have 90% of the adult population vaccinated against COVID-19.
The rollout has continued gathering pace, with the first walk-in vaccination centres opening this weekend and the vaccination of those aged 12-15 set to start within days.
As of July 29th, more than 85% of the adult population here had been vaccinated - and that number has risen even further in the days since.
However, the rollout has also happened amid increasing concern about the Delta variant of the virus, which has caused a fresh wave of cases globally - including in some countries which had previously managed to largely contain the virus spready.
Back during the June bank holiday weekend, we took a look at how Ireland's vaccine rollout compared to the rest of the world.
Two months later, a lot has changed - not just in Ireland, but around the world as well. Below, we give a rundown of how the world's vaccination rollout is faring.
This article will focus on the percentage of adults (aged 18 or older) who've received at least one dose as of July 29th.
UK AND US
The UK and US were very much among the world leaders in the vaccine rollout early on, along with the likes of Israel. They were getting vaccines into arms at a remarkable rate.
In the UK, vaccine uptake has remained very high indeed - although the rate of vaccination has slowed since June. Over 88% of people have now had at least one dose - pretty much the same as the number being reported in Ireland at the moment. At current vaccination rates, however, Ireland is likely to surpass the UK rate within days.
Full vaccination is an interesting point of contrast. Many of the vaccines have significantly longer gaps between doses in the UK than in Ireland - those who receive the Pfizer vaccine, for example, could be waiting two months or more for a second dose in England, compared to just 21-28 days in Ireland.
The UK currently has just under 72% of adults fully vaccinated, again nearly identical to the current rate in Ireland.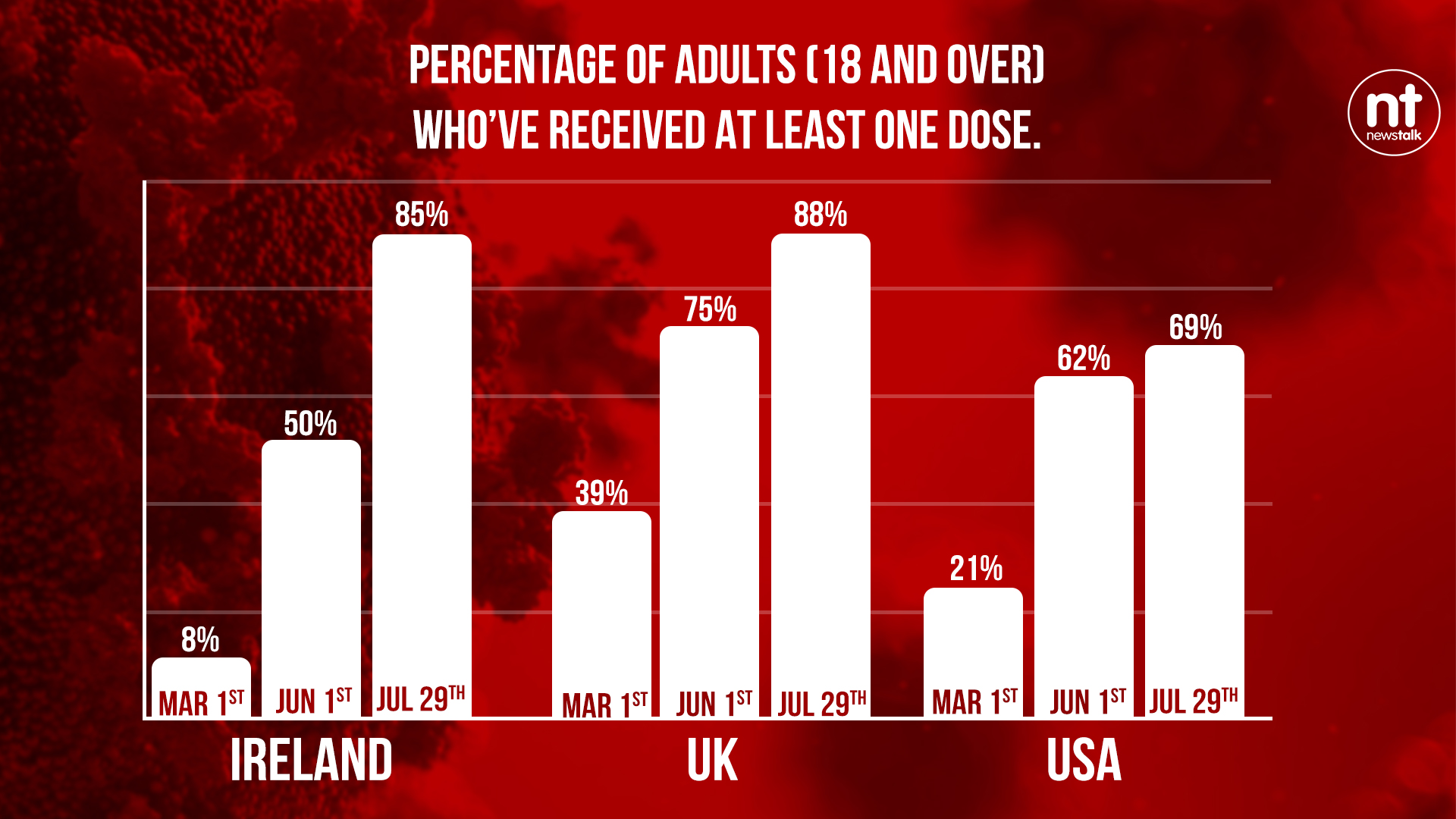 The US is a different story. While the UK's rollout may have slowed down in the high 80s, in the US vaccination has yet to surpass the Biden administration's target of 70% (meaning they're well over a month behind target). Just 69% have had at least one dose, compared to 62% two months ago. In contrast, Ireland has gone from 50% to 85% in the same period.
Canada, meanwhile, continues to have some of the world's highest vaccination rates. Their latest figures show 80% of the population aged 12 and older have been vaccinated. Vaccination rates have been rising by as much as 6% each week.
EUROPE
Most of Europe has followed a similar trajectory to Ireland - a rapid increase in the speed of the rollout over the last two months. Over 70% of the EU's population has now had at least one dose - with the highest rates (80%+) being reported in countries such as Ireland, Denmark, the Netherlands and Belgium.
Slightly lower rates are being reported in France (77%), Italy (73%) and Germany (73%), but the rollout is continuing at pace - with 57% of all adults in the bloc now fully vaccinated.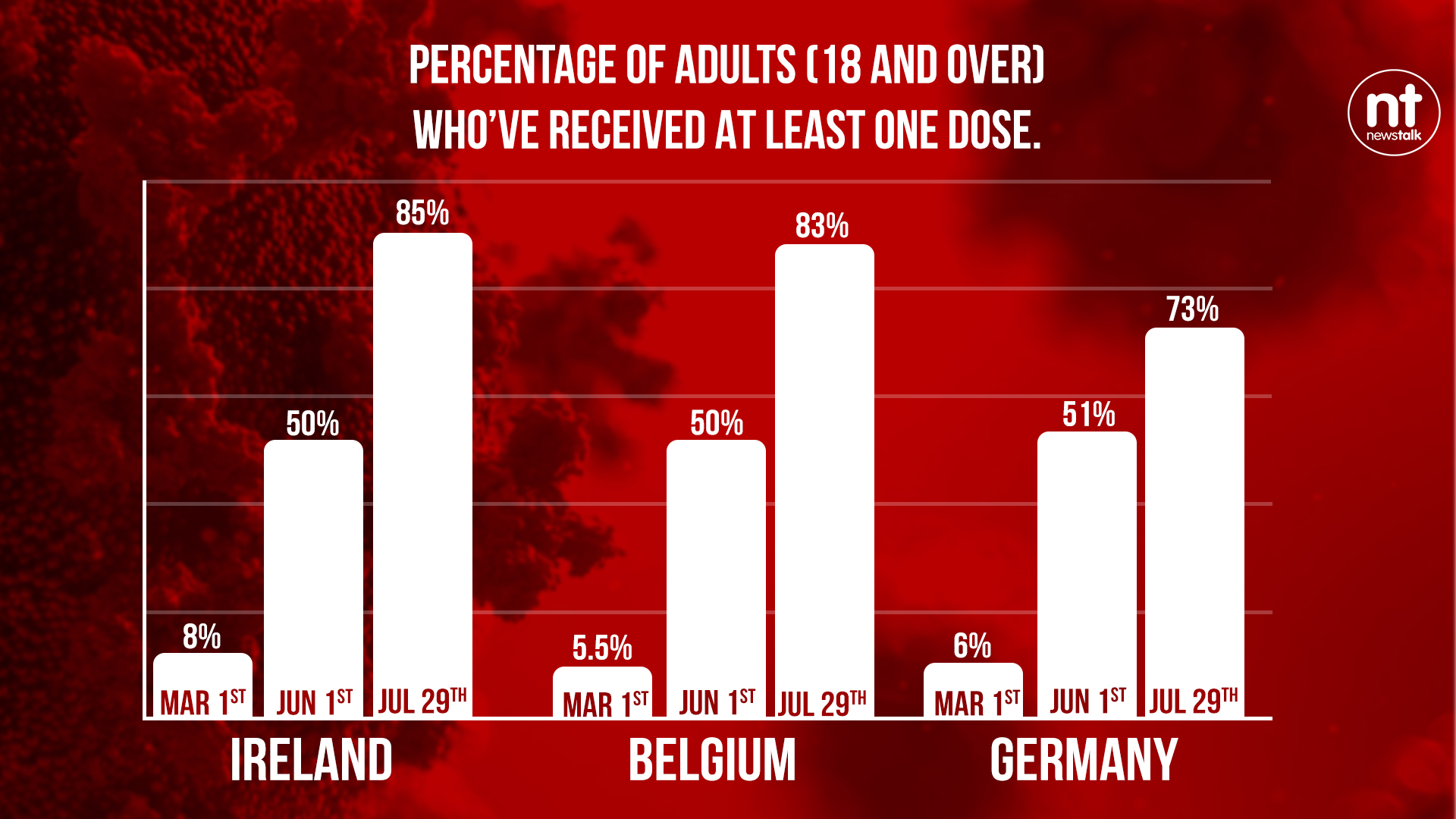 The exceptions from June very much remain exceptions, however. Uptake remains much, much lower in countries such as Bulgaria (19% of adults at least partially vaccinated) and Romania (31.5%).
The uptake has been so low that these countries are even in the process of selling their 'spare' vaccines to other countries - with the Irish Government finalising plans to buy one million doses from Romania.
MIDDLE EAST, ASIA, AUSTRALIA AND NEW ZEALAND
Countries such as the UAE and Bahrain continue to report some of the highest vaccination rates in the world, while Israel - at around 85% of adults vaccinated - is now at a similar level to Europe.
There has been a significant increase is in countries such as Japan and South Korea. Both countries have significantly sped up their rollouts over the last few months - South Korea, for example, has jumped from just 15% of adults vaccinated in early June to 44% today.
Slower increases are being reported in New Zealand and Australia, but the pace is certainly picking up. New Zealand had 11% of adults partially vaccinated in early June, and that's now increased to around 26%. Australia's numbers remain slightly ahead of its neighbour, with around 40% of those aged over 16 having now had at least one dose.
To give an idea of what this means in practical terms: Australia - which is battling several outbreaks of the Delta variant in major cities, leading to localised lockdowns - is currently targeting having most people vaccinated by October. The government there has said they don't intend to reopen their borders until 80% of the population is vaccinated.
AFRICA AND SOUTH AMERICA
If there's one thing that hasn't changed since June, it's the vast gap that still exists between wealthy, developed nations and countries in the developing world.
Vaccination rates remain extraordinarily low across much of Africa, as well as in countries such as Afghanistan and Iraq.
While the vaccine rate has increased in some wealthier countries (South Africa, for example, has now vaccinated around 14% of adults) many others are still struggling to vaccinate their healthcare workers or vulnerable populations.
The Central African Republic, for example, had vaccinated under 1% of its adult population as of June 1st. That has only risen to around 3% in the subsequent two months. Morocco remains the only country with vaccination rates comparable to western, developed nations (over 21 million doses administered, with a total population of around 37 million).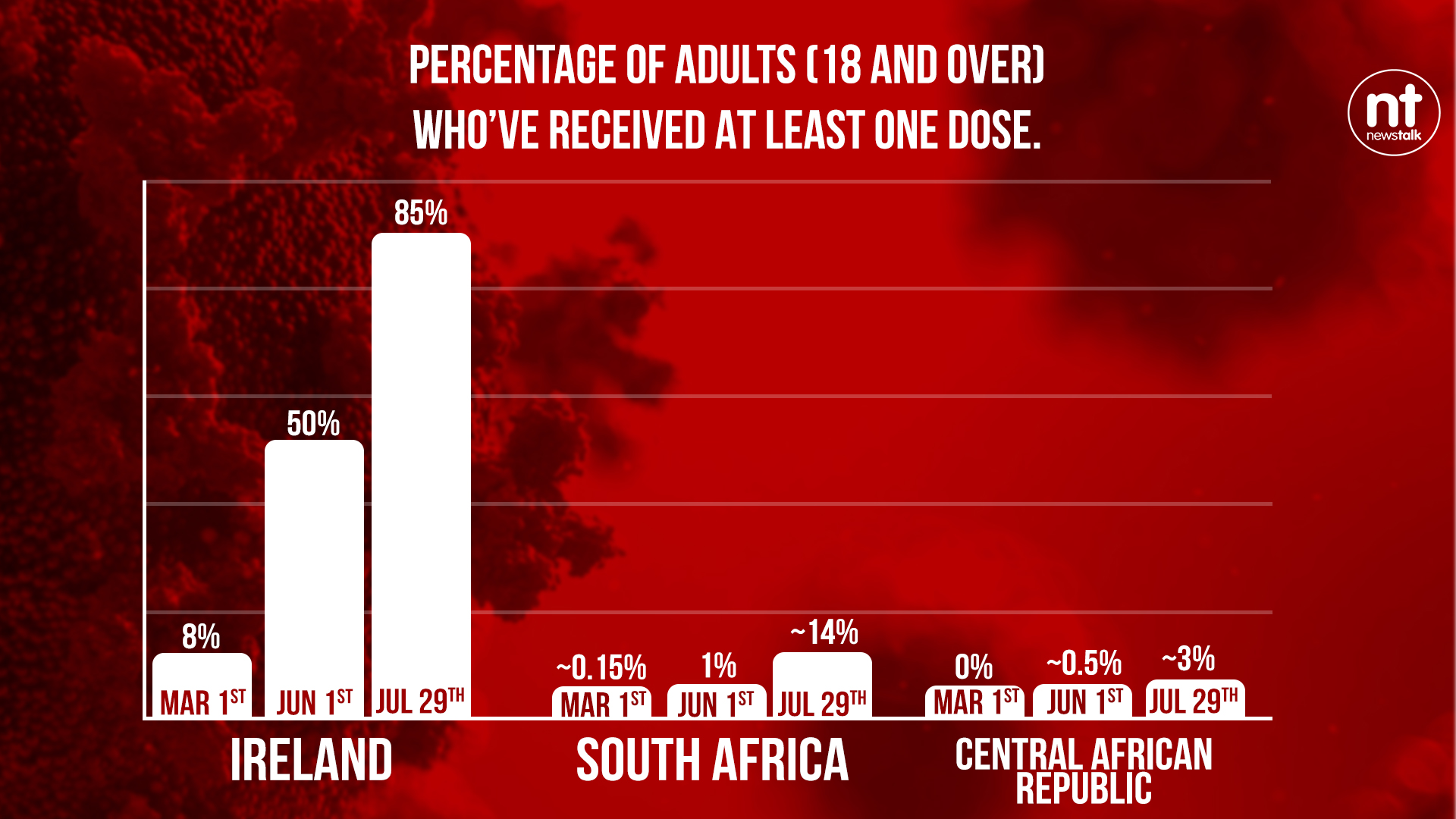 The situation in South and Latin America is more mixed. While vaccine rates are climbing in the likes of Brazil and Argentina, other countries - such as Venezuela, Nicaragua and Guatemala - have some of the world's lowest vaccination rates. In Nicaragua, for example, only around 5-6% of adults have received a vaccine to date.
The situation has prompted frequent warnings from the WHO about the need to vaccinate the entire world.
A WHO taskforce earlier this week said there remains an "acute and alarming shortage in the supply of doses to low and low-middle income countries".
They said: "Our common target is for at least 40% of people in low and low-middle income countries to be vaccinated by the end of 2021.
"We estimate that less than 20% of the necessary vaccines is currently scheduled for delivery to these countries."
Graphics by Killian Ginnity
Main images:
(left) High school seniors and faculty members wait to be monitored for possible side effects after receiving the first dose of the Pfizer-BioNTech COVID-19 coronavirus vaccine at a vaccination center in Daegu, South Korea. Picture by: Kim Jun-beom/AP/Press Association Images
(right) Healthcare worker in Wellington prepares a vaccine dose. Picture by: Xinhua News Agency/PA Images