It's now over five months since the first COVID-19 vaccines arrived in Ireland.
There were delays, frustrations and even temporary suspensions as the rollout gathered speed. However, over 50% of the population has now received at least one jab - and the HSE's Dr Colm Henry has hailed the uptake level here as the 'envy of Europe'.
But how does Ireland's rate compare to the rest of Europe and indeed the world? What's the current picture internationally, and just how big is the vaccine divide across countries and continents? You can find out below.
One big caveat, related to Ireland specifically: the recent HSE cyber-attack has dramatically reduced the amount of data being published about the vaccine rollout here. Nonetheless, we have been given regular updates on progress - including that 50% of adults had received at least one dose by the end of May (it has since surpassed that, reaching 53% as of June 3rd). We'll be using that as a baseline figure to show how Ireland compares internationally.
Given authorities in several countries are only now signing off on the use of vaccines in younger teenagers, this article will mainly focus on the percentage of adults (those aged 18 and over) vaccinated, unless noted otherwise.
UK AND US
Let's start with the UK and US - two countries that have had very successful rollouts, and are quite a bit ahead of Ireland.
The UK's vaccine programme continues to soar ahead - around three-quarters of adults have now had a first dose. At one stage, second doses were far behind the number of first doses administered due to the UK deciding to keep very big gaps between vaccine doses. By the end of May, however, the UK was well on the way to having 50% of adults fully vaccinated.
Stats recently put together by The New Statesman show Wales is in fact now the global vaccine leader, having overtaken even Israel (the country noted for the remarkable speed of its initial rollout).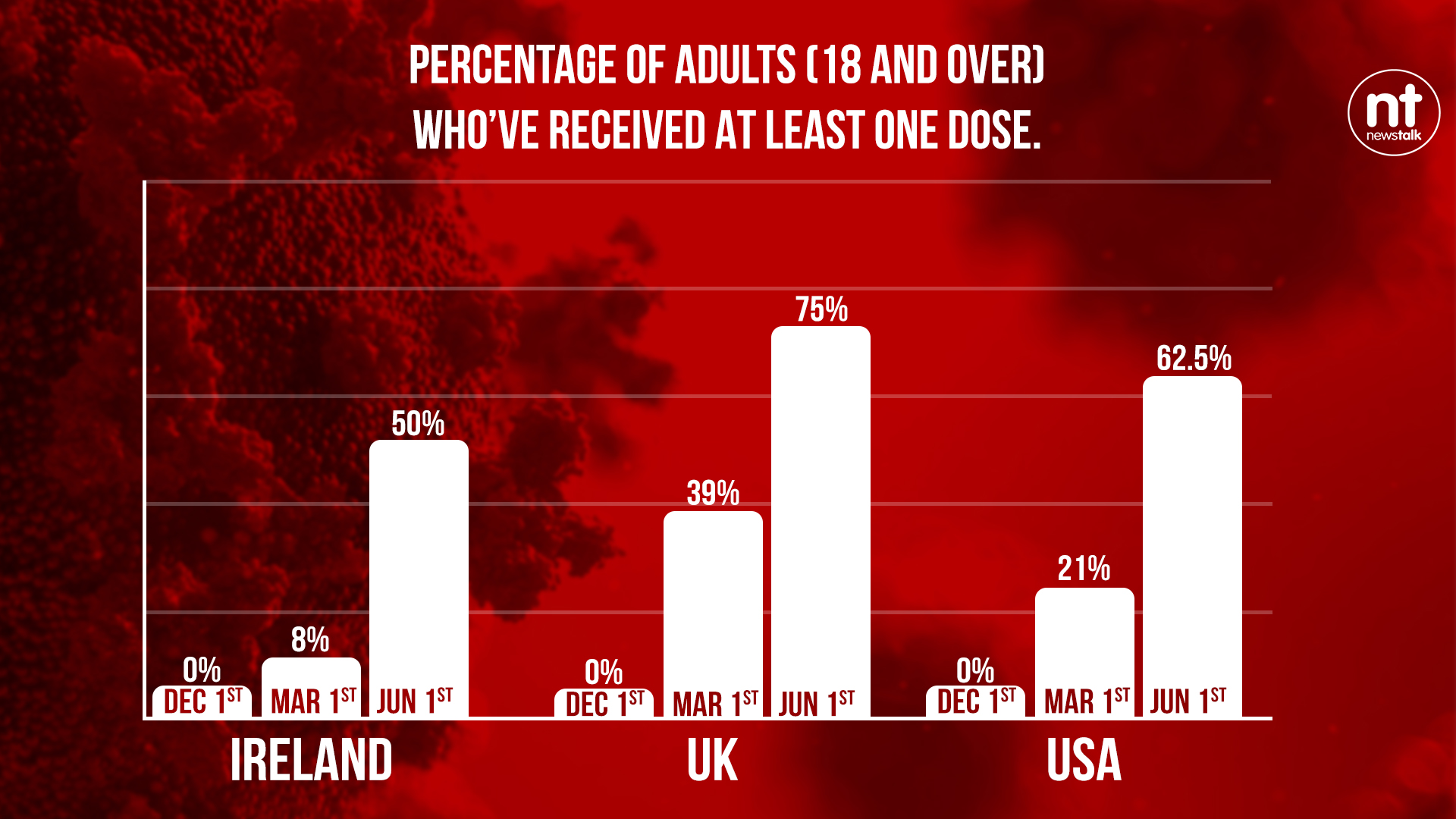 The US situation is a bit more complicated. It remains quite a bit ahead of Ireland, with around 62% of adults having had a first dose. However, the vaccination rate has dramatically slowed over the past month or two. Vaccination rates reached their peak in March and April - dates that coincide with the Biden administration confirming jabs were available for all adults.
There's a few likely reasons for the slowdown: access issues (many may struggle to travel to a pharmacy to get their jab); fear of side effects; vaccine hesitancy and scepticism; even just the current American political and ideological climate. Biden has announced a fresh push to get America to 70% vaccination before the end of the month, but there's plenty of work to do.
Neighbouring Canada has caught up with the US (over 60% have now had at least a first dose) in terms of its own rollout.
EUROPE
The situation across Europe is for the most part extremely similar to Ireland, for one main reason: the EU is sharing vaccine doses on a pro rata basis. To put it simply, if Ireland gets enough vaccines for 1% of the population in one shipment, Germany will also get enough vaccines for 1% of the population in one shipment. Germany may get many more vaccines, but it means both countries can keep up the same pace based on their relative sizes. It's all based on a fair, EU-wide distribution strategy.
Let's compare Ireland to Belgium and Germany, to pick just two examples. Ireland had a slightly faster start than the other two countries - getting vaccines into arms faster during those early deliveries. But as of early June the percentage of adults vaccinated is basically identical at around 50%. This is echoed right across Europe. The overall uptake rate across the EU is 46.2% - some countries are slightly lower, some slightly higher, but most have well over 40% vaccination rates currently (and as high as 55% in Finland).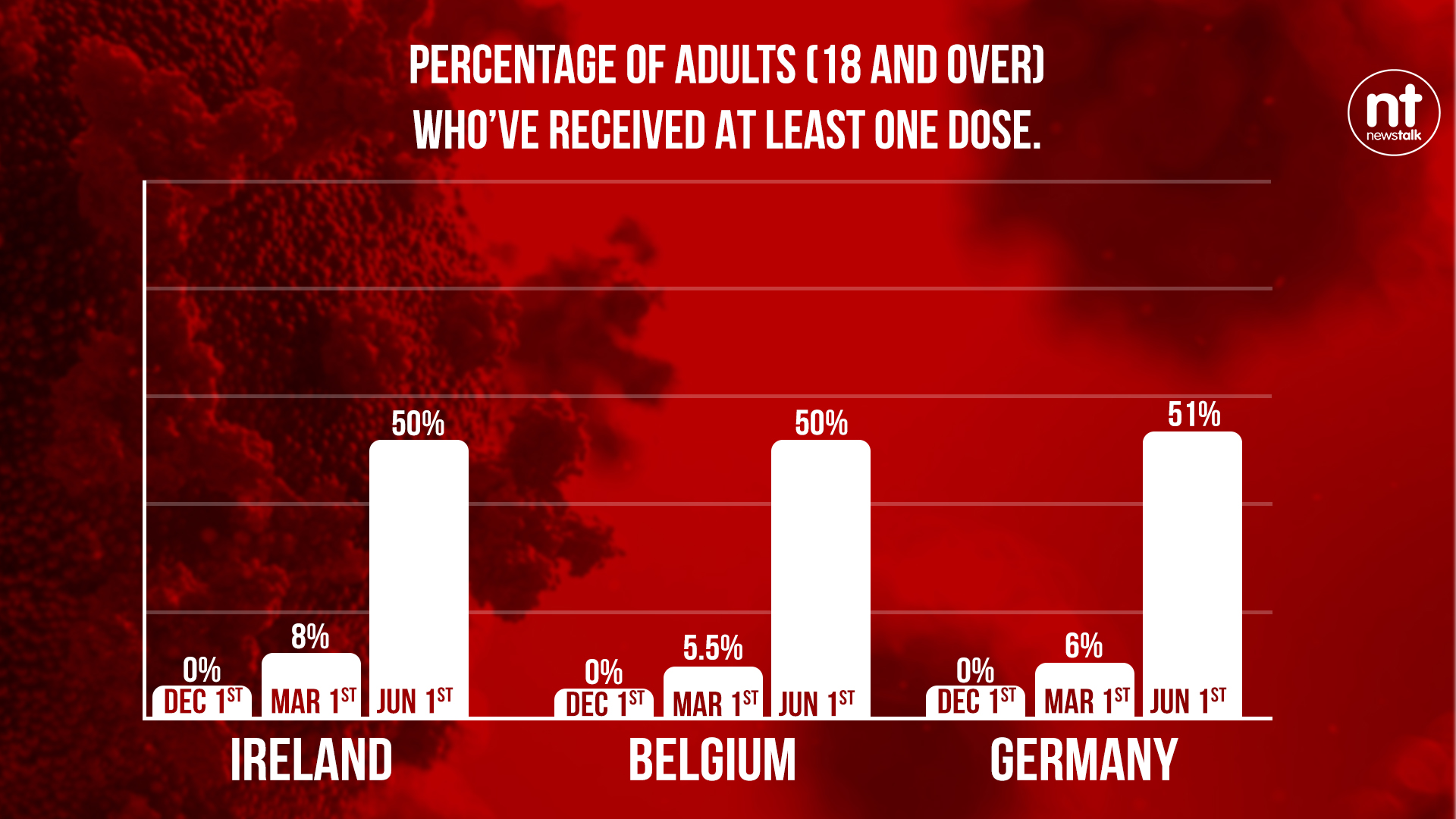 There are some important disclaimers though. Some countries have stopped using the AstraZeneca and Johnson & Johnson vaccines entirely amid blood clotting fears, while others may have opted out of their share of particular vaccine supplies (such as the expensive Moderna jab). Beyond supply issues and complications, a point of significant concern is the high levels of vaccine scepticism in some countries: that in particular is cited as a key reason behind the remarkably slow rollout in Bulgaria (where just 14% of the adult population had received at least one dose by the end of May).
One particularly interesting country of note is Hungary, which is quite a bit ahead of the rest of the EU with over 62% of adults having now been given a vaccine. The reason is simple: it's the first EU country to use both China's Sinopharm vaccine and Russia's Sputnik-V, despite those vaccines not yet having been given the green light by the EMA.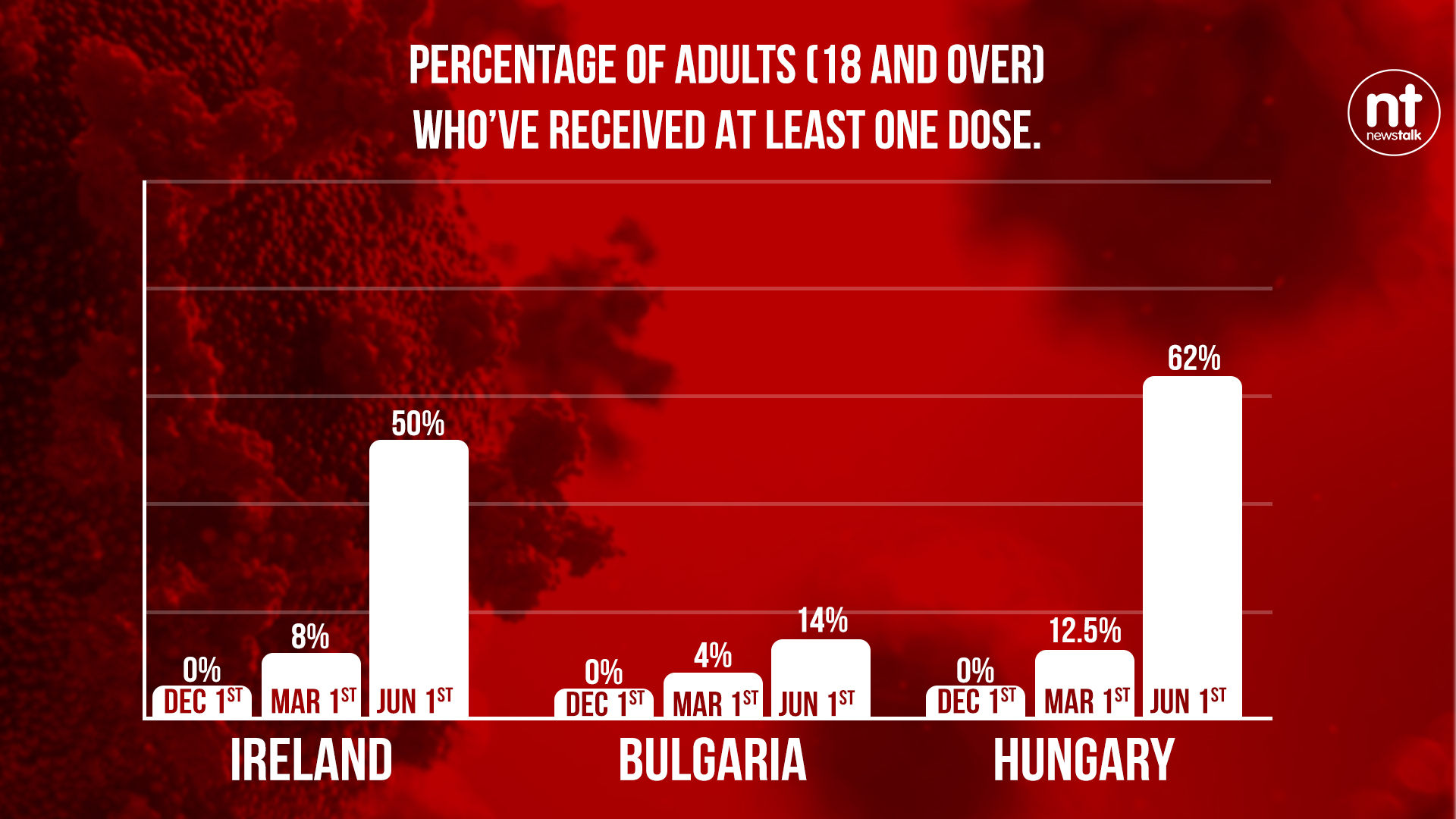 MIDDLE EAST, ASIA, AUSTRALIA AND NEW ZEALAND
Moving beyond Europe, the vaccine situation suddenly becomes a lot more complex. In the Middle East, a few countries have been noted for their swift and comprehensive vaccine rollouts - Israel, Bahrain and UAE are among those who've vaccinated over half their adult population. Such countries are outliers, however.
The likes of Russia and India have had slow vaccine rollouts with less than a quarter of the population vaccinated, despite dedicated local vaccine production. China - which is using two of its own vaccines - has dramatically sped up its vaccine rollout over the last month or so, and is now administering tens of millions of doses a week. Its neighbour Mongolia, meanwhile, boasts one of the highest vaccine rates in the world: well over 50% of the population have now had a first dose, according to Our World In Data figures.
Surprisingly, perhaps, some of the wealthiest nations in Asia have struggled to get their own vaccine programmes off the ground.
In South Korea, for example, only around 15% of the adult population had received a first dose by the end of May. Even lower numbers have been reported by Japan, which currently has several cities in a state of emergency due to COVID-19 surges (even as the opening of the Tokyo Olympics fast approaches). Figures suggest not even 10% of the population has received a first dose in Japan - import delays and slow regulatory approval (only the Pfizer vaccine has gotten the green light) have been cited as key factors in the slow rollout.
Similarly, Australia and New Zealand have reported low vaccine numbers to date. The latter - which has a similar population to Ireland - has had just 11% of the population with at least one dose. Vaccination is still focused on vulnerable groups and frontline workers, and is only expected to expand to the general population from the end of July. Of course, both New Zealand and Australia have experienced much lower COVID-19 rates than the rest of the world. However, their strict border controls are likely to remain in place until a majority of their own populations are vaccinated - something which may not happen until late 2021 or even into 2022.
AFRICA AND SOUTH AMERICA
One common thread in almost all of the countries mentioned so far is they are wealthy, developed nations. When we look at the developing world, the figures are dramatically different.
In Africa, for example, many countries are still reporting vaccination rates in the low single figures - even below 1% in some countries. Figures from the WHO show the Central African Republic - another country with a population size similar to Ireland - having vaccinated around half of a percent of the adult population. South Africa - one of the wealthier countries on the continent - had vaccinated only around 1% of people by June. Only Morocco has reported a vaccination rate comparable to European and North American rates, with over a quarter of the population having received a jab.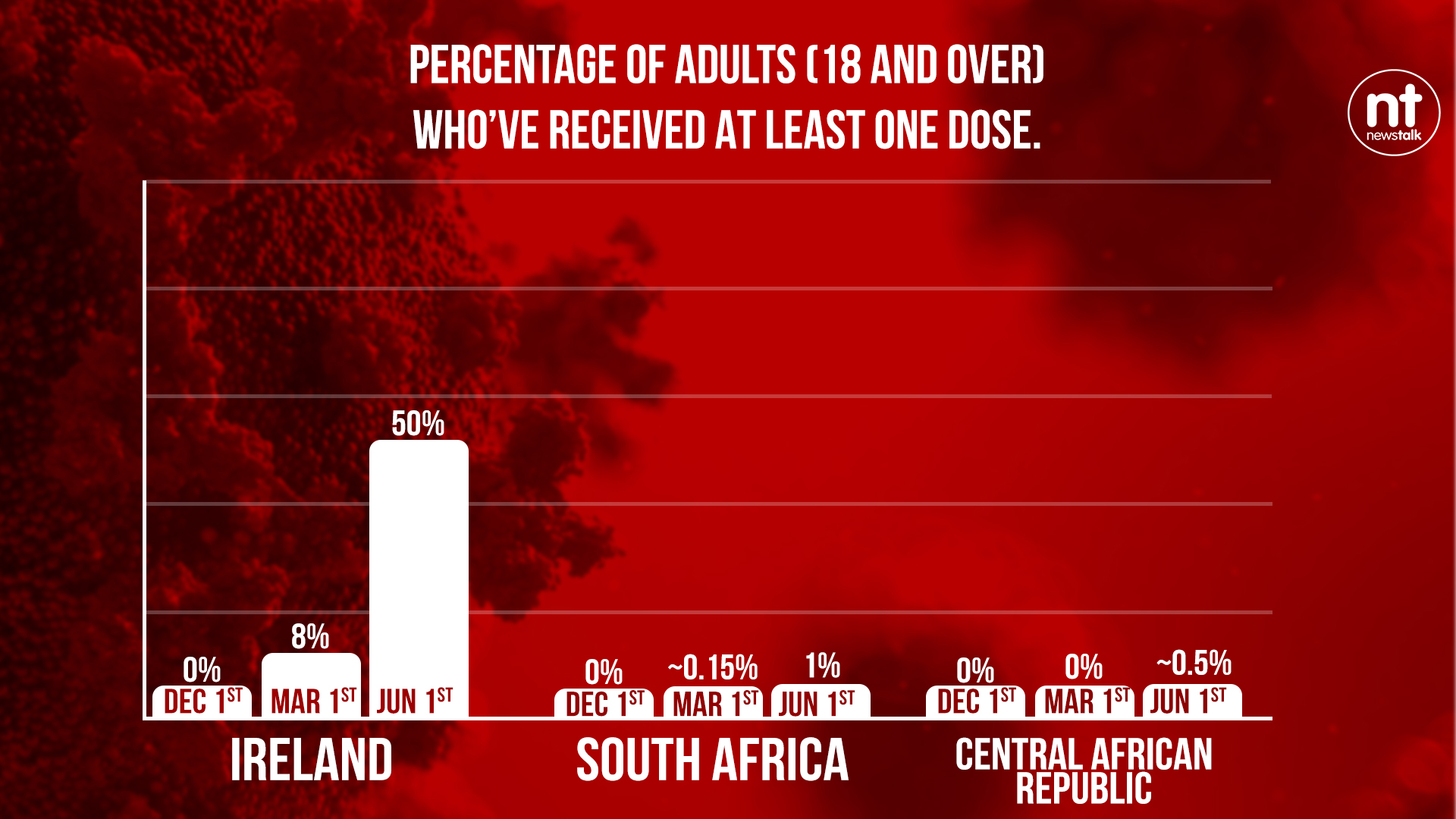 South America, meanwhile, has higher vaccination rates in general - although with a large discrepancy between different countries. Whereas Chile and Uruguay report some of the world's highest vaccine rates (the former has mostly been using China's CoronaVac and vaccinated well over half the population, for example), substantially lower rates have been reported in the likes of Venezuela and Paraguay.
The sharp discrepancy in vaccination rates globally - despite efforts such as the COVAX distribution programme - has led to urgent calls by the WHO for wealthier countries to share supplies with the rest of the world. As WHO spokesperson Margaret Harris told Newstalk, "we are calling on all countries that have large amount of doses… to share right now, so we can get the people most likely to get infected vaccinated, everywhere".
Ireland, like the rest of the EU, is in the lucky few countries to enjoy a speedy vaccine rollout - at current rates, Ireland should have fully vaccinated the vast majority of adults by the end of summer. However, the speed of the rollout in North America and Europe stands in stark contrast to many other parts of the world - something which means the pandemic will continue for some time yet, even as individual countries (and some entire continents) approach herd immunity.
Graphics by Killian Ginnity
Main image: File photos of a healthcare worker in South Korea administering a COVID-19 vaccine (picture by: NEWSIS/Handout via Xinhua) / a COVID-19 mass vaccination centre in Dublin (picture by: Brian Lawless / PA Wire / PA Images) / a healthcare worker holding a vial of China's Sinopharm vaccine in Morocco (picture by: Chadi/Xinhua News Agency/PA Images)