The new mandatory hotel quarantine system will be the most robust in the EU 'by a country mile', according to the Health Minister.
The Government this morning launched a booking portal for the new system, which will apply to all arrivals from 33 'high-risk' countries.
Taoiseach Micheál Martin has said he expects more countries to be added to that list of countries.
Hotel quarantine will come into effect as of the first flights arriving here on Friday morning, and passengers must book and pay for their stay in advance.
The Crowne Plaza Dublin Airport Hotel in Santry will be the first facility up-and-running, with Tifco Hotel Group operating the new system.
A 12-night stay in a quarantine hotel will cost €1,875 for one adult, with lower rates for additional adults or children sharing a room.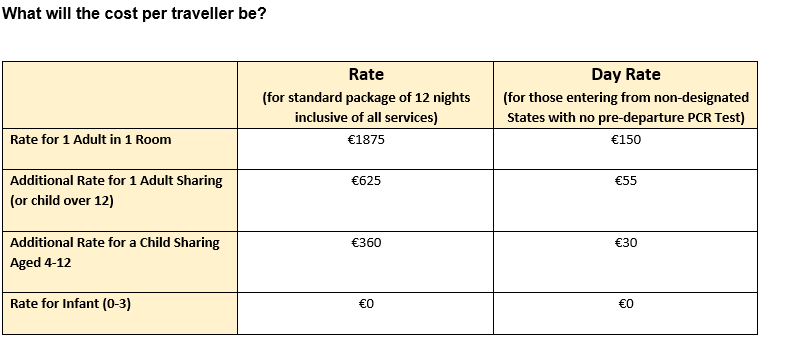 Defence Forces personnel will be deployed to help support the system, and anyone who leaves hotel quarantine early will face a fine of up to €2,000.
Today's announcement comes after widespread criticism from opposition parties about the delayed rollout of the new system.
Minister Stephen Donnelly told Newstalk Breakfast the new system is meant to act as a 'very strong deterrent to travel'.
He said a similar hotel quarantine system in England led to around an 80% reduction in travel very quickly.
He said: "Obviously we want returning residents to be able to come back to Ireland… but essentially we'd like to see as little travel to and from these countries as possible right now.
"Ireland is the first country in the EU doing anything at this level. This is by my count around the sixth biosecurity measure we have in place at our border.
"It is the most comprehensive hotel quarantine system in the EU by a mile.
"Importantly, it also lines the UK and Ireland up - Ireland and the UK now have some of the lowest rates of COVID in Europe, and by having a system that is closely aligned... it also goes someway towards addressing Northern Ireland."
Responding to criticism of the delayed introduction of such a system, Minister Donnelly argued that Ireland 'is not New Zealand and not several thousand kilometres into the ocean'.
He said the open border with Northern Ireland and our presence in the EU make introducing border measures more difficult,
'Worrying' rise in case numbers
The Health Minister said there's no question the rising coronavirus case numbers are worrying.
However, he pledged that more measures are being put in place - such as increased rapid testing and increased Garda visibility.
He said there's been 'no talk' about closing down schools again after the Easter break.
Minister Donnelly said the vaccine programme has been incredibly effective so far, and they're still hopeful of hitting their June target if vaccine companies deliver doses as planned.
He said vaccination will ramp up in a 'big way' next month, adding: "I know our vaccination programme is behind the UK - we accept that. But compared to most of the world, our vaccine programme is really going very well.
"Once we get through April, we start looking at May, and several million doses of vaccines administered… we can start to have a very different conversation about opening up our country."
Main image: File photo of Health Minister Stephen Donnelly. Photograph: Leah Farrell / RollingNews.ie