The Taoiseach has announced details of the Government's new COVID-19 vaccine timeline.
The Government has today published its new living with COVID plan, with level five restrictions extended until at least the start of April.
While the plan does not offer specific dates for when different sectors of the economy will be able to reopen, it does offer more details on the vaccine plans for the coming months.
The Government has decided to accept NIAC advice that people with underlying conditions will be pushed up the vaccine priority list.
Full details of the updated priority list are expected to be published soon.
Dependent on supply, it's hoped that an average of one million doses can be administered a month from April onwards.
Taoiseach Micheál Martin said this means:
by the end of April, up to 47% of people over 18 will have had their first dose
by the end of May, up to 64% of adults will have had their first dose
by the end of June, up to 82% of adults who can be vaccinated will have received at least one dose and 55% - 60% will be fully vaccinated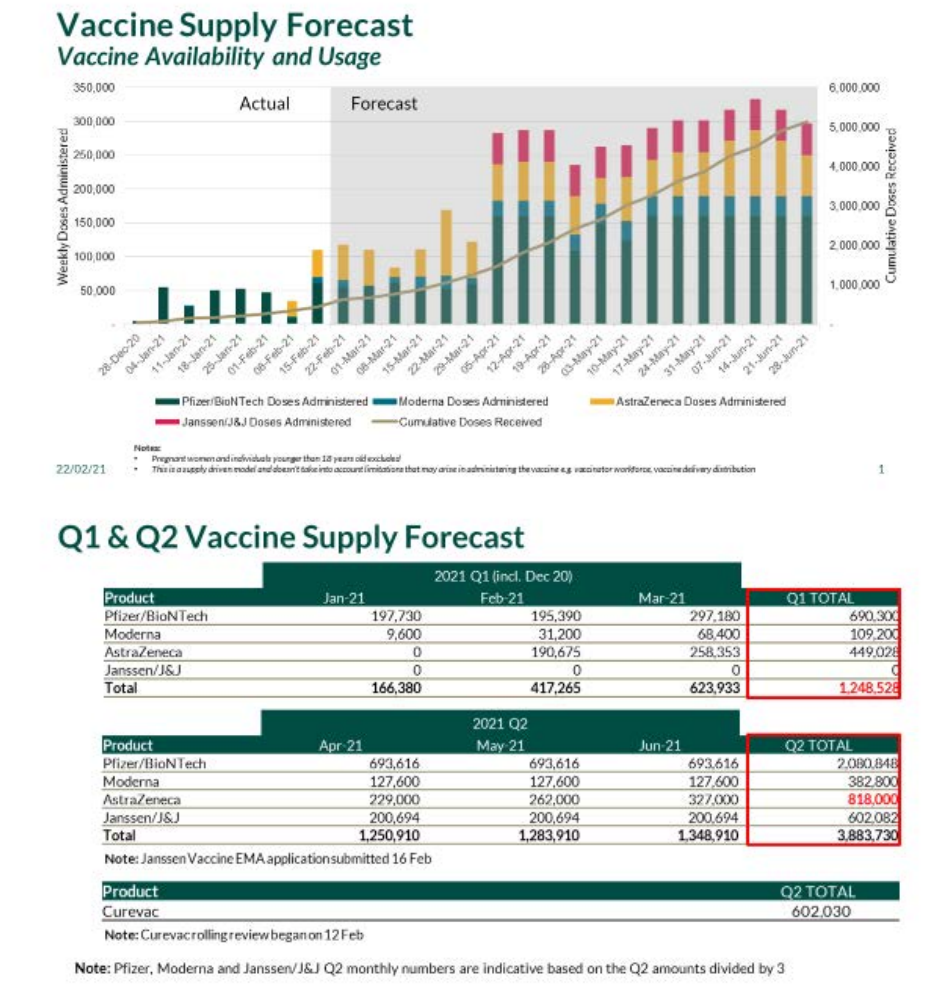 The Government is expecting to receive over two million doses of the Pfizer / BioNTech vaccine in the second quarter of the year - compared to 380,000 of the Moderna jab and around 820,000 of the AstraZeneca one.
The Taoiseach has confirmed the AstraZeneca number takes account of an anticipated shortfall in the firm's deliveries to the EU during the second quarter.
Health officials are also expecting to start administering the single-dose Janssen / Johnson & Johnson jab from April, pending EU approval.
Priority list
Meanwhile, changes have also been announced to the priority list.
Those aged 16-69 with a medical condition that puts them at very-high risk of severe disease and death will be vaccinated as soon as over-70s are vaccinated.
Those conditions include severe immunocompromise, chronic kidney disease, intellectual disability and uncontrolled diabetes.
That group will be followed by those aged between 65-69 year olds with underlying conditions and who are at high risk of severe disease.
All other people aged over 65 will then be vaccinated, alongside healthcare workers in 'non patient facing roles' and workers essential to the vaccine programme.
Once vaccination of over-65s is completed, people aged between 16-64 with a high-risk underlying condition - including severe mental illness - will then be vaccinated.
Health officials are recommending that people with underlying conditions should be given the mRNA vaccines where possible - i.e. the Pfizer and Moderna jabs.
'I ask you to be patient'
Speaking about the vaccine programme, the Taoiseach said: "We are making steady progress - over 350,000 vaccine doses have already been administered, but we are now in a position to implement a major ramping up of the programme.
"I understand that some people will feel frustrated as you wait for your vaccine, but I ask you to be patient.
"There will be vaccines for everyone in the country who can be vaccinated.
"The vaccination programme will completely change the landscape and transform the options available to us as a society for reopening and renewing our country."
The Government has previously announced plans for mass vaccination centres, with at least one to be located in every county.
Main image: File photo - The AstraZeneca vaccine kept in a fridge as vaccinations of Health Workers, staff and GP's take place in grounds of St Marys Hospital/Nursing Home in Phoenix Park Photo: Sasko Lazarov/RollingNews.ie