A gay man has described how a homophobic attack on a Dublin bus left blood "leaking over my lip and onto my shoe". 
Mark Sheehan was returning home from a "fabulous" night out celebrating with friends at the George. The group live in the same area and jumped on a bus at the end of the night. However, quite soon into the journey the atmosphere on board changed. 
"This large group of young lads got on with some girlfriends - a really big group of them and they were surrounding us," Mark recalled.  
"And you could tell by the cut of them how kind of out of it they were." 
All four friends are gay and Mark said he felt intensely aware that they could be at risk from the group. 
"My friend literally had a birthday crown still on, so we were sticking out a little bit," he described.  
"Almost immediately they were fixated on us and they were laughing at my friend, they were trying to grab the crown off his head. 
"I was just turning up the music, they were continuing, prodding, poking… and it got to a point that as we were approaching a certain stop I kind of think we gave each other a look and were like, 'Yeah, we'll get off and get a taxi.'" 
As they were about to leave, they heard a homophobic slur yelled in their direction and Mark turned around to confront their abuser. 
"'Would you ever cop on? Act your age,'" he said. 
"And I was very selective in how I spoke with them at all times. Not to raise my voice, not to be overly pointed and not to swear." 
The man threatened to smash Mark's face in. 
"I was just in shock, I was really frustrated, I shook my head and rolled my eyes and turned back around to look at my friends." 
The man then kicked Mark's earphones out of his hand.
"Why, why would you do that now? I don't understand," he asked. 
"I hope you're proud of what you're doing, that's the most scumbag behaviour I've ever seen in my life."
More threats followed and as Mark was heading down the stairs the man charged at him. 
He blacked out and when he came around a few seconds later he felt something wet. 
"There was this blood leaking down," he recalled, "leaking over my lip and onto my shoe. I could actually feel it hitting my shoe."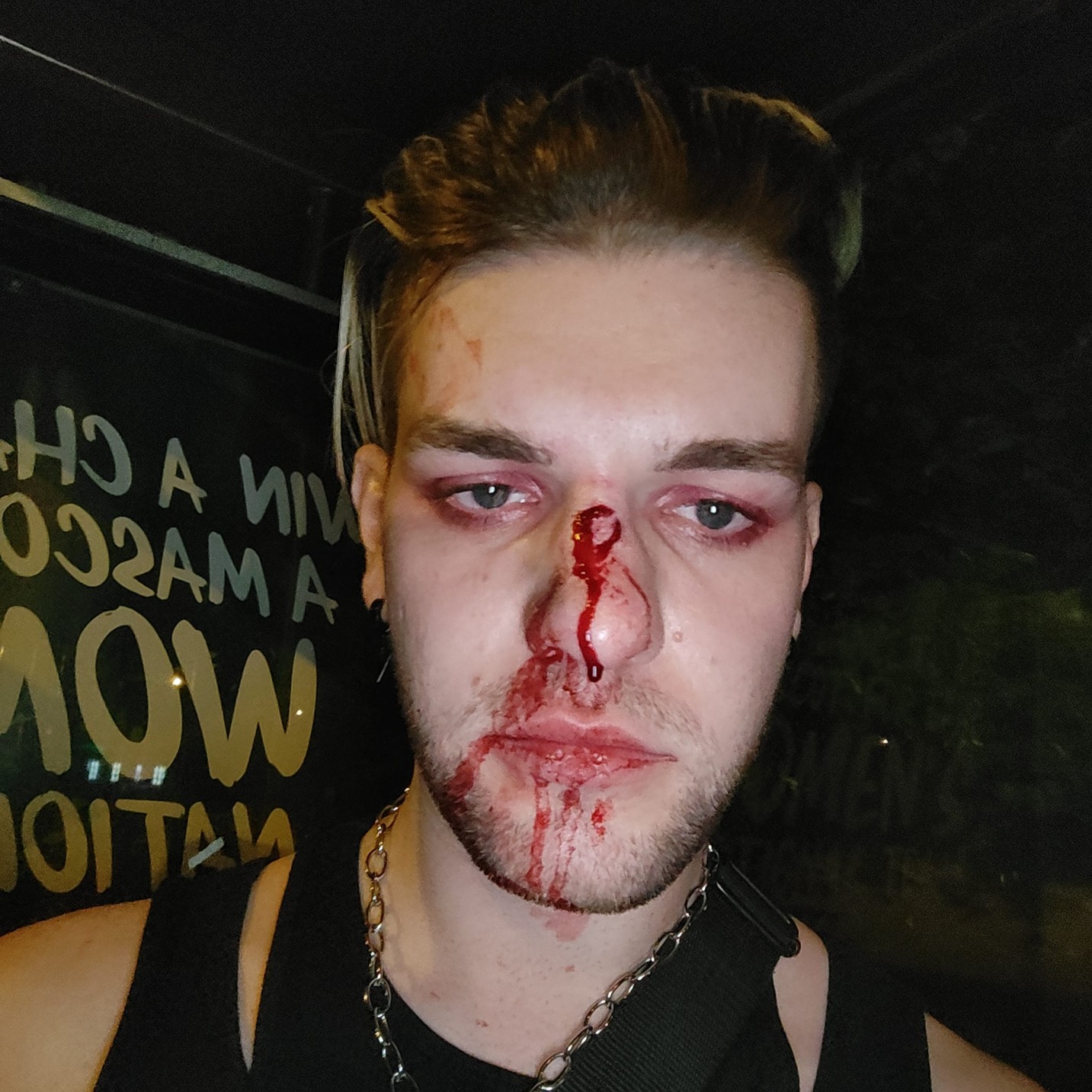 The friends got off the bus and Mark was sent to hospital on the advice of paramedics. He has since been given stitches but doctors will not be able to take an X-ray of his nose until the swelling dies down. 
There has been a spate of homophobic attacks in Ireland in recent months; rugby player Evan Somers was notably assaulted outside the George nightclub and TV presenter Darren Kennedy said many LGBT couples are afraid to hold hands publicly. 
A desire to see change is what has motivated Mark to speak out. 
"These things happen far too often," he said wearily. 
"There's a big reaction at first but then nothing follows through. So I really want the Gardaí to follow through… and for something to finally start happening."