There have been 600 new cases of COVID-19 in Ireland.
Latest figures show there are 64 people in hospital with the virus - 16 of these are in ICU.
The Department of Health says these figures could change due to a future data review.
It comes as the five millionth dose of COVID-19 vaccine is due to be administered this week.
Dr Tony Holohan, Chief Medical Officer, says: "Tomorrow marks 500 days since the first case of COVID-19 was reported in Ireland.
"We have come a long way together on this difficult journey and sacrificed much in our collective effort to limit the transmission of this disease.
"As we approach our five millionth dose of the COVID-19 vaccine, we have great hope for our future.
"Our vaccination programme is working, the levels of protection in the community against the virus are increasing daily.
"Those who are fully vaccinated should feel safe to increase their social contacts and to take advantage of new freedoms, while continuing to make positive public health choices in their daily routine.
"We have come so far, I know it is hard to continue to adhere to public health measures, but our continued individual effort is needed to minimise the risk of the Delta variant, a highly transmissible strain that poses a significant threat to unvaccinated or partially vaccinated.
"We are currently experiencing a worrying increase in incidence in daily case numbers, particularly in the 16-29 age group.
"If you are unvaccinated or partially vaccinated, you need to maintain a high degree of caution in your activities this summer.
"It is essential for you to avoid crowds, carefully manage your contacts, wear your mask, keep a safe distance from others and take the vaccine when it is offered."
The five-day moving average has increased slightly to 584.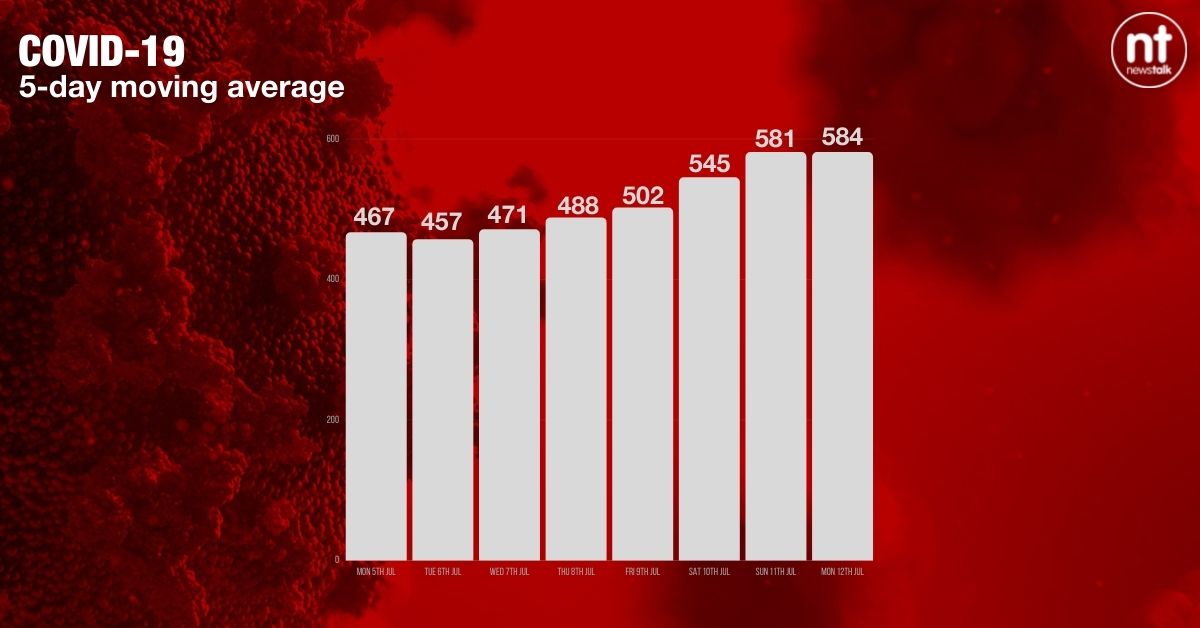 It comes as some 1.9 million EU Digital COVID Certificates are being issued to people who have been fully vaccinated.
The document will provide proof that a person has either has been vaccinated against COVID-19, received a negative test result or recovered from COVID-19.
It has been in use from July 1st across the EU, with Ireland set to implement it from July 19th to coincide with the resumption of international travel.
It will be issued in paper or e-mail form, depending on whether someone was vaccinated by their GP or at a HSE centre.
While plans to vaccinate children against COVID-19 are irrational and risk undermining other immunisation programmes, according to a sociology expert.
Jennie Bristow, senior lecturer in sociology at Canterbury Christ Church University, says it makes no sense to vaccinate children.
She earlier told Pat Kenny: "COVID is a new disease and it is a new vaccine and there seems to be uncertainty about the extent to which vaccination alone can get rid of the disease.
"The extent to which the vaccines prevent people getting infectious and transmitting the disease."
"What it does seem to do thankfully is protect people who are at risk of getting seriously ill and dying from COVID. It seems to reduce that risk quite a lot but that is quite a specific demographic group.
"With kids, you have a different calculation because, as a group, they are at very low risk from COVID so you have to weigh up – as is happening in the UK at the moment – the risk versus benefit of it."
"It is not a straightforward decision to vaccinate children against a disease that is not a huge risk to them."
The National Immunisation Advisory Committee (NIAC) is considering "all options and scenarios" when it comes to vaccinating 12 to 15-year-olds.