There have been 3,035 further cases of COVID-19 in Ireland.
The Health Protection Surveillance Centre (HPSC) says it has been notified of 1,426 PCR-confirmed cases of the virus.
While on Wednesday, 1,609 people registered a positive antigen test through the HSE portal.
Based on these figures, the five-day moving average of cases now stands at 2,789.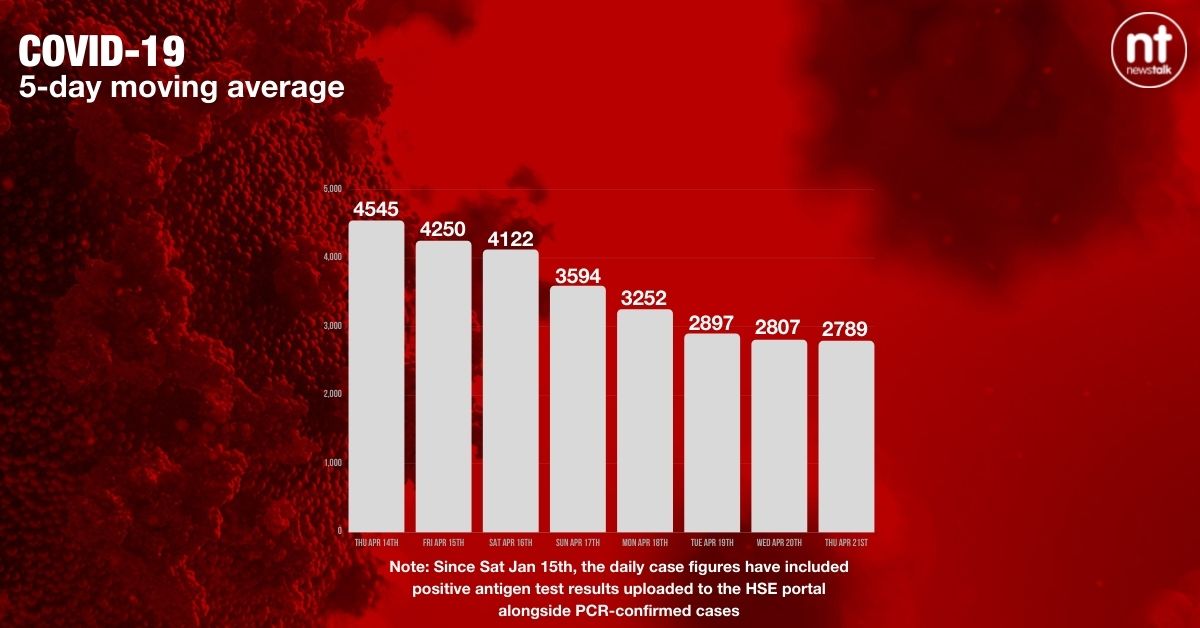 As of 8.00am Thursday, there were 654 patients hospitalised with the virus - a drop of 52 on Wednesday.
Of these 37 were in ICU - a decrease of five in the last 24 hours.
It comes as results of a trial of a 'variant-proof' COVID-19 vaccine is expected in the coming days, according to Professor Luke O'Neill.
The US army is leading the race to find a vaccination that will work against all coronavirus variants.
Prof O'Neill earlier told The Pat Kenny Show test results on animals have been impressive.
"They've taken the RBD... and they've stuck it on a nano-particle - a tiny, tiny particle - made of a thing called ferritin, studded with loads of these RBDs.
"[It] went into monkeys and amazingly it protects against SARS - the original virus - SARS-CoV-2, Alpha, Beta, Delta, Omicron.
"It protected against all of those in monkeys.
"They're in the middle of a phase one trial in humans - any day now actually... we're going to get the data from that phase one trial soon.
"That's very, very hopeful that that US Army-derived vaccine could be the first universal vaccine against COVID-19".
Main image: A hand wearing a protective glove holding an antigen test showing a positive result. Picture by: davide bonaldo / Alamy Stock Photo