Radio producer Shane Hannon brings us back half a century to the Apollo Program and our first steps on another world in: 'Picking Up Some Dust'.
The documentary was largely recorded pre-lockdown, and uncovers some fascinating Irish links to that 'One small step.' Producer Shane Hannon takes us on journey from the Texan Hill Country to the Dunsink dump, and from rural Indiana to a moon-themed housing estate in Coolock.
The radio premiere of Picking Up Some Dust airs on Newstalk Sunday March 28th at 7am, with a repeat radio broadcast on Saturday April 3rd. It will also be available as a podcast from Sunday March 28th. 
Picking Up Some Dust, with its distinctive sixties feel, brings us through the triumph and tragedy of the Apollo Program - perhaps the most daring and dangerous endeavour ever undertaken.
Twelve American men walked on the surface of the Moon between 1969 and 1972, on six different landings. In Picking Up Some Dust, we'll hear from some of those astronauts, and too from a flight director who watched with bated breath in Mission Control in Houston waiting for 'Eagle' to touch down at the Sea of Tranquillity.
There was the young Irish schoolboy who took a trip to Florida to see one of the Saturn V rockets launch to the Moon with his own eyes, and the story of the moon rock forever lost in a fire at Dunsink Observatory in Dublin.
We will be transported to the front door of Martha Chaffee, as she is informed of the tragic news that her husband and his two Apollo 1 crewmates have been killed in an inferno on the launchpad.
Through the ashes came a moment in time that will never be forgotten – a moment when the entire world, including Ireland, stood outside and looked up.
There may be no Irish tricolour just yet planted in the lunar soil, but many from this small island of ours remember where they were when Neil and Buzz took their 'Giant leap for Mankind'.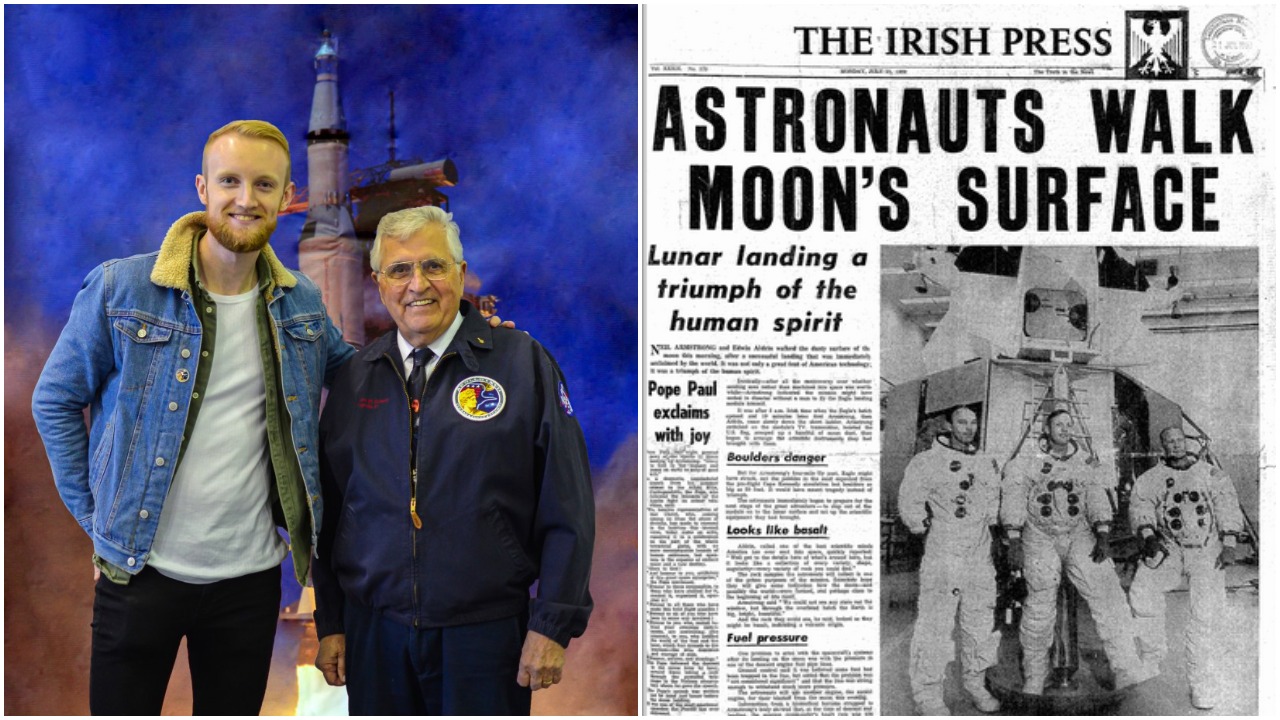 Picking Up Some Dust Producer Shane Hannon says:
"Sadly I was one of the unlucky ones not yet alive for the Apollo missions to the Moon, but stories from my Dad had me hooked on all things space from a young age.
"He was 13-years-old in July 1969 when the Apollo 11 lunar module touched down on the Moon, with just 30 seconds of fuel remaining.
"In 2009 I made it my goal to meet as many of the Apollo astronauts and leading NASA figures involved as I could. Sadly, as I write this, just four of the 12 moonwalkers are still with us – and I was honoured to have met seven of them in total over the years.
"My interviews for this documentary took me from rural Indiana to the Texan Hill Country, and from New Mexico all the way to a housing estate in Coolock.
"But, most of all, this documentary took me on a trip to the Moon and back, and I hope you too enjoy the journey."
The programme was funded by the Broadcasting Authority of Ireland with the Television License Fee.
CREDITS: Picking Up Some Dust was Produced and Narrated by Shane Hannon. Sound design by Rachel Hannon. Mastered by Neil Kavanagh. With thanks to all the contributors.