Award-winning radio documentary producer Francesca Lalor takes us on the road to celebrate the lost art of hitch-hiking in: 'Anywhere But Here'
Recorded pre-Covid, and mixed during the lockdown in Dublin, Ireland, Producer Francesca Lalor's latest radio feature takes the listener on a psychedelic road-trip, with the ultimate mix-tape on the car stereo.
The radio premiere of Anywhere But Here airs on Newstalk 106-108fm on Sunday 19th July at 7am, with a repeat radio broadcast on the following Saturday 25th July at 9pm.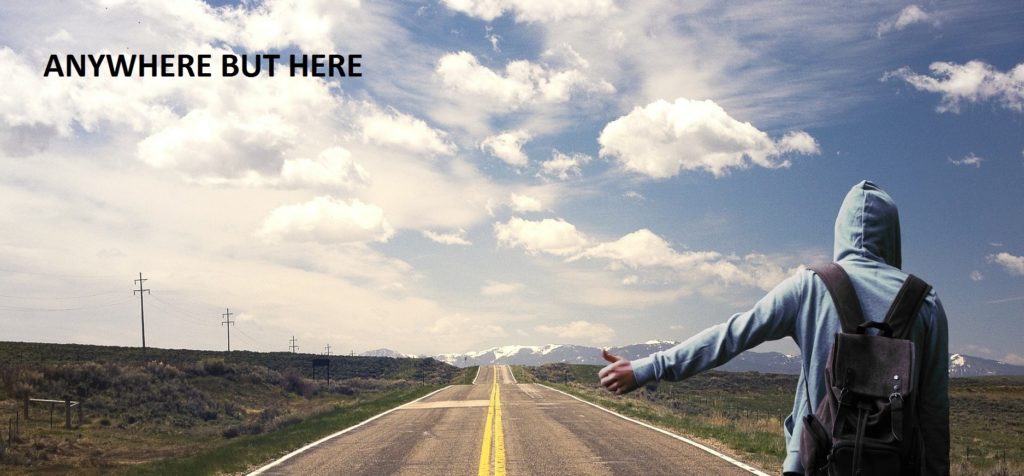 Anywhere But Here, is a sound-rich ride through some of the best-told stories from the golden age of hitchhiking. Featuring tales from the '60's to the '90s, in a journey that is often dangerous and hugely fun, we consider safety and security, risk and reward, wanderlust, and the teenage urge to shake off a small town and explore the world.
Podcast 'Anywhere But Here' by Francesca Lalor here:
In Anywhere But Here, we travel back in time to the golden hitchhiking days of the '60's and '70's, in an era when young people lined up on the roads outside of Dublin and London and all kinds of cities and towns to hitch a ride.
The tales take us all over Ireland, and further afield, passing through Cornwall and Corsica, Killarney and Casablanca, with stories of hitching in Franco's Spain, and the perils of hitching on the border during The Troubles.
We hear pro-tips from seasoned hitchers, and consider how motorway systems, globalization and technology changed the landscape for hitchers, as thumbing a lift gradually became a thing of the past.
With the advent of the motorway, and social and cultural changes, the old art of hitching has practically disappeared from our highways and byways. This documentary serves as a tip of the cap to golden times past, and a call to remember and tell our stories, to cherish our freedoms, to explore the world, and to stay close to nature.
Anywhere But Here Producer Francesca Lalor says:
"Hitching was an escape route for small-town girls with big dreams, and young lads from big smoky cities who dreamed of space and silence…
Small fish in big ponds and big fish in small ponds, they all wanted to head on out down the road and put their best face forward, leave all of the stagnation and rules behind, and simply exist, putting themselves to the test, learning to survive away from the nest.
They would encounter and handle all kinds of humans; they would get close to nature, eating from the hedge-grows, sleeping in the hedge-grows; they would dice with death and survive; they would laugh all night and sleep in barns; they would fall in love and have fights, shelter from thunderstorms, survive on bread and cheese and human kindness, and the sheer joy of being out and free, and in touch with the world and everything in it."
Song Lyrics by Woody Guthrie: "As I went walking, I saw a sign there. And on the sign it said "No Trespassing". But on the other side, it didn't say nothing. That side was made for you and me." from This Land Is Your Land (The forgotten verse)
CREDITS: Anywhere But Here was Produced and edited by Francesca Lalor. Recording by Josh Crosbie. Mastered by Neil Kavanagh. The programme was funded by the Broadcasting Authority of Ireland with the Television License Fee. With thanks to all the contributors.
Sound And Vision Funding Scheme: Sound and Vision is a funding scheme for television and radio that provides funding in support of high quality programmes on Irish culture, heritage and experience, and programmes to improve adult literacy. The scheme is managed by the Broadcasting Authority of Ireland.
BROADCAST: The premiere of Anywhere But Here broadcasts on Newstalk 106-108fm on Sunday 19th July at 7am. Podcast goes live at 8am, with a repeat radio broadcast on the following Saturday 25th July at 9pm. 
PODCAST: Anywhere But Here is broadcast as part of the Documentary and Drama On Newstalk Series, which showcases the best of original, homegrown and groundbreaking Irish Radio features. Podcast full series here:
 https://www.newstalk.com/podcasts/page/1/filter?filter_selected=show-filter&show=documentary-drama-newstalk&series=all
Listen and subscribe to Documentary on Newstalk on Apple Podcasts and Spotify.
Download, listen and subscribe on the Newstalk App.
You can also listen to Newstalk live on newstalk.com or on Alexa, by adding the Newstalk skill and asking: 'Alexa, play Newstalk'.