There are 5,124 new COVID cases in Ireland today, the Department of Health has confirmed. 
436 hospital patients have contracted the virus - of whom 107 are being treated in ICU. 
The five day moving average now stands at 4,892 - up from 4,645 yesterday.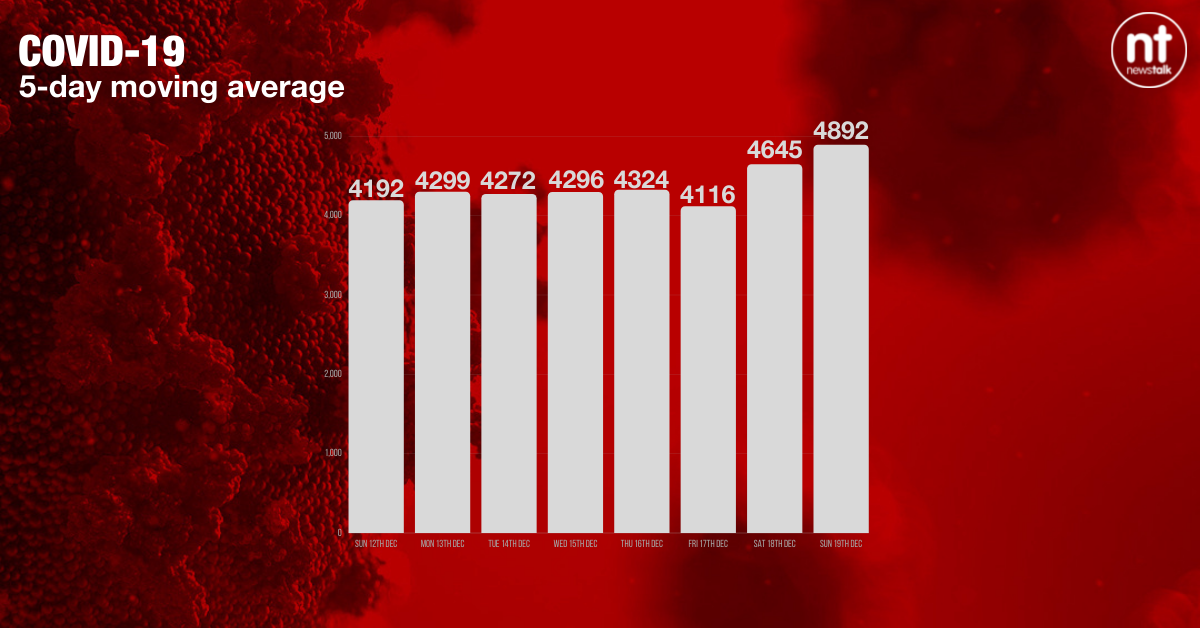 Chief Medical Officer Dr Tony Holohan tweeted that: 
"It has taken less than two weeks for Omicron to become the dominant strain of COVID-19 in Ireland, revealing just how transmissible this variant is.
"We have slowed transmission in the past using our basic measures & responding immediately if symptomatic – it is extremely important we do everything we can to flatten the curve of this wave now to prevent unnecessary deaths, risk to the vulnerable & to protect our health service. 
"I urge anyone eligible for a booster to available of it at the earliest opportunity.
"If the majority of us can now reduce our social contact, meet others outdoors, work from home unless absolutely necessary, use face masks, avoid crowds and keep indoors well ventilated."
Vaccines
The news comes on the same day that people over 40 become eligible to receive a COVID booster vaccine. 
However, people eager to receive their jab have complained about long queues. Derek Brennan from Castleknock in Dublin told Newstalk that he had given up after he was caught in a traffic jam waiting for his: 
"We managed to reverse out and we just abandoned it," Mr Brennan said.
"It couldn't be worse organised. The vaccine for me was quite a good experience - the first and the second one.
"I'd been given my time - it was good. 
"This was the polar opposite… What was frustrating was this kind of populist tweet, 'It's open now to 40 year olds and the 49 year olds.'
"I'm 53 and I can't get one." 
Vaccination of vulnerable children is also due to begin on Monday.
The HSE has taken delivery of 144,000 doses made especially for children between five and 11 and priority will be given to those children who are immunosuppressed or have an underlying condition.
Main image: A woman swabs her nose for COVID under the watchful eye of a healthcare worker. Picture by: Iain Masterton/Alamy Live News.