A further 10,404 people have tested positive for COVID-19, the Department of Health has announced. 
426 hospital patients have contracted the virus - of whom 91 are being treated in ICU. 
The five day moving average has soared in recent days and now stands at 10,870 - up from 9,749 yesterday.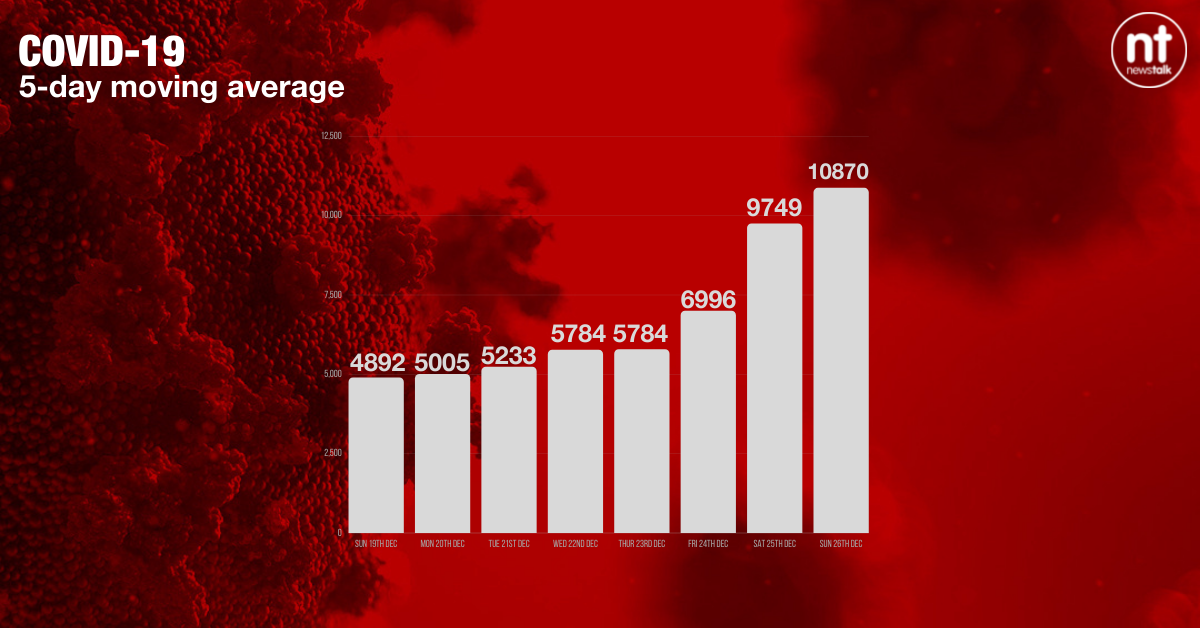 Despite the recent surge in case numbers, Minister of State, Niall Collins, denied that further restrictions are on the way: 
"There are no plans for immediate restrictions at the moment," Mr Collins told Newstalk. 
"The restrictions which came into effect last week will last until any further announcement but, as of right now, there are no immediate plans for any additional restrictions. 
"The Government is monitoring the situation very, very closely. 
"It is hugely concerning but equally the rise in numbers has been entirely predicted." 
However, Dr Denis McCauley, from the Irish Medical Organisation, said that healthcare workers who are close contacts might need to be exempt from self-isolation rules to avoid staff shortages in the health service. 
"There was a dispensation given to some healthcare workers that they could go back to work with close monitoring," Dr McCauley said. 
"I think that will have to be reviewed again if there is potentially a significant proportion of healthcare workers that are going off [to self-isolate]." 
Boosters
Dr McCauley added that the Government had asked for the rollout of the booster campaign to be sped up:
"There was a request by the Government to accelerate the administration of the vaccines approximately 13 days ago. 
"I think that has been a tremendous success; I think in the four days leading up to Christmas Eve, from Monday to Thursday, there were 520,000 vaccines given by general practice alone." 
Walk in clinics for booster shots will reopen tomorrow after a Christmas break and Dr McCauley says a third dose is the best thing an individual can do to protect themself: 
"The best way to defend oneself against this is really to continue with the booster campaign. 
"I think it will guarantee you that you will not end up in hospital, which is the [aim] of this vaccination campaign and the acceleration of the campaign due to the significant increase in the transmissibility of this virus."
Main image: A man is swabbed for COVID-19. Picture by: SOPA Images/SIPA USA/PA Images