The Taoiseach has warned that the next UK Prime Minister is facing a "very serious reality check" on Brexit in the weeks after entering office.
Both contenders have said they will try to re-negotiate parts of the Brexit Withdrawal Agreement – specifically the Irish backstop – if they win the race for Number 10.
Boris Johnson and Jeremy Hunt have also pledged to leave the EU without a deal if they don't get what they want from Europe.
"Incredibly severe"
On The Pat Kenny Show this morning, the Taoiseach Leo Varadkar said a no deal scenario would have "incredibly severe" consequences – especially for Northern Ireland, the Republic of Ireland and Britain.
"I would hope any British Prime Minister wouldn't willingly do that," he said.
He said that whoever comes out on top in the race will be faced with the full realities of Brexit as soon as they are confirmed to office.
"Politicians when they are in campaign mode tend to campaign in poetry – in simple terms with high-level messages," he said.
"When you get into office, you govern in prose and I imagine whoever is the new Prime Minister is going to face a very serious reality check when they sit down with their officials and civil servants to be fully briefed on the realities of Brexit – if they don't know them already."
The Taoiseach says he does understand why British people voted for Brexit despite the economic damage it will do. Compares it to Ireland's own bid for independence 100 years ago #PKNT

— Seán Defoe (@SeanDefoe) July 12, 2019
"Economic decline"
He said the vision behind Brexit is "essentially a nationalistic one" – with the British people set to feel the economic consequences for many years to come.
"I think a consequence of Brexit for Britain is that it will fall into relative economic decline for many decades," he said.
"[It will] probably be overtaken by France again and slowly over time it will be overtaken by lots of country in Asia.
"I think one of difficulties for Britain is they are struggling to cope with the fact that as a country and an economy they are not as important as they used to be.
"There are 100 million people living in Vietnam; they are going to be overtaken by Korea, India - economically it is inevitable.
"That is why most European countries understand why we need to get together, stick together and integrate. So that we can preserve our way of life, our prosperity our peace and security.
"Britain has never really fully accepted that in the way that France and Germany and Italy did after the war."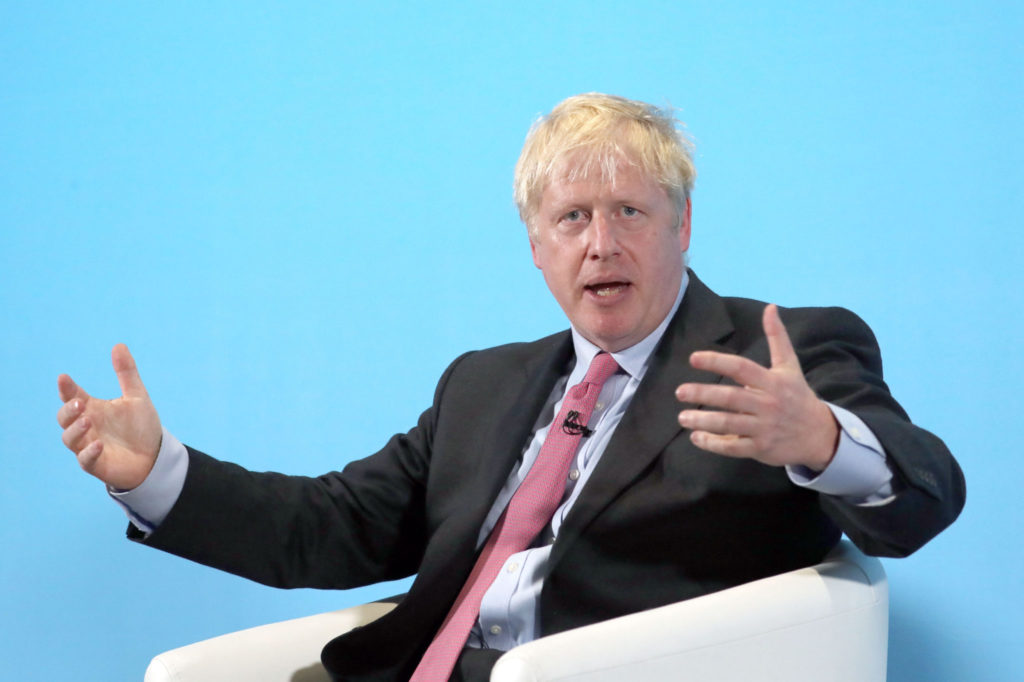 Conservative Party leadership candidate Boris Johnson during a Tory leadership hustings in Maidstone, Kent.Read, 11-07-2019. Image: Gareth Fuller/PA Wire/PA Images
He said large elements of the Brexit Withdrawal Agreement, including the backstop were co-designed by the UK – and noted that both Mr Johnson and Mr Hunt have already voted in favour it in the House of Commons.
The EU is willing to offer concessions on the Political Statement that compliments the agreement, but Mr Varadkar said the fundamentals "including the backstop have to be there in letter and in spirit."
Backstop
He said the backstop is crucial unless and until a full trade agreement is signed because "we can't assume in five years time or ten years time that there won't be a radical hard Brexit Government in London that decides to turn its back on the EU entirely."
"There are people in the Brexit camp who want a very different approach," he said.
"They want to be able to restore what they believe is an Atlantic alliance with America and have free trade with America.
"You could have hormone beef, chlorinated chicken, Gouda that is not from Gouda, Champagne that is not from France all coming from America into the British market
"If they did that kind of trade deal with America, they certainly could never do the kind of trade deal with Europe that would avoid a hard border."
He said the backstop provides an "insurance policy" to prevent a hard border in all scenarios.
He said there is "huge frustration" in Europe at the delays to the process, and warned that a further extension would only be granted for a "realistic purpose.
"Say for example an election happened in the UK. Say for example there was a decision – made by them not by us – to have a second referendum," he said.
"What wouldn't be contemplated is a further extension for another round of negotiations because the negotiations are closed – or another round of indicative votes because they have already had them."
Brexit Contingency Plan
Earlier this week, the Government published its latest Brexit Contingency Plans – conceding that there will need to be some form of checks on goods coming for the north to the south of Ireland in a no deal scenario.
The document provides no detail on how this can be carried out while also avoiding a hard border – and Mr Varadkar said discussions with the European Commission are ongoing.
On @NewstalkFM now talking to @PatKennyNT about Brexit, the economy and much more. #newstalk pic.twitter.com/u3Hof8sbXE

— Leo Varadkar (@LeoVaradkar) July 12, 2019
He said officials are examining a scenario where the island of Ireland is treated as a single zone when it comes to agriculture and food – with checks on goods coming in from Britain.
He admitted that this does not solve the problem of tariffs, noting "tariffs will apply in a no deal scenario unfortunately."
"Perfect solution"
He admitted that the Government does not have a "perfect solution" to the border question.
"I would hate anyone to get the impression that there is some alternative arrangement that is actually a good outcome for Northern Ireland or Ireland," he said.
"There isn't."
Listen to the full interview here: