Trinity and UCD students in Dublin are holding protests over a proposed rise in on-campus accommodation costs.
Students at University College Dublin (UCD) are pitching tents at the main gate of the campus.
A 12% rise in the price of on-campus accommodation has been proposed over the next three years.
The students claim the increases are locking young people out of access to higher education.
On-campus rents at UCD are currently among the most expensive in the country, and are set to rise to over €8,000 per year under the proposed changes.
The UCD Students' Union says campus rents have gone up by 76% over the last decade.
Welfare officer Una Carroll says students cannot afford it.
"I have students coming into me weekly saying that they are either at risk of being homeless, or have just been made homeless.
"Or they've decided 'I can't afford to rent, so what I will do is I will sleep in a friend's car, I will sleep on a friend's couch, or I will sleep in the airport - where it's warm and I've access to electricity instead of going home' - even if they have a home to go to.
"That's the reality of our students".
Meanwhile, demonstrators have also gathered at the main entrance to Trinity College this afternoon in protest over planned rent increases.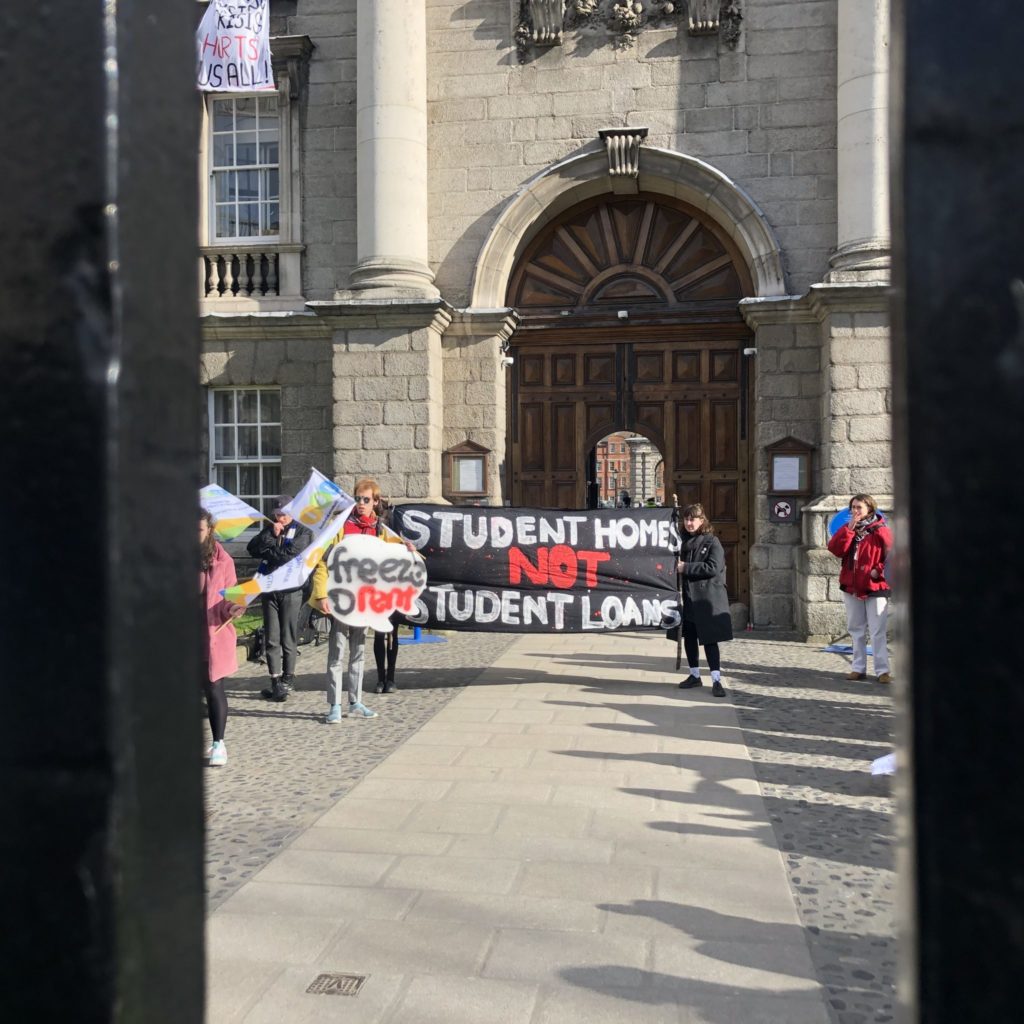 Similar protests have been held at other protests over the past week, including NUIG and UCC.
Conor Reddy - a People Before Profit rep for Dublin North West and research assistant in TCD - said his party is calling for an immediate reversal of the planned increases.
Mr Reddy said: "It is extremely heartening to see students and young people fighting back against these unjust rent increases and I commend the students for taking these necessary actions.
"I would also call on all students to join the March 7th demonstration in Dublin to demand real change and no Fianna Fáil or Fine Gael government.
"What was clear from the election was the desire for radical change but that was only the beginning - now we need to take to the streets to hammer the message home."
Reporting by Stephanie Rohan and Stephen McNeice