Working in an office, grabbing coffee with colleagues and chatting about our weekends at the water cooler might seem like a distant memory now. In ordinary circumstances, most of us spend more time at work than we do with our families so it's no surprise that new research from Vhi Healthcare has highlighted the importance of positive social engagement in the workplace. 
We are by our very nature designed to be social creatures. Whether it's at work, home or in the street, social interactions are what make us feel like we belong and that we have a purpose. We spend so much of our lives at work, the connections we make there can inevitably have a profound effect on job satisfaction and commitment, as well as wellbeing.  
Working with Friends
According to the Vhi Health Insights report, 70% of corporate employees said they had formed strong friendships at work with 65% reporting that they trust fellow employees a great deal and confide in colleagues (58%). In fact, nearly 60% of corporate employees agreed that seeing their co-workers was one reason why they looked forward to their jobs. 
However, when it came to wider workplace relationships (e.g. across teams), the research shows a high level of dissatisfaction.  Contributing factors include group messaging services and company-organised events.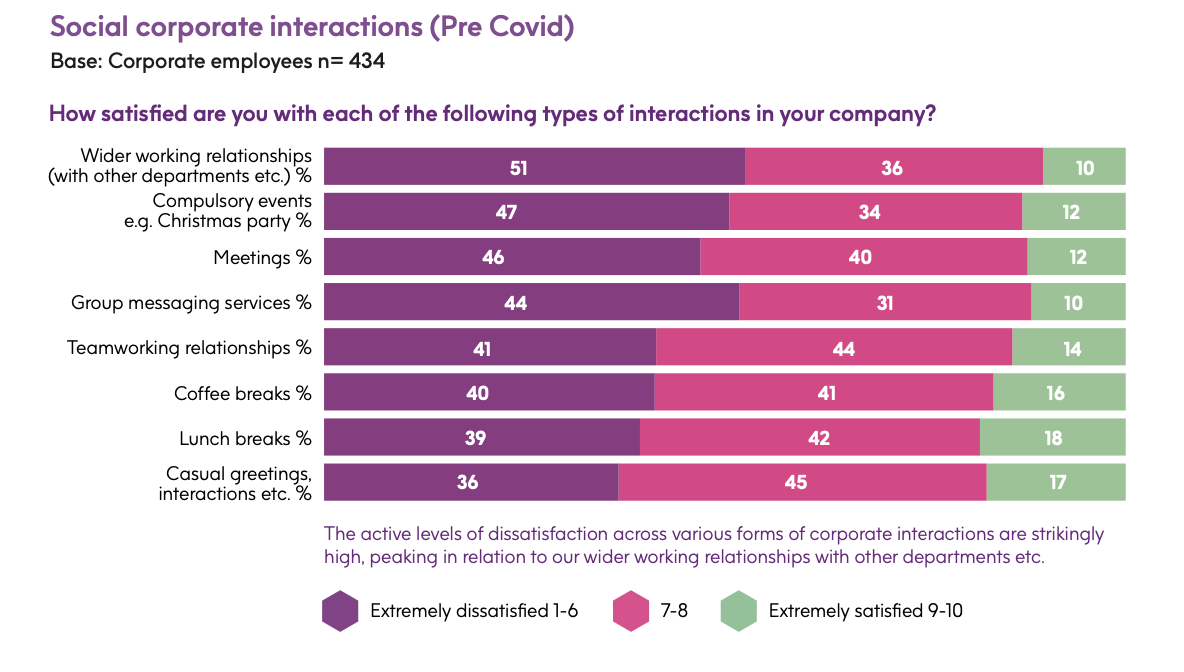 Given the implications of workplace relations on employee wellbeing, it's concerning to see the high levels of dissatisfaction with workplace interactions but overall, corporate employees indicate high levels of satisfaction with colleagues they have formed a bond with and wider groups when there is a clear objective for working together. 
Water Cooler Conversations
So where are people forming these workplace friendships? At the water cooler, of course. The report's findings show that the majority of social engagement in the workplace is still occurring organically by chance at the water cooler, passing by desks or getting a coffee.
This really highlights that alongside efforts to encourage socialisation through messaging and culture, physical layouts and the design of the office space play an important role as well. Employers should work to create a space that encourages employees to cross paths and interact with one another and avoid creating isolating silos.
Lyndon Garrett, Assistant Professor of Organisational Behaviour and Theory at Boston College and member of the expert panel who contributed to the research, outlines what he considers a priority in making space for social engagement:
"I think it is about creating spaces where people can be people. But I would say it is not just about designing physical spaces but also about creating the temporal space that will allow people to have the time to just be themselves with each other. I think this facility, to have the time to interact, is one of the most important things in relationships."
Unwritten Rules
In most workplace settings, there are 'unwritten rules' when it comes to how you conduct yourself in the office both socially and professionally.
Whether that's always having your camera on for Zoom calls nowadays or never putting fish in the microwave in the office, we have probably all witnessed how unwritten rules can gather a backing in the workplace.
After all, employees are most likely to follow the patterns of behaviour of colleagues around them.
According to the Vhi Health Insights report, two of the most common 'rules' that gathered momentum in the office were that regardless of how productive your day has been, if you regularly leave the office before most of your co-workers, you are labelled as lazy or lacking drive (more than 50% of corporate employees agreed with this statement); and, you appear less committed if you use social facilities in your office during the working day (29% agreed with this).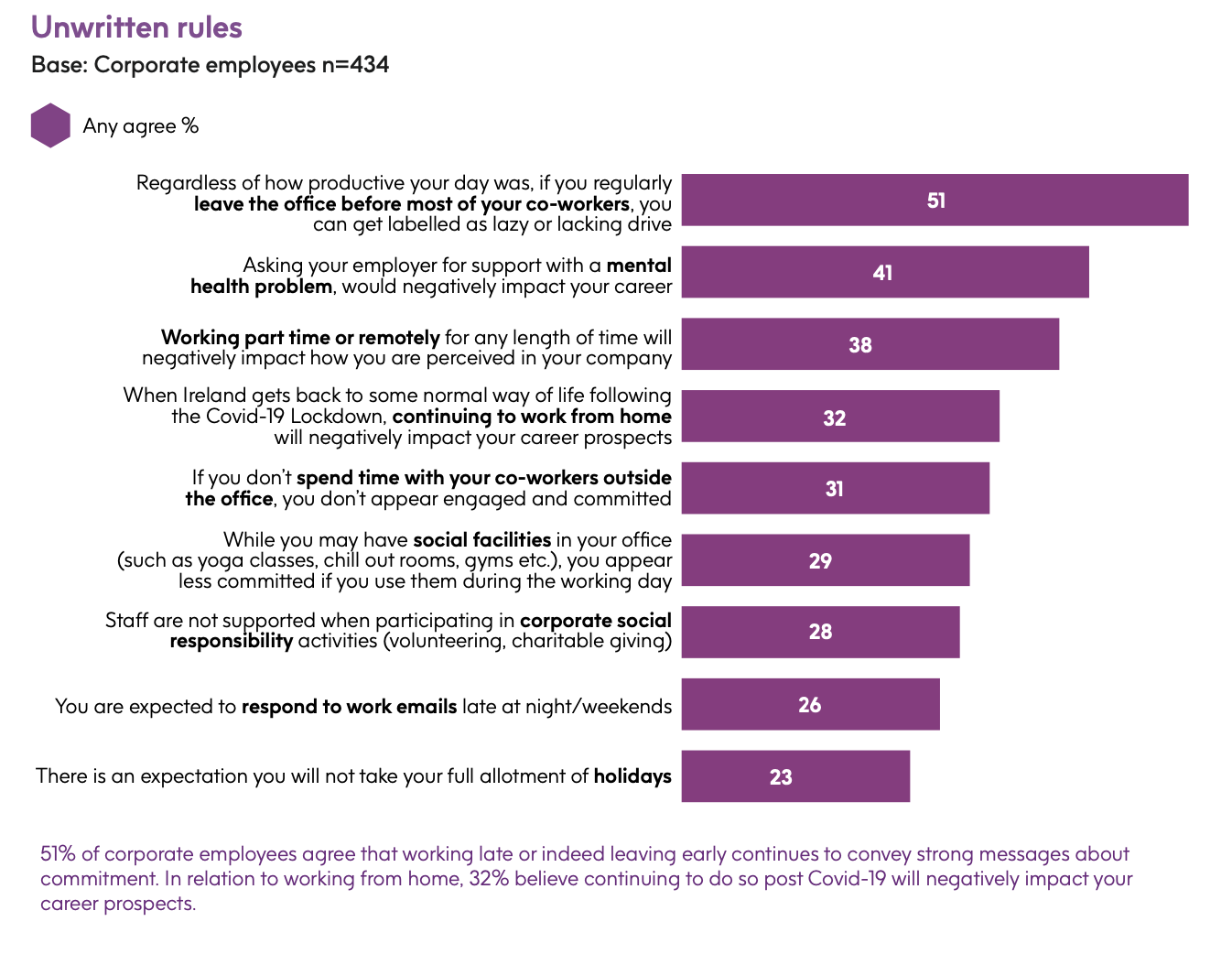 These rules aren't company policy, of course, but their very existence can highlight a broader issue of unclear messaging from management and communication blindspots.
The expert research group involved in the report suggests that in order to counter the effects of unwritten rules and develop greater clarity of communication in the workplace, employers need to clearly demonstrate what the company culture is and the types of sociable behaviour and engagement that is supported. It's not enough to just provide the space for socialising at work if there are no clear communications around what is or isn't deemed acceptable.
The Impact of COVID-19
Many of us have been working from home now for close to a year, which appears to have had a positive impact on some work relationships.
According to the research, 40% of corporate employees said communication with their boss or immediate supervisor got better during the level 5 lockdown in March-April 2020.
One of the main reasons given for this has been a greater focus on goals rather than meandering nuanced conversations, according to the research.
However, perhaps unsurprisingly, there have been less opportunities for social engagement during lockdown and this fed through to the report's findings with up to 41% saying they experienced increases in dissatisfaction levels with mental health and a further 62% were extremely dissatisfied with their social life.
The New Normal
The corporate landscape as we knew and were satisfied or dissatisfied with before COVID-19 is gone. The Vhi Health Insights report bridges a gap between life at work before and during lockdowns with invaluable insights into what employers can now use to fuel future employee engagement and wellbeing efforts in the workplace as we begin to transition back to our offices.
If you would like to learn more about the report's findings and how employers can improve workplace engagement and wellbeing for employees, you can read the full report below: