The Premier League may be dormant due to the coronavirus, and Liverpool's title hunt on hold but it hasn't stopped thoughts being cast forward to next season. 
Well, at least as far as new kits are concerned.
Earlier this year, Liverpool signed a lucrative deal with Nike for the manufacture of their kits from next season.
Nike will succeed fellow American manufacturers New Balance in a deal that's believed to be worth as much as £100million (€109m) a year. £30million (€32.7m) of that will be a base rate, with the rest of the money coming as a percentage of sales figures.
The New Balance deal was said to be worth £45million (€49m) a year.
Anticipation of what Liverpool's new Nike gear will look like has been building since the announcement of the deal, and the related High Court battle to oust Nike.
Nike have impressed many with their recent international releases, namely the vibrant new Nigeria home shirt and the rumoured throwback France jersey.
Obviously, Liverpool's new home kit will be red, but what about the away shirt?
Down through the years, the Merseyside club have vacillated between white, yellow, green and black change kits. They've even dabbled in purple and 'toxic green'.
The first purported leak of their new away shirt suggests a return to green (or teal if you want to get technical) when change is required next term.
Instagram user @ocorinthianonyusa shared an image he claims is the new Liverpool away shirt.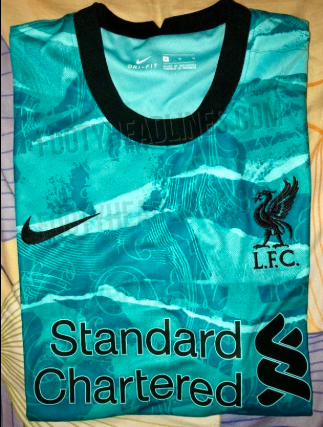 A black crew neck and accents is overshadowed by an intricate pattern within the body. Of what, we're not too sure.
But it's bound to divide opinion when it's finally released at the start of June.
With the COVID-19 putting the Premier League on lockdown until the end of April at the earliest, and Liverpool's New Balance deal expiring on May 31, it's highly likely Jurgen Klopp's side will end the season in their new Nike kits.