It's been confirmed that Katie Taylor will defend her undisputed lightweight titles in Eddie Hearn's garden. 
However, the Bray fighter is without a named opponent.
Matchroom Boxing chief Hearn has revealed the cards for his mooted Fight Camp series, which will begin on his Essex estate from August 1.
Taylor will fight on the fourth night of Fight Camp on August 22.
Hearn hopes Amando Serrano will still be Taylor's opponent, but admits they've made an approach for a Delphine Persoon rematch.
That card will be headlined by Dillian Whyte's WBC interim heavyweight title contest with Alexander Povetkin.
Serrano had been lined up as Taylor's next opponent, with the fight originally scheduled to happen on May 2.
However, a combination of COVID-19 and a row over the fight purse has seen the pause button pressed on those plans.
🔜 #FightCamp pic.twitter.com/n7sAbPBRie

— Matchroom Boxing (@MatchroomBoxing) June 26, 2020
It was reported by Sean McGoldrick earlier this week, that Delphine Persoon had been approached to potentially replace Serrano for the August date.
"Eddie Hearn was in touch with me last night and made an offer. We are currently discussing it and I expect there will be further talks," Persoon's manager Filiep Tampere told the Irish Independent journalist.
Tampere added, "I believe a rematch against Katie Taylor would be good for business and good for boxing but no manager accepts the first offer they are made."
Serrano's manager Jordan Maldonado had claimed his client was offered half of the original purse to take part in the Fight Camp card, a claim Hearn dismissed as "absolute rubbish".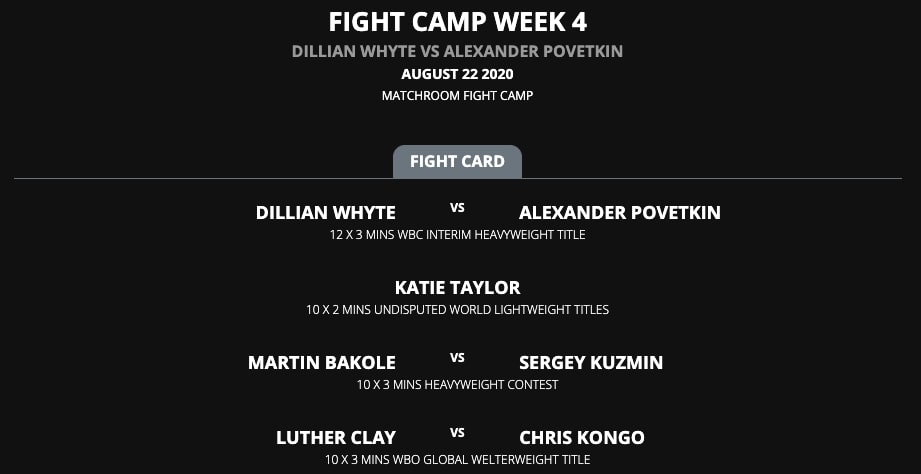 Hearn told IFL TV on Friday, "Amanda Serrano signed her contract to take part in that fight.
"It was scheduled to take place in May, then we hoped we'd be able to do it sooner [than August]. About a week ago now we wrote to Lou Di Bella [Serrano's promoter] and confirmed.
"I saw speculation of, 'oh they made a reduced offer'. There was never ever a reduced offer going to Amanda Serrano.
"We pay her her full money that she's signed for, but she's being quite difficult so we're talking to Lou DiBella.
"She's under contract to fight Katie Taylor and that's what we're expecting her to honour.
"No-one's trying to be difficult. I'm not saying we're trying to undercut her or lowball her - it's exactly the same terms that were in her contract.
"So we're a bit confused as to why there's been a delay over the last couple of days about her confirming that. That fight should be confirmed.
Hearn's confirmed that there is a plan 'B' should talks with Serrano's camp not prove fruitful.
"Katie Taylor will fight on this card, hopefully against Amanda Serrano.
"We've also reached out to Delphine Persoon regarding a rematch for that fight. She has a mandatory which is long overdue," Hearn confirmed.
But the focus is 100 per cent the fight that everybody's signed for. So, no excuses."
When asked if he's optimistic of Taylor-Serrano happening, Hearn replied, "I hope so.
"Amanda Serrano has had the warm-up fights we've given her. She's had the other vacant world title shots we've given her because we're building towards this.
"She's signed for that and we expect her to honour it.
"We want to get that boxed off over the next few days. We're making enquiries about other fights as well, but that's a fight that we want for this card and we'll be doing everything we can."
Taylor's is not the only Irish involvement in the Fight Camp series.
Kildare's Eric Donovan will face England's Zelfa Barrett in a 12-round super-featherweight contest in week 3 (August 14).
Donegal middleweight Jason Quigley was also due to be involved against Jack Cullen, but Hearn says the former NABF title holder has pulled out.
"Jason Quigley pulled out of that fight last night, which was really disappointing.
"It baffles me, some boxers who haven't been able to get themselves ready. Or maybe I don't know the full story, but that was disappointing."