Jason Quigley is to return to the ring in July to defend his NABF middleweight title.
The Donegal boxer will face the experienced Tureano Johnson (20-2-1, 14 KOs) at the Fantasy Springs Casino in Indio, California on July 18th. Quigley remains unbeaten as a  professional.
The bout with Johnson will be the main event of a Golden Boy Boxing on DAZN card. Quigley says the fight is the latest step en route to a potential world title fight, "I was in LA recently and met with Golden Boy Promotions and we have a three-or-four-fight plan now to get to a world title.
"I'm on an amazing journey and to be possibly three fights away from a world title fight is so exciting for everyone following me."
While admitting he's excited about climbing the middleweight ladder, Quigley isn't looking beyond the challenge of the battle-hardened Johnson, "Tureano Johnson is a great fighter. He's a tall fighter, and he's got the repertoire and the armory.
"I'm expecting a tough fight, and I hope he comes 110% prepared because I'm going to be 110% prepared."
Quigley won the NABF middleweight title with a unanimous decision victory over Glen Tapia at the same Indio venue in March of 2017. His latest outing saw him beat Mathias Eklund by TKO in March of this year. In between, he's beaten Daniel Rosario Cruz and Freddy "El Riel" Hernandez.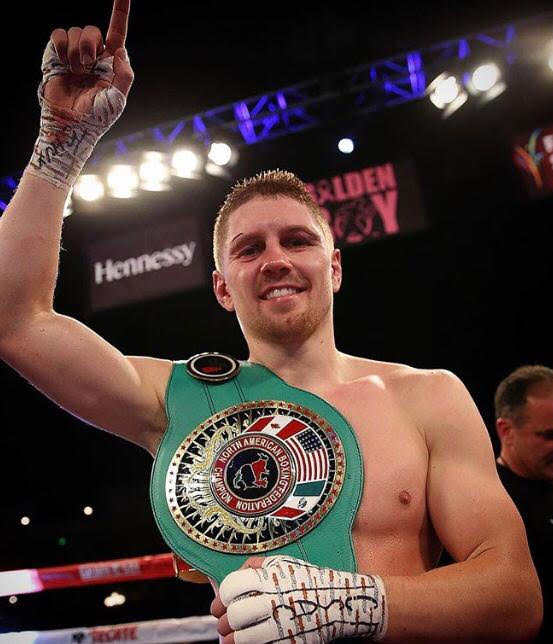 The 28-year old is determined to hang onto his belt as well, "It's always exciting when there's a belt on the line.
"The belt is like a piece of furniture in the house and no-one will take it away easy. These are stepping stones to where I want to get and these are the belts that will help me get the one I really want."
Quigley continues to train under Dominic Ingle in Sheffield and feels he's in the ideal place to take the next step in his professional career, "I'm very excited where I'm going. I'm coming near the pinnacle of my career and this is the exciting part of it.
"I'm moving forward and progressing. I'm ready for action again. I'm excited now to get my title chase up and running."