An overjoyed Liam Griffin singled out Davy Fitzgerald for special praise after his Wexford side ended a 15-year wait for provincial success in Croke Park on Sunday afternoon. 
"Davy has come in for criticism," stated Griffin on Monday's OTB AM, "but as I said to you the last time we were speaking here, none of us are going to change Davy.
"I don't want to change him, and I think he's doing a fantastic job. He was the perfect fit for Wexford, the perfect fit."
Coming out on top of a cagey Leinster final against Brian Cody's Kilkenny, Wexford will now advance to the All-Ireland semi-finals for the first time since 2007.
The product of a concerted effort to reshape Wexford's hurling fortunes behind the scenes, Griffin nevertheless believes that Davy Fitzgerald generated the required spark to bring theory into practice.
"[Fitzgerald's predecessor] Liam Dunne had done tremendous work and brought things to a certain level," Griffin explained, "[but] Davy has his style and it's a perfect match with this intelligent group of players."
The standout thing is Davy. Whether people like to accept that or not, he is the standout thing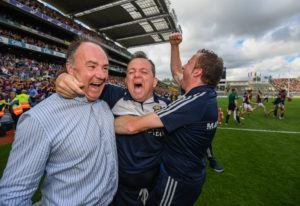 Joining Wexford in 2016, Griffin acknowledged the occasional difficulties Davy Fitzgerald brings with him, but ultimately conceded that it matters very little while he remains capable of generating impressive results.
"The standout thing in this team is Davy," he said, "whether people like to accept that or not, he is the standout thing.
"You can say what you like about him, but he has some record. If that's the price we pay for Davy losing the head sometimes, what the hell about it?! What's the problem with that?
"This is rural sport. This is bull-fighting by a different standard.
"We're just ordinary rural people and you get out there and do it and you get on with it. That's what Davy has done, what else do we want?
Quick to praise the determination and work ethic of Wexford's players in light of Fitzgerald's reported high-standards, Liam Griffin believes yesterday's adjoining provincial success in the Leinster minor hurling championship only serves to indicate further that Wexford are moving somewhere close to where they want to be.