Name on the Trophy - legendary former ITV football commentator Clive Tyldesley sat down with Off the Ball's Shane Hannon recently for his recollections 20 years on from Manchester United clinching an unprecedented Treble on May 26th, 1999 in Barcelona.
https://www.offtheball.com/podcasts/highlights-from-off-the-ball/clive-tyldesleys-memories-1999-manchester-uniteds-treble-20-years
Barcelona build-up
Clive Tyldesley's voice has been an integral part of some of the most iconic moments in football. Some of his lines are still quoted to this day - not least from that May night in Barcelona twenty years ago. As it turns out, one of his most iconic lines came to him in the days leading up to the 1999 Champions League final.
"Well we had the FA Cup final on ITV on the Saturday, funny enough that's [the origin] of a line that I used. On the eve of the FA Cup final I was staying at a hotel at Wembley and as I was driving Mark Lawrenson was asked for a prediction for the FA Cup final and he said well it won't be Manchester United nil that's for sure, they always score.
And I suppose that came into my mind at that crucial moment in the Champions League final. It wasn't statistically true that they always scored that season. But they certainly usually scored, and usually scored a couple."
I asked Tyldesley what his preparation was like in the build-up to the game, and a lunch with his ITV commentator predecessor Brian Moore put his mind at ease on the big day.
"I think I travelled to Barcelona the day before. It was beautiful in Barcelona, and Brian Moore, my [ITV] predecessor was there doing some corporate work for UEFA. I actually had lunch with him on the day of the game, which was great for me."
"I felt prepared, I felt relaxed, and he said some nice things to me. We'd had a leaving dinner for him about four or five months earlier, and we both like our red wine. We got about two-thirds of the way through our third bottle, and at the end of the dinner he said something to me."
"'There are only two things you need to remember'… he said. 'Be on time, and be warm enough.' And I thought 'Is that it?' But as we were having lunch [in Barcelona] he referred to what he had said. What he had meant was you're ready, you're good enough, so just make sure you're warm enough and you're there. And that was a lovely thing to say."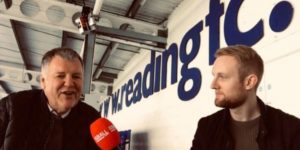 +++
Deflected and in...
It could have all been so different...
"Ten minutes from the end of the game I'm thinking - my first European final, it's been a shocker, United are going to lose, there's only been one goal and I've got it wrong.
We're talking about arguably the best player on the team [in Peter Schmeichel], and he looked like he'd been beaten by a deflection because he hardly moved. And of course, I said 'Deflected and in…' and when the replay came up it hadn't touched the wall at all!
This great movie was going to end with a terrible final scene, but there were inklings for the first time in the game [that United could score]..."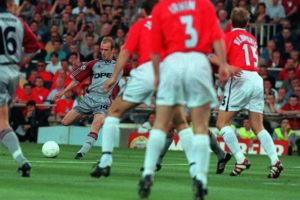 ==
Can Manchester United score, they always score?
Another dramatic night Tyldesley is inextricably linked to through his commentary is Liverpool's extraordinary comeback against AC Milan in the Champions League final in 2005. And he draws parallels between those nights in Spain and Turkey six years apart.
"Throwing forward six years to another line which people might remember - when Steven Gerrard scored Liverpool's first of three in six minutes [in Istanbul in 2005]. I said something like 'Hello, hello…' and when you look back on the tape of that game there was absolutely no suggestion that there was anything more to come because it was Liverpool's first threat of the entire night.
Whereas United had not threatened and should have been buried with five minutes to go, a little glimmer, just a sparkle came into them. Solskjaer brought that to the party. There was just a feeling, they were only one down.
For me, for ITV, we wanted a United equaliser. And there was just a suggestion that it might be coming."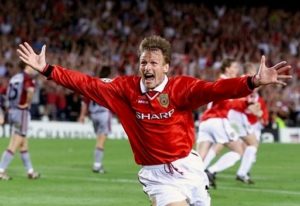 ==
"And Solskjaer has won it!"
The line will never be forgotten, but Tyldesley told me he was worried for a short while after the full-time whistle in the Nou Camp that his reaction might have been perceived by some as a bit over the top.
"I actually walked back to our hotel that night, we were only staying about a 15-minute walk from the Nou Camp.
I was kind of conscious that I'd given it the big finish and used lots of words - 'Promised Land', bit old testament. And I was aware that we were in 1999 and there were a lot of people that didn't want United to win back at home."
"We actually had Sky News on in the room, and I turned on the celebrations. Even though they were in Manchester, they had the tone of a national victory. Fifteen years (since the last English European Cup win], Germans beaten, United doing it their way, there was almost a sense of… a grudging well done from everybody that night which probably gave me the right to sell it with the verbose rhetoric I used at the time, I probably got away with it!"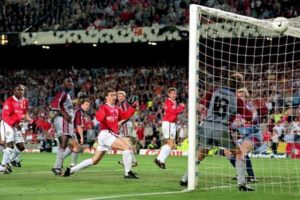 ==
Commentary notes and winning as a team:
Tyldesley brought with him a copy of his commentary notes from the '99 final to our interview, and he reveals the original copies went to a good home.
"Sir Alex took my original notes, gave a big donation to a charity, to the Bobby Moore Bowel Cancer Fund, and he had them framed in his office. Just as a piece of record, you see the notes, they are kind of a nice record of who was involved at that moment.
Equally, when they won in Moscow he asked for my notes, so he had them framed side by side."
Clive is a keen golfer himself, often spending time on courses in Ireland, and he brings up the small ball when talking about the delight in celebrating as a team when compared to winning as an individual.
"To win as a team - it's champagne. It's bubbles. It's lots of hugs. And you see it at the Ryder Cup, these incredibly individual sportsmen coming together and acting crazy, doing things they normally wouldn't do.
It's what team sport does to you. And for that moment [in 1999], all these guys were in it together and they'll have that together for the rest of their lives. And when they come back together again for the various dinners and tribute matches for the 20 years [anniversary] nobody can ever break into that circle. That's theirs - and that is sport at its very finest."