The Republic of Ireland's women's team took on Germany in Essen, for their Group I Euro 2022 qualifier on Saturday. 
The Republic of Ireland's women's team took on Germany in Essen, for their Group I Euro 2022 qualifier on Saturday. 
Ireland was beaten 3-0 against Germany with goals from Marina Hegering, Dzenifer Marozsan, and Lea Schuller.
Following Ireland's defeat, here are five things we learned.
Pauw's realism
Building up to Ireland's clash with the number two team in the world, manager Vera Pauw showed a refreshing sense of realism. 
Having scored 31 goals and conceded none before Saturday, Germany were going to be the toughest challenge for the Irish. Pauw showed that she was under no illusions about the callibre of opposition Ireland faced. This is something former Wexford Youths player Ruth Fahy explained on Friday's OTB AM prior to the game.
The Irish manager spoke about the difficulty of getting a result against Germany, where the aim was to concede as few goals as possible and try to nick a goal from a set-piece.
As negative as that may sound, keeping goal difference as low as possible could be the difference between automatic qualification, a play-off, or not qualifying at all for Euro 2022.
Adaptable formation
When the team-sheet was announced ahead of the match, at first glance it was a strong line-up for Pauw's side. Diane Caldwell started at right-back. Her usual position is partnering Louise Quinn at centre-half and Katie McCabe being in position on the right of midfield instead of her usual left side. 
Once the game got underway, it was clear to see why Pauw made those decisions. The German side would have a lot of possession. When under attack, Ireland could drop back into a five in defence with McCabe picking up the right-back position and Caldwell dropping into a three alongside Quinn and Liverpool captain, Niamh Fahey.
The formation gave Ireland more protection off the ball and the ability to get forward and pass when given the opportunity. 
O'Gorman's experience
With over 100 caps for her country, Aine O'Gorman demonstrated her experience. The Peamount United player put in an excellent shift at left-back and it's clear to see why Pauw brought her out of international retirement.
Not normally a left-back, although versatile, and having played in the position for her country in the past, O'Gorman was tireless in her effort to keep Germany at bay. 
The Dubliner does not play her club football in a professional league, but she certainly plays like a professional and showed that there is quality in the Women's National League here in Ireland. 
The scoreline could have been more if it was not for some of O'Gorman's last-ditch tackles and calmness on the ball.
Although rare in the match, when the opportunities arose, she tried to give her team-mates some respite and time on the ball when the opportunities arose.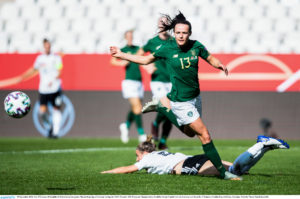 Relentless Germans
It's clear to see why Germany are ranked number two in the world. Having scored 34 goals and conceding none, the German side is relentless in attack. 
Going 3-0 up before half-time did not stop them from pressing forward and wanting more. A lot of teams may be happy to sit back and take the win, but not this side. It appeared that on the sidelines manager Martina Voss-Tecklenburg was not happy to settle.
Having exited the World Cup last year in the quarter-finals to Sweden, this German side wants to demolish every team in front of them.
Ireland can take heart in not conceding in the second half, given the possession and chances Germany had. 
Irish positives
Although no team wants to lose, Ireland can take some positives from the match. Firstly, as mentioned above, keeping goal difference to a minimum could be vital by the time the group stages finish.
Germany had a lot of possession, but when given the opportunity, Ireland showed that they can play out from the back and move their way up the pitch. The Irish midfield three of Ruesha Littlejohn, Denise O'Sullivan and Megan Connolly created nice passages of play, the hope will be they will get more chances to do that against Ukraine next month.
Pauw is instilling a footballing philosophy in this Irish side that is beginning to show, even with little time on the ball and against top opposition.
Following the defeat to Germany, Ireland sit in second place of Group I. Points will be needed from the remaining two games to guarantee qualification for their first-ever tournament.
Up next is Ukraine away on October 23rd, followed by a second meeting with Germany in Tallaght Stadium on December 1st.