At 60, many people decide to take things a little bit slower and ease themselves in retirement. 
But Cathy Loughhead decided to throw herself into a hobby most would associate with someone more more than half her age. 
She saw an advert for a women's band on Facebook and decided to give it a go. 
"I just thought, 'Oh, it'll be fun to have a go at playing an instrument, it'll get me out of the house'," she told Moncrieff. 
"I never went with the intention of playing the keyboard or even singing." 
Cathy went along expecting it to be a very casual thing and was surprised to be ushered into a "proper rehearsal space with lots of different rooms." 
Ruth, the organiser, was "resolute about creating all-women bands in Leicester" and put her in the absolute beginners' room. 
Cathy had taken piano lessons briefly a few years and quickly began to pick up the keyboard. 
"I started tinkering around on the keyboard and on week three, Ruth came into the room and saw that I could play chords and went, 'Wait a minute, you can't be in the absolute beginners group because you play chords.' 
She was moved into another room and a few weeks later Ruth came into the room and said that she had organised for them to play a live concert on international women's day in March.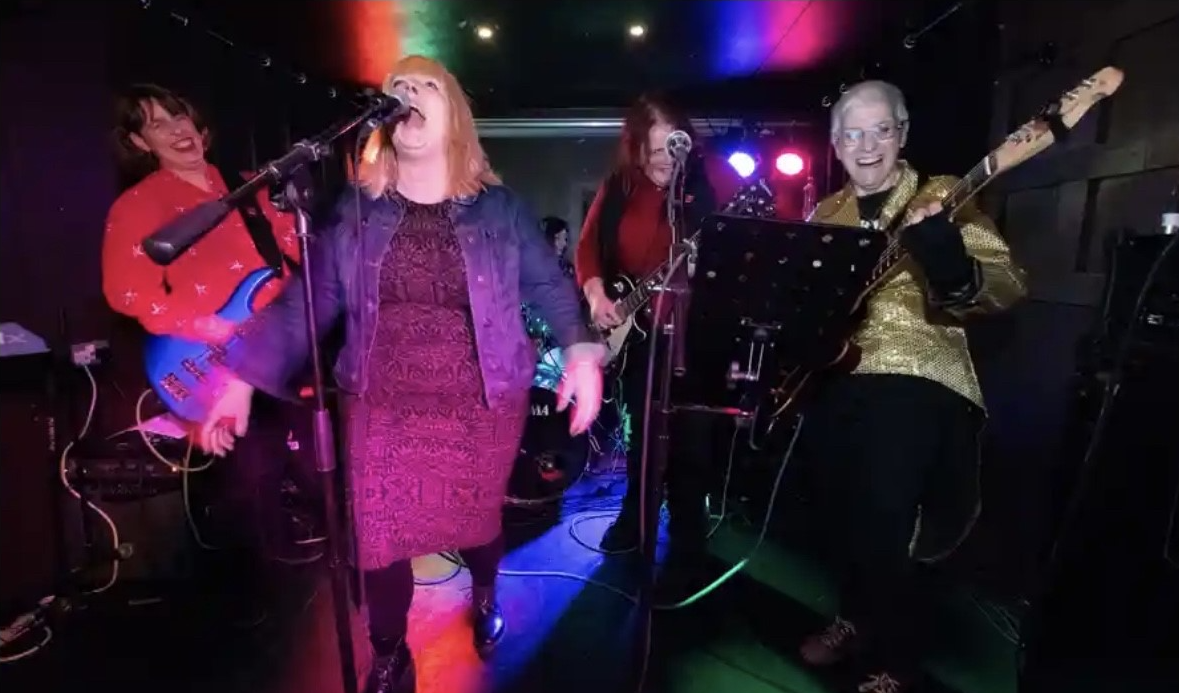 Velvet Crisis, as they decided to call themselves, had 66 days to prepare themselves for their first gig as a band. 
"It was the most terrifying thing - I think we all felt the same - that we'd ever done in our lives," Cathy recalled. 
"We played at an arts centre in the afternoon and I just thought on Tuesday afternoon there'd be three men and a dog - there were 200 people there.
"And then in the evening, we played two gigs at the same bar and it was absolutely rammed.
"Since then we've played six gigs." 
Main image: Cathy and Velvet Crisis. Picture by: Cathy Loughhead.