Retailers will be asked to postpone their January sales as part of new coronavirus restrictions, the Taoiseach has said.
Micheál Martin has confirmed the country is moving back to 'level five' of restrictions until January 12th, but with a number of adjustments.
It comes amid an 'extraordinary growth' of the virus in recent days.
Non-essential retail will be allowed remain open, but businesses will be asked to defer their traditional post-Christmas sales.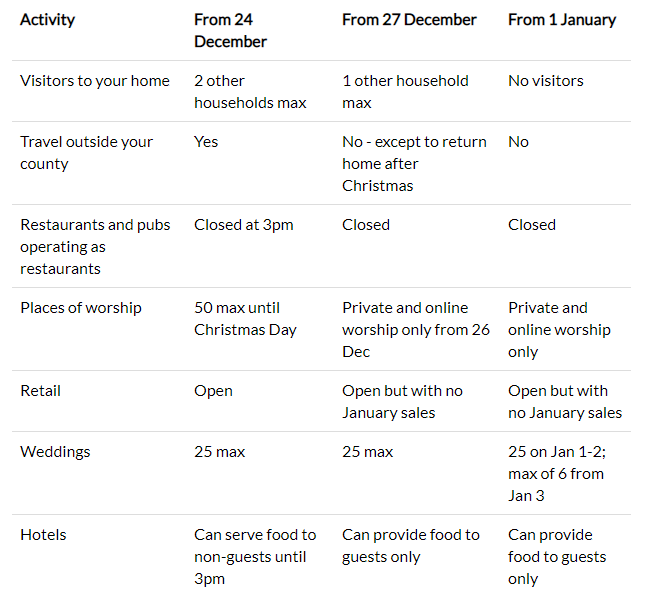 Gyms and swimming pools will also be allowed remain open for individual training only.
However, restaurants and gastropubs will have to close from 3pm on December 24th.
Current restrictions on household visits will continue until St Stephen's Day - meaning visitors from up to two other households are allowed.
However, that will be then be reduced to one household until New Year's Eve.
No household visits will be allowed from January 1st except for essential family reasons or as part of a support bubble.
Allowances for inter-county travel will stop after December 26th, but people will be able to return to their primary place of residence after that date.
Hotels may only open for essential, non-social, non-tourist purposes.
Schools, early learning and childcare services remain open.
Mr Martin this afternoon said there is light at the end of the tunnel, with vaccines on the way.
Around 10,000 doses will arrive in the coming days, and the rollout of the jab will begin next week.
Mr Martin said there will be an 'unprecedented national effort' mobilised for the vaccine, but it can't go any faster than supplies allow.
Main image: Taoiseach Micheál Martin. Image: Merrion Street