Cabinet has approved new COVID-19 restrictions to take effect from Christmas Eve.
While Christmas isn't being cancelled, activity will be severely limited once again in the coming days and weeks.
It comes amid a warning that the number of new coronavirus cases will be over 900 today - up from 727 yesterday.
In response, Ireland will move to level five in the coming days - but with a number of adjustments, as well as a phased introduction of restrictions over the Christmas period.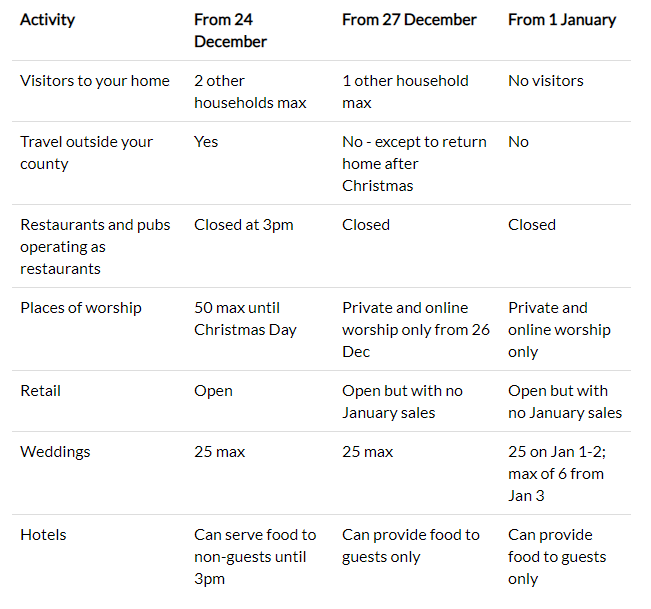 While non-essential retail will be able to stay open, restaurants and pubs that serve food will have to close from 3pm on Christmas Eve.
Hairdressers, barbers, beauticians, cinemas and galleries will also have to shut on the 24th.
Swimming pools and gyms will be allowed remain open for individual training only.
Hotels may only open for essential, non-social and non-tourist purposes.
Schools, early learning and childcare services will remain open.
However, higher, further and college education should remain online.
Travel and visitor restrictions
From midnight on the 26th, inter-county travel will be restricted - but with exemptions for people returning to their primary residence after the Christmas break.
From December 27th, people will only be allowed to have visitors from one other household in their home.
No household visits will be allowed from January 1st, except for essential family reasons and for those within social bubbles.
Christmas Day masses will be the last of the year, as worship will move online.
Weddings will be allowed to have 25 attendees until midnight on January 2nd, and reduce to six from the 3rd.
The travel ban from the UK has also been extended until the end of the year.
Cabinet was warned the number of new cases today will be over 900 - the highest number since Halloween.
The new measures will be reviewed on January 12th.
In some positive news, it was confirmed to Ministers that 40,000 doses of the approved Pfizer coronavirus vaccine will arrive every week in January.
Taoiseach Micheál Martin this afternoon said figures from this week shows a 10% growth rate per day, which is not sustainable.
He said there is no evidence the new strain of the virus detected in Britain is here - but we have to work on the assumption it is.
However, he said there is 'light at the end of the tunnel' - with the first 10,000 doses of the Pfizer / BioNTech vaccine arriving in Ireland before the end of the week.
Reporting by Sean Defoe
Main image: File photo. Picture by: Sam Boal/Rollingnews.ie