The mother of murdered boxer Kevin Sheehy feels 'gaslit' after the Prison Service announced that his killer will serve the rest of his sentence in England. 
In July 2019, Logan Jackson ran over Mr Sheehy with a jeep five times and then fled the scene. 
He was handed a life sentence but Mr Sheehy's mother, Tracey Tully, was horrified to learn that his request for a transfer to an English prison near his family has been approved by interim Justice Minister Simon Harris.
Ms Tully believes this is a breach of her human rights as a victim and said Jackson has shown "no remorse" for his actions. 
"I'm horrified that a convicted murderer's human rights have been put before the human rights of my family," she told Lunchtime Live. 
'Is my son dead?'
The morning of Mr Sheehy's murder seemed like any other to Ms Tully; she woke up, saw on his Snapchat story that he had been out with a few friends in a local bar. 
There was a loud knock on the door but she assumed it was her son home from the night out. 
"So, I said, 'Kevin, I'm coming' and then [there was] another bang and it was a friend and they said, 'There's been an accident,'" Ms Tully recalled. 
On the journey over to the hospital, she kept asking, "Is my son dead?" - but no one knew and they arrived to find the hospital was in "chaos". 
"I could see Kevin's Dad and he was grey looking and he put his hand on my shoulder and he said, 'We lost him. He's gone.'"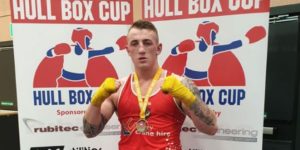 Ms Tully said the trial was "horrific" and news of the transfer has been yet another "awful blow" to her. 
"I said in my victim impact statement, 'This man broke the laws of this land, our land, not the land of wherever he chooses to spend the rest of his life,'" she said.  
"I feel gaslighted, I feel like I've done 10 rounds with Mike Tyson." 
Nanna Tracey
Four weeks after Mr Sheehy's murder, his daughter, Kevaeh, was born and Ms Tully became a grandmother for the first time. 
"She's amazing, she's absolutely amazing, she's adorable," she said. 
"She has so many traits like her Daddy; she's very strong and she's curious. 
"She knows that Nanna Tracey is part of Daddy and she loves coming to the graveyard and cleaning it and she knows Daddy's in heaven - and that's all she knows. 
"She asked me a question, 'Were you in heaven too, Nanna Tracey?'" 
Ms Tully said her granddaughter "100%" helps her cope with her grief and she feels like she could "run a marathon" after spending time with her.
Main image: Kevin Sheehy.