A Donegal schoolboy who wrote to Liverpool manager Jürgen Klopp asking him to end his team's winning streak says he was "very shocked" when the German replied.
10-year-old Manchester United fan Daragh Curley wrote the letter in January, complaining that Liverpool, "are winning too many games."
He asked the German "not to win the league or any other match again" because, as a United fan, Liverpool's success is "very sad."
Donegal schoolboy (and @ManUtd fan) Daragh Curley wrote a letter to Jürgen Klopp asking him to stop winning - and the @LFC Manager responded! | @BreakfastNT https://t.co/wne3VflMYH pic.twitter.com/LcRhgDPFTV

— Newstalk (@NewstalkFM) February 21, 2020
On Newstalk Breakfast this morning, Daragh said he didn't know what to think when a registered letter arrived at the local post office a few weeks later.
"When I got the letter, I was like, 'oh it might be Jürgen Klopp because it had Royal Mail on it,' he said.
"Because I don't know anyone in England who would send me a letter so I said it might be Jürgen Klopp - but I wasn't being serious.
"Then when I opened the letter it was Jürgen Klopp. It was a personalised letter from Jürgen Klopp."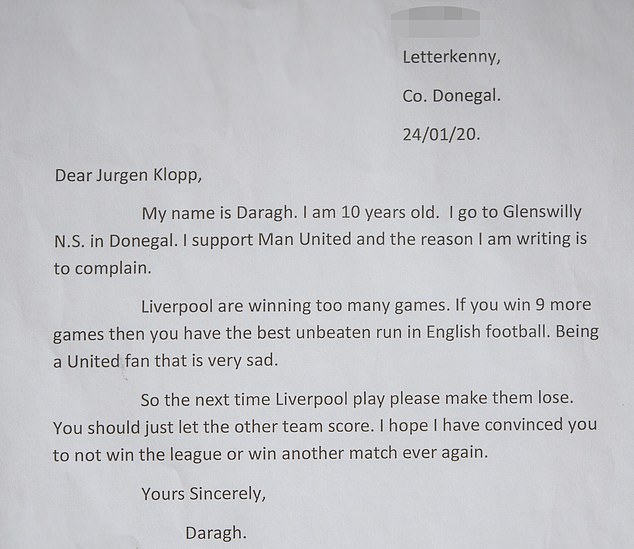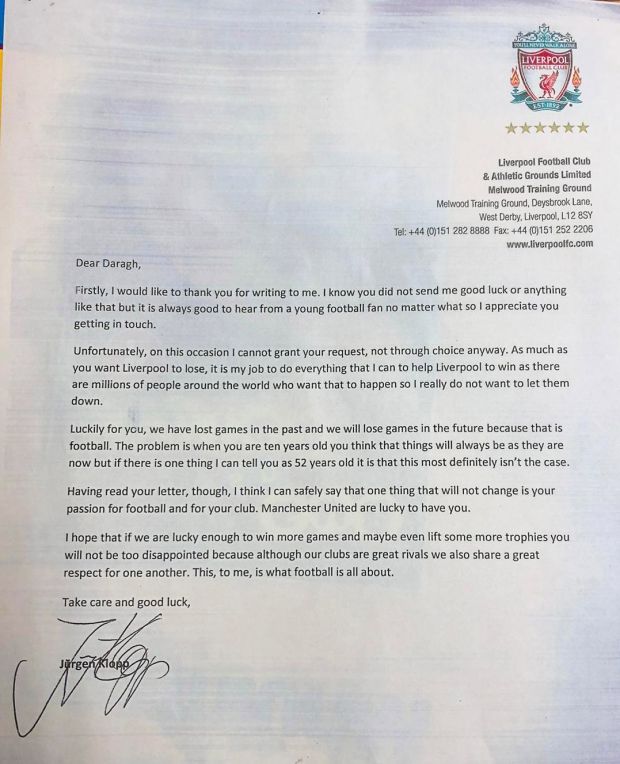 In his reply, the Liverpool manager said it is "always good to hear from a young football fan" even though Daragh "did not send me good luck or anything."
He said he can't do anything to let the millions of Liverpool fans around the world down, but assured him it is only a matter of time before Liverpool lose again.
"Luckily for you, we have lost games in the past and we will lose games in the future because that is football," he wrote.
"The problem is that, when you are ten years old, you think that things will always be as they are now - but if there is one thing I can tell you as 52-years-old, it is that this most definitely isn't the case."
Speaking to Shane Coleman, Daragh admitted that Klopp is "very nice in fairness to him" - and even said he likes Liverpool a little better now.
"If they lose 5-0 I'll be sad but if they lose 4-0 that'll be alright," he said.