A woman who lived as a bird's mother for 84 days says her entire outlook on life has been changed.
Hannah Bourne-Taylor was living in a remote part of Ghana back in 2013, when she became an accidental mother to a wild bird.
The 26-year-old had moved from London, England after her husband got a job in the African country.
But she couldn't work as she didn't have a work permit.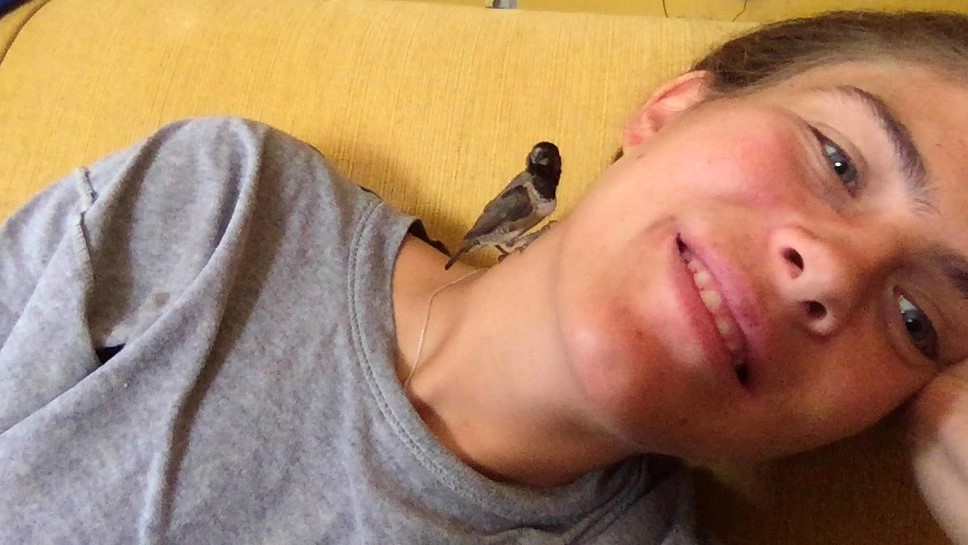 She has documented her experience in her book, 'Fledgling'. Hannah told Moncrieff how this unlikely pairing come to be.
"Imagine remote, remote, remote landscape with very, very tall grass and a wide river - and lots of deadly snakes and colourful birds.
"There I was in that life, connecting with nature because I was very lonely and isolated.
"And then I found a bird that really needed my help - so I rescued him.
"That one moment of compassion translated into changing my entire identity and outlook on life".
She says the annual rainy season in Ghana meant the grass nest of the male mannequin finch had fallen to the ground.
"The mannequin finch's mentality is to just start from scratch, and abandon any small birds - or fledglings that can't get up.
"There was one fledgling that could fly, but was very, very weak at flying because of his age.
"I knew that without his flock he wouldn't survive, because he needed to learn from his family - he needed to be protected by the flock.
"So I became his surrogate mother... luckily for me and for him he did accept me as his mum".
She says it all started with a simple chirp.
"I chirped to the bird, which sounds sillier than it was, and he chirped back.
"And instead of freaking out, he dug his body into my hand and went to sleep".
'A cardboard box home'
She also taught him how to eat - starting with termites and seeds.
"I had him for three months - and for the last two months, basically every single waking hour... I would be with the finch outside, following his wild family through the grasslands so that he could get as near as possible to his flock".
Hannah says this was so he could learn all the ways to eat the seeds, balance on grass stems, as well as learn about the dangers around him.
"At night time... he did reluctantly get into a little cardboard box home, and he would go to sleep.
"But apart from that, I was with him every waking hour - which is quite hard when you're trying to do basic things like go to the loo or walk around or eat".
She says her hair was a particular favourite spot of his.
"He did also really like nesting in my hair, because I have waist-long hair.
"So when he was sleepy especially, he would curl my hair up and actually it was really convenient.
"The stems of grass... those are the stems that they then make their nests out of.
"So it was actually instinctively convenient for him to practice on my very long, quite stem-like hair".
'I know it was him'
But Hannah says while she had to eventually give him up, she knew where and when was best.
"By learning the routine of the mannequin flock, which he did belong to, I knew exactly where they would be and when.
"And so I knew the routine, the layout, the design of their entire lives - this little territory of grassland, it became my territory.
"If he is alive now - they don't have very long lives - but if he is alive right now, I know exactly where he would be.
"He would be asleep in a mango tree; because it's noon and that's very hot so they go and rest in the cover of the shade.
"I never touched the finch again, but I did see him and I know it was him.
"That feeling of achievement and relief, and pride, was really brought home to me then".