Irish shoppers spent over €1bn on groceries during the most recent lockdown. 
According to the latest grocery market share figures, alcohol, native Irish brands and festive treats soared in popularity - with some €82,000 spent in November on mince pies alone.
According to consultancy firm Kantar, the sale of alcohol soared once again by 33% last month - while classic Irish brands like Keoghs and Avonmore performed particularly strongly as shoppers leaned towards familiar favourites.
An extra €164m in total was spent on groceries in November compared to the same time last year.
Online grocery sales continue to go from strength to strength, growing by 74.8% in the past three months.
"November was the busiest month for the grocers since the height of the previous national lockdown in June," Emer Healy, retail analyst at Kantar, said.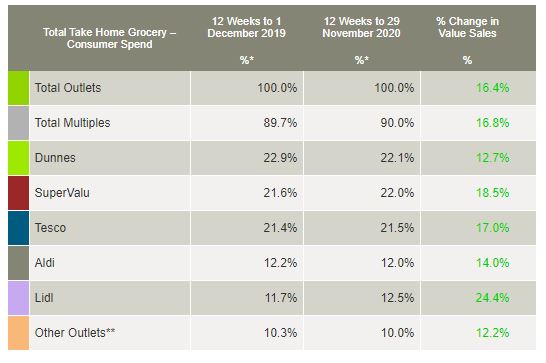 "An extra €164m rang through the tills compared with last year as Irish shoppers readjusted to eating most of their meals at home.
"They did their best to keep spirits high though and, with the countdown to Christmas officially underway, found ways to recreate festivities at home, boosting alcohol sales by 33%.
"Some were even inspired to branch out from traditional tipples and bussing mixologists contributed to an extra €721,000 spent on mixers this month."
Dunnes holds the biggest share of the market at 22.1% this period.
The grocer captured the highest spend per buyer among all the retailers, with shoppers parting with €7.76 more on average per trip than they did in the same period in 2019.
Tesco and Supervalu also both experienced strong growth over the past three months of 17% and 18,5% respectively.
Image: Sasko Lazarov/RollingNews