The President has warned that Irish farmers are "entitled to their fair share" of profits from their produce.
Michael D Higgins was speaking as farmers continue to picket outside more than a dozen meat processors around the country.
Meanwhile, the Taoiseach told the Dáil that the prices offered offered to Irish farmers are "roughly the same" as those offered to their European counterparts - and warned that there is "no legal way to fix a price."
He admitted however that the prices offered around the continent are "too low."
Beef dispute
The protests are continuing despite an agreement reached over the weekend between farming groups and Meat Industry Ireland.
The deal provides for the introduction of a beef task force and increases to bonuses - but is dependent on pickets being lifted at meat plants around the country.
Protesting farmers claim it does not go far enough to address their concerns over the prices they are paid for their livestock.
They have warned that their profits have been dropping continually in recent years - with the price they are currently paid not reflective of their vital role in the industry.
"Fair share"
Opening the National Ploughing Championships in Fenagh, County Carlow this morning, President Higgins said family farms can continue to be the "foundation of a thriving and vibrant rural Ireland," provided they remain focused on "sustainability, competitiveness and innovation."
"I think it is very important for people not just to pay lip-service to farming," he said.
"We have to support farming and rural Ireland. This is an opportunity for town and country to forget divides because no-one is too far from the land.
"We must all work together to be able to create a future for rural Ireland and for farming which is at its heart.
"And for those who do the work, who are entitled to their fair share."
"Protection"
President Higgins warned that rural producers - and anyone who has only one purchaser for their goods - "really needs protection."
"They need transparency, protection and a fair system," he said. "Let us now have fair produce and fair treatment for everybody involved and let's move on from that.
He said the "very best way to do that" is to work within the agreement that is already there.
"Maybe what is on offer may not be the perfect resolution but let's make it the best beginning and go on and build on that," he said.
His comments come less than a week after he weighed into the dispute over pay and conditions in the military - warning that serving men and women have a right to expect an income that can provide for themselves and their families.
It is unusual for a sitting president to intervene in political matters.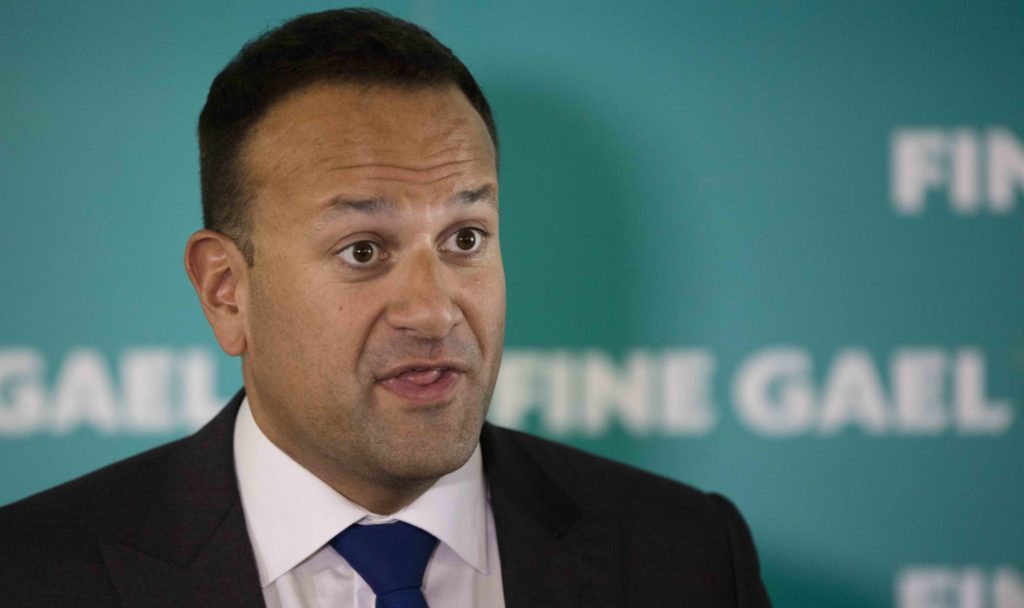 The Taoiseach Leo Varadkar speaking at a press conference the Fine Gael think-in at Ballycotton, East Cork, 13-09-2019. Image: Eamonn Farrell/RollingNews
Price fixing
In the Dáil this afternoon, the Taoiseach admitted that the prices offered to farmer are "too low" - but said they are roughly the same across the EU.
"It is a market price - largely a function of supply and demand," he said.
"There is no legal way to fix a price.  That is not how it is done.  It is not legal to do that.
"What is possible though is for farmers to join producer organisations who can then negotiate a price and proper contracts with the meat factories in the same way any producer negotiates a price with a potential buyer.
"That is the way it is done, but that can't be done at the moment when the factories are not operating.
"The factories need to be allowed reopen. The producer organisations need to be allowed to negotiate contracts and negotiate prices."
"As many as 8,000 people could lose their jobs as a consequence of these protests and these blockades.  Those people need to be enabled to get back to work."
He said the weekend's deal will bring about "greater transparency and higher premiums" while also allowing farmers to create producer organisations to "band together and negotiate with meat factories for a proper contract and price."
Climate
President Higgins' speech focused heavily on climate issues and the need for agri-businesses to "expand the frontiers" of science and technology to ensure we can continue to feed the global population.
In an earlier speech this morning,  President Higgins told the Centenary of the International Labour Organisation (ILO) that US President Donald Trump's decision to pull out of the Paris Climate Agreement was "profoundly myopic and regressive."
He said there is a "great opportunity" for the ILO to "give leadership and play a progressive and robust role in the climate crisis" and called on the croup to push for "fair, ambitious and binding" greenhouse gas reduction targets.
"The ILO should also consider playing its part – potentially one that could carry some weight – in urging the USA to reconsider the profoundly myopic and regressive decision to exit the Paris Agreement on Climate Change," he said.
"A decision which could take effect from December 2020 and will effectively subject future generations to a bleak and volatile planet."
The ILO is a Geneva-based UN agency which was founded in 1919. It aims to promote better labour standards and opportunities for workers.
It was the first organisation Ireland joined as a new State.