Donegal has the highest 14-day incidence rate of coronavirus per 100,000 population.
That is according to new data from the Department of Health.
The national average 14-day incidence rate stands at 116.5.
However Donegal has an incidence rate of 264.5 - followed by Limerick on 221.7 and Louth at 175.4.
Roscommon (167.3), Waterford (154.9) and Offaly (150.1) are all over the 150 mark.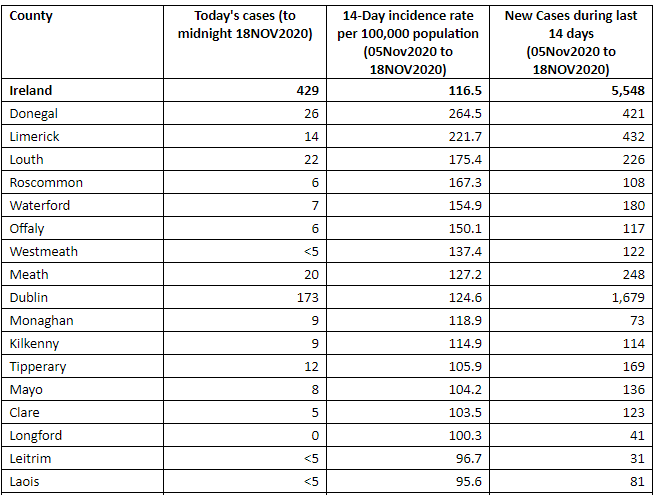 The capital of Dublin has seen an incidence rate of 124.6, while Cork is at just 80.9 and Galway sits even lower at 70.9.
Sligo (74.8), Wicklow (56.9) and Wexford (37.4) make up the bottom three.
Local Electoral Area
In terms of a Local Electoral Area breakdown, Letterkenny in Co Donegal has the highest incidence rate at 389.4.
Listowel in Co Kerry stands at 373.2 and Boyle in Co Roscommon also has a high rate of 297.7.
Dundalk in Co Louth stands at 262.1.
Edenderry in Co Offaly has a rate of 300.1, while Moate across the border is at 244.
The highest incidence area in Dublin is Tallaght South, which has a rate of 251.
The 14-day cumulative incidence peaked at 170 per 100,000 in late April and declined to three per 100,000 in late June.
The Department of Health says it peaked again on October 26th at 307 per 100,000 - and is now at 120 per 100,000.
It comes as there were four additional deaths and 429 new confirmed cases on Thursday.
There has been a total of 2,010 COVID-19 related deaths in Ireland and 69,473 cases here.
Of the cases notified on Thursday:
194 are men/234 are women
69% are under the age of 45
The median age is 34
Some 173 cases are in Dublin, 44 in Cork, 26 in Donegal, 22 in Louth and 21 in Kildare.
The remaining 143 cases are spread across 20 counties.
As of 2.00pm on Thursday, 290 COVID-19 patients are hospitalised - of which 33 are in ICU.
There have been 15 additional hospitalisations in the past 24 hours.