Today marks 21 years since Kildare woman Deirdre Jacob went missing while walking to her home in Newbridge, Co Kildare - but her family remains hopeful they will find out what happened to her.
Deirdre was a trainee teacher from Newbridge, and had returned home from London for the summer.
The then 18-year-old went missing shortly after 3pm on the afternoon of July 28th, 1998.
She had been visiting her grandmother a short distance from her home.
The last sighting of Deirdre was as she reached the gateway to her family home after a 25 minute walk from Newbridge town.
In August last year, detectives on the case upgraded it to a murder investigation.
Her father Michael has again pleaded for people with even the smallest piece of information to come forward.
He suggested people's changed circumstances might allow them to now give details they've kept secret.
Speaking on Newstalk Breakfast with Susan Keogh, Mr Jacob said: "Maybe their lifestyle at the time - maybe who they were involved with or whatever - wouldn't allow them come forward with information.
"With the passage of time, everyone's life situation changes - and sometimes people have information, and it's a great burden on them.
"Now is a very, very good time to come forward and get it off their mind."
He said gardaí have been able to "inch the case further, little by little" after recent appeals.
He suggested: "They're in the final stages of that case... that review will probably come to conclusion within the next couple of months.
"But what very often happens - and hopefully what will happen as a result of our appeals this weekend... that we might get some more very, very valuable calls.
"That then will give the detectives on the review case the go-ahead to add those to the great mix of information and hopefully progress the case."
'You have to be positive'
Mr Jacob said the family is always "very hopeful" that they'll find out what happened 21 years ago.
He said: "We have always been very, very positive, because you just have to be - if you don't hold a positive outlook through it, the world collapses around you.
"[Since July 1998] it has never been the same, nor never will be the same. But nevertheless we are striving to get that piece of information, and we're appealing to the public out there... we want them now to scrutinise their mind a little bit and find out if they have any further information."
The Jacob family always mark the anniversary of Deirdre's disappearance by "just being very, very quiet".
Michael explained: "We will just gather ourselves together, and we will remain quiet for a few days... and just contemplate on what has happened."
Appeal
The Garda team investigating Deirdre's disappearance can be contacted at Newbridge Garda Station on 045-431-212.
Alternatively anyone with information can contact the Garda Confidential Line on 1800-666-111.
In a renewed appeal for information today, gardaí are particularly keen to speak to anyone who has ever found or noticed a bag similar to the one Deirdre was carrying when she disappeared.
It was a distinctive black satchel type bag with long shoulder straps and the word CAT in large yellow capital letters: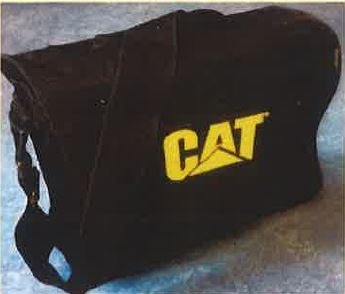 However, gardaí add they are continuing to appeal for any information - "no matter how small" - about the case.