EU leaders continuing to discuss Brexit extension request
A deal is forming in Brussels on a Brexit extension.
EU leaders have been considering what to do over a working dinner this evening.
While final details have yet to be announced, it appears another vote on the withdrawal agreement will be held next week.
If it passes - there will be an orderly Brexit on May 22nd.
If it fails - the UK government will have until April 11th to decide what to do.
Plans to house asylum seekers in Rooskey hotel abandoned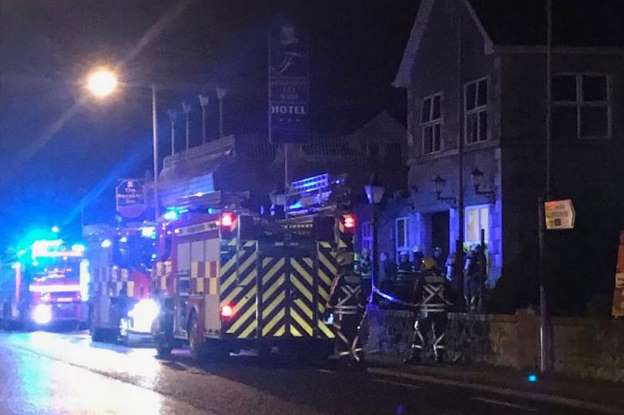 The Department of Justice has reversed a decision to house asylum seekers in the Shannon Key West Hotel in Rooskey, Co Leitrim.
The move followed two fires at the premises in the last two months.
However, the Department of Justice said the decision to not proceed was taken following legal advice from the Chief State Solicitors Office.
It said it "found difficulties with the lease agreement between the owners of the hotel and the operator renting it" - which made proceeding with the proposed centre unviable.
Police refuse to apologise for Cookstown hotel owner drug arrest error
Police in Northern Ireland are refusing to apologise for announcing that they had uncovered drugs at the home of the owner of the Cookstown hotel where three teenagers died in an apparent crush on St Patrick's Day.
Hotel owner Michael McElhatton was one of two men arrested on suspicion of manslaughter following the tragedy.
Yesterday, while he was still in custody the PSNI announced that he had been "further arrested on suspicion of possession of a Class A drug with intent to supply" after a quantity of "suspected" drugs were uncovered at his home.
However, they later said forensic tests had determined that the white powder found at the house was an "innocent substance."
Facebook admits storing millions of passwords in unencrypted format
Facebook has admitted storing hundreds of millions of passwords in an unencrypted format.
Typically, passwords are stored in an encrypted format - meaning the passwords are 'masked' so that nobody, even Facebook staff, can read them.
The process of 'hashing' and 'salting' passwords means they can be kept and validated without being stored in plain text format.
However, the social network says a security review in January discovered user passwords were in fact being stored in a readable format in their internal data storage systems.
FAI offers to bring forward Government hearing amid ongoing Delaney loan saga
The Football Association of Ireland has issued its sixth statement in six days after it emerged that CEO John Delaney loaned it €100,000 out of his own pocket in 2017.
Last weekend, Mr Delaney confirmed he wrote the association the cheque in April 2017 to help it with a "very short-term cash flow issue."
He said it was the only time he gave the association a short-term loan and said it was "repaid in full" in June 2017.
Main image: European Union leaders attend a round table meeting at an EU summit in Brussels. Picture by: Aris Oikonomou/AP/Press Association Images