Dublin has been ranked as the worst capital in Europe for public transport tickets, according to new research from Greenpeace.
The capital scored 36 out of 100 points in the ranking, and was the only city analysed which does not have a fixed-price long-term ticket for all means of transport.
It was also ranked as one of the most expensive cities - along with London, Paris and Amsterdam.
Tickets in these cities cost more than €2.25 per day.
Topping the list is the Estonian capital Tallinn, which is joint first with Luxembourg and the Maltese capital Valletta.
Dublin comes in at 30th, just behind London, Amsterdam and Paris.
Greenpeace Spokesperson John Hyland told Newstalk Breakfast the Irish capital offers less for more.
"Dublin ranks dead last for one major reason which is that, unlike every other city that we looked at, there's no way to buy a monthly or yearly ticket that takes you on every form of transport," he said.
"This is one thing you don't want to be unique in Europe, being known for that.
"I live in Brussels now and there's trams, there's metros, there's buses - and you just have one ticket.
"You can get on and off as many times as you want and that counts as one journey".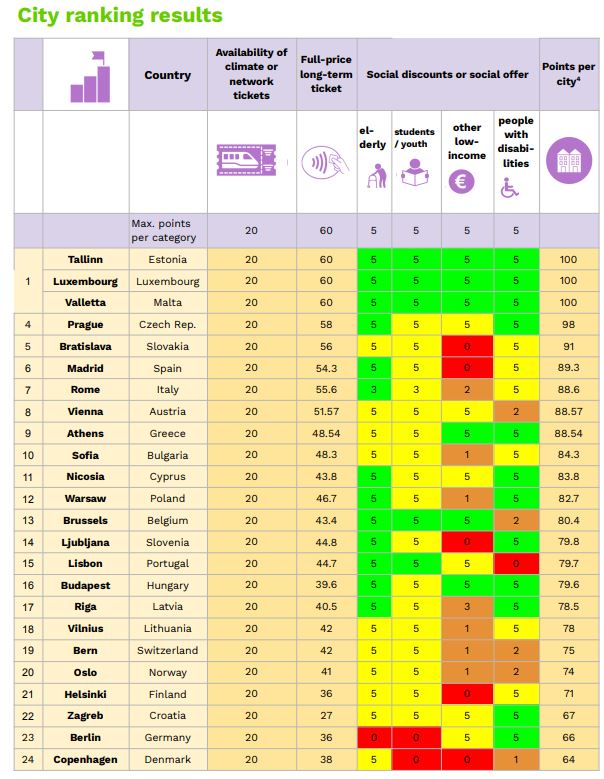 Mr Hyland said the Leap Card equivalent in other cities is still more expensive in Dublin.
"The closest thing we have to a monthly ticket in Ireland is the cap on the Leap Card - which is €32 per week," he said.
Compare [this] to how much you spend over a month if you were reaching that cap, in Brussels as a comparison... it's €49".
He said the 90-minute fare for €2 is not really comparable.
"It's a different form of ticket and....I don't know if that really addresses the fact that we want people to use these services as their day-to-day thing.
"The other cities that we looked at are addressing this by having long-term tickets you can buy for a month or a year and it's affordable," he added.
Main image: A Luas tram and ticket machines are seen at The Point station in Dublin in March 2019. Picture by: Radharc Images / Alamy Stock Photo